Roxxcalibur | Gems of the NWOBHM
by Justin Gaines
– Sr. Columnist —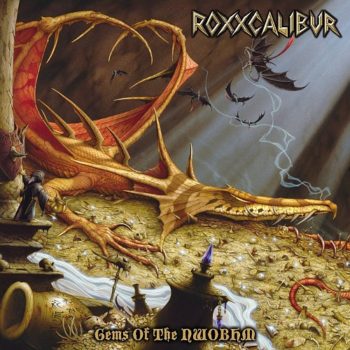 German Heavy Metal band Roxxcalibur is back with another tribute to the legendary New Wave of British Heavy Metal (NWOBHM) era. Their latest offering is called Gems of the NWOBHM, and once again they've enlisted famed cover artist Rodney Matthews (Praying Mantis) to provide artwork for this new batch of NWOBHM covers.
Roxxcalibur dug pretty deep for this installment. Their first two albums hit some of the era's key songs as well as some deep cuts. On Gems of the NWOBHM, it's almost all covers of obscure players in the scene (or bands like Budgie that are only kind of-sort of connected to the NWOBHM). Roxxcalibur takes on some more familiar bands here, like Trespass, White Spirit and Fist, but digging into singles by Legend, Bashful Alley, Taurus and Mythra shows just how deep the band's affection for the NWOBHM goes.
As with the first two Roxxcalibur albums, the band sounds incredible here, putting an almost Power Metal finish on these songs. Alex Stahl shines in particular, sounding so much like Steve Grimmett with his power and range. Highlights are the band's versions of Bashful Alley's "Running Blind," Virtue's "Fool's Gold," White Spirit's "Midnight Chaser" and the high-speed Aragorn single "Black Ice."
Once again, Roxxcalibur has delivered an electrifying collection of cover songs that breathe new life into some lost (but not forgotten) classics. If you're a fan of the NWOBHM sound, Gems of the NWOBHM is a must-have release. Even if you're not already familiar with the original artists, the quality of these songs alone makes this a worthwhile buy for fans of the classic heavy metal sound.
Edition Notes: The limited edition physical release of Gems of the NWOBHM comes in a slipcase with a poster and the bonus track "Rip Off" (originally by Smokin' Roadie). It also has a fantastic booklet with notes on where each song originally appeared as well as notes on the songs from some of the original artists. It may be the digital age, but this is definitely a case where the physical release is the best way to experience the album.
Genre: Heavy Metal
Lineup:
Track Listing:
1. Why Don't You Kill Me (Legend)
2. Soldiers of War (Satan's Empire)
3. Paper Chaser (Taurus)
4. Running Blind (Bashful Alley)
5. Fool's Gold (Virtue)
6. Stormchild (Trespass)
7. (The Age of) Machine (Mythra)
8. Hounds of Hell (Split Beaver)
9. Somewhere Up in the Mountains (Marquis de Sade)
10. Midnight Chaser (White Spirit)
11. Black Ice (Aragorn)
12. Panzer Division Destroyed (Budgie)
13. Rip Off (Smokin' Roadie)
14. Name, Rank & Serial Number (Fist)
Label: Limb Music
Website: www.roxxcalibur.com
Hardrock Haven Rating: 8.75/10