Sunstorm | Edge of Tomorrow
by Franco Cerchiari
– Sr. Columnist —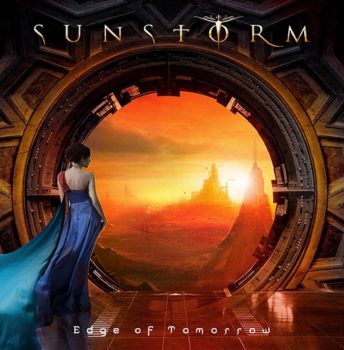 With Treat, The Defiants, Drive She Said, Jeff Scott Soto, Sunstrike, Ted Poley, First Signal and Vega all lately releasing a standout collection of music, 2016 is already panning out to be another grand year for fans of the kind of music that never gets old – Melodic Hard Rock. To add to that list is Sunstorm and its latest, Edge of Tomorrow, released on the always great Frontiers Records label. While many labels specialize in releasing Melodic Rock (Avenue of Allies, Rocktopia Records, MelodicRock Records,) it can be said that Frontiers really is one of the world's busiest. Like clockwork, Frontiers president Serafino Perugino is always looking for a new project, or a trusted band to release to the world another collection of music. Which brings us to this, Edge of Tomorrow once again fronted by Joe Lynn Turner. With a different lineup than that what which made up Sunstorm's previous outing, 2012's Emotional Fire, here, Sunstorm takes a tougher, harder approach to their playing and the result is a pretty damn fine CD. Super producer Alessandro Del Vecchio joined forces with Simone Mularoni (also the guitarist for the Italian Progressive Metal band, DGM) to write the music, and what is really evident is harder guitars are pushed to the forefront than on previous Sunstorm releases, (listen to "You Hold Me Down," for example.) For those who love the music of Michael Bormann, Brazon Abbot, Adriangale, Takara, Toby Hitchcock, or Wheels of Fire, Edge of Tomorrow will be a solid addition to your collections.
First, we should discuss the quality of the CD's sound. What a talent and touch Alessandro has for the mixing board and knowing just when to bring to the forefront a guitar riff, a keyboard accompaniment or a bringing more into focus the bottom end foundation that only the drums and bass guitar can bring. The vocals are clear, and when it is called for, the vocal harmonies add a majestic sweep to many of these choruses. Such a talent makes the music of this CD sound full, loud, and complete. Put Alessandro's magical touch coupled with Frontier's studio technology, and, well, the music of Edge of Tomorrow is downright glorious.
Not to take anything away from the band member's musical pedigrees, the songwriting, or the musical delivery, but the music of Edge of Tomorrow really isn't anything new or revolutionary. It is exceedingly well done, but as the music fades into black, it can be said that there is a familiarity to the Melodic Hard Rock heard here, but it must also be said, and quite emphatically as well, that the music of Edge of Tomorrow grows on you, and with each repeated spin, the music becomes more and more enjoyable. Joe Lynn Turner's voice has held up nicely over the years, and the sound of this record is as fantastic as one would expect from a Frontier's release. Listen to the incredible vocals of the title track, the ripping "Heart of the Storm," the wonderful keyboards of "The Sound of Goodbye," the tender "The Darkness of This Dawn," and the instant reach for the volume knob when "Everything You've Got," came within earshot made this song the CD's highlight. Also worth a mention are the loud guitars of "Tangled In Blue," and "Burning Fire," with its crazy synthesizers and soaring chorus was another standout.
Not a bad track to be heard. At 64 years old, Joe Lynn Turner is still one of the world's best vocalists. His resume is second to none, and it his voice that has made so many of his past projects (Rainbow, Rated X, Fandango, Rising Force, Deep Purple, Mother's Army, etc, etc) still rank as some of the best bands ever. For those helping bring the songs of Edge of Tomorrow to life, they should be proud, for this overall was one great collection of music, that of course American radio will once again prove how useless they are in helping support bands like Sunstorm, and the music that was heard on Edge of Tomorrow.
Genre: Melodic Hard Rock
Band Members:
Joe Lynn Turner – vocals
Alessandro del Vecchio – keyboards, vocals
Simone Mularoni – guitars
Nic Mazzucconi – bass
Francesco Jovino – drums
Track Listing:
1. Don't Walk Away From A Goodbye
2. Edge of Tomorrow
3. Nothing Left To Say
4. Heart of the Storm
5. The Sound Of A Goodbye
6. The Darkness Of This Dawn
7. You Hold Me Down
8. Angel Eyes
9. Everything You've Got
10. Tangled In Blue
11. Burning Fire
Label: Frontiers Records
Website: www.joelynnturner.com
Hardrockhaven Rating: 8.5/10