Bella D | The Crystal Ceiling
by John Kindred
– Publisher —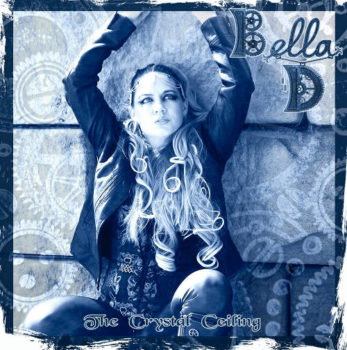 After hammering away an existence in the club scene for years and her recent battle with cancer, Bella D breaks out with her debut studio album The Crystal Ceiling.
The Crystal Ceiling is a concept album of Symphonic Rock with a storyline that follows steampunk-inspired themes. With the release of the album, a comic book series also has been released, thus presenting Bella D's musical and visual world to the masses.
The story:
The Crystal Ceiling tells the story of a female automaton whose main purpose for construction was companionship. Beautiful, smart and charming, Bella D was crafted almost too well, with a will too strong for captivity. After discovering a portal that transports her to a darkened dystopian New York City, BELLA D soon discovers that her new surroundings are entrenched in war, struggle and violence. She finds refuge with a group of unusual people whose leader is kind but mysterious – he knows something he is not revealing. Amid her new personal turmoil, New York City is under attack by a group of powerful adversaries who only go by the name "Shadow Walkers." BELLA D finds herself in the middle of a war with an unknown force while battling her own demons.
Lyrically, Bella D takes her love of video games, dystopian novels and sci-fi films and infuses her own narrative to create a lush introspective world of a person facing the worst circumstances and impossible odds in the quest to be victorious. This is the real-life story of Christie Oakes, aka Bella D, whose own battle with breast cancer, chemo and surgery parallels the struggles of her alias.
The Crystal Ceiling is an ambitious project, featuring a lineup of musicians who have worked with Michael Jackson, Blondie, Matchbox 20, Alice Cooper, Ted Nugent, Avril Lavigne and Taylor Swift. Bella D alongside producer, co-writer and drummer Charlie Zeleny (Blotted Science), otherwise known by DRMAGDN, created 11 adventurous musical opuses.
Bella D's clean vocal delivery is reminiscent of groups like Evanescence, Nightwish, Epica, etc. Her voice gracefully soars above the musical arrangements. The music follows in the same vein of Symphonic Rock that fans are accustomed to, including heavy guitars, ambient keyboard textures and melodies, orchestral elements, thundering drums and rumbling bass. The music dabbles within the confines of multiple genres, from Pop to Metal, keeping the arrangements fresh and vibrant.
After learning the backstory to The Crystal Ceiling, it brings the music into a whole new perspective. Bella D's emotional candor in the songs brings to life the struggles and triumphs of living life. And while we all can't relate to the same pain and struggle, we all have been in dark places, looking for a window of light. When you can put that energy and emotion into the music, and the listener can hear and feel it, then the artist has achieved his/her goal of creating a moment in time during which the artist and listener stand in the exact same plane of existence.
Genre: Symphonic Rock
Band:
Bella D – vocals
Charlie Zeleny aka DRMAGDN – drummer
Guest Musicians:
Tommy Kessler: Guitar: (Blondie, Rock of Ages, Blue Man Group)
Matt Beck: Guitar: (Matchbox 20, Rob Thomas)
Iakov Kremenskiy: (Talib Kweli, Outasight, Tanya Morgan)
Oscar Albis Rodriguez: Guitar/Bass/Keys: (A Great Big World)
Karl Cochran: Guitar: (Ace Freeley, Joe Lynn Turner)
Matt Rubano: Bass: (Taking Back Sunday, All-American Rejects)
Greg Smith: Bass: (Ted Nugent, Alice Cooper, Billy Joel)
Steve Ferlazzo: Keys: (Avril Lavigne)
David Cook: Keys: (Taylor Swift, David Guetta, Jennifer Hudson)
Paul Morris: Keys: (Trans-Siberian Orchestra, Rainbow)
Joe Deninzon: Strings: (Richie Blackmore, Bruce Springsteen, Sheryl Crow)
Daniel Flam, New York Brass: Horns: (Kanye West, Rick Ross, Jay-Z, John Legend)
Kevin & Melinda Brown: Upright Bass/Strings/Harp: (NJ Pops, Staten Island Symphony, NJ Ballet)
Bashiri Johnson: Percussion: (Michael Jackson, Whitney Houston, Queen)
Daniel Sadownick: Percussion: (Steely Dan, Jennifer Lopez, Billy Idol, The Roots)
Track Listing:
1. Breaking Free
2. End of the World
3. Save Me
4. My Fate Is Survival
5. There's No Room For You
6. The Crystal Ceiling
7. The Shattered Mirror
8. Battle On
9. Danger Truly Dawns
10. Invincible
11. Dio Solitario Della Notte
Label: Independent
Web: https://www.facebook.com/BellaDMusic/
Hardrock Haven rating: 8.5/10