Kissin' Dynamite | Generation Goodbye
by Justin Gianes
– Sr. Columnist —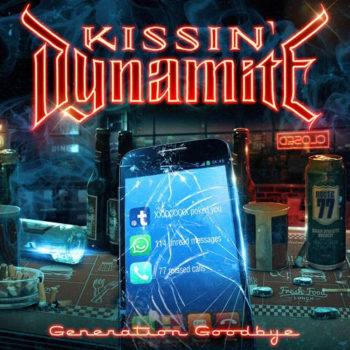 German melodic hard rockers Kissin' Dynamite are back with a new album, its fifth overall, titled Generation Goodbye. It's the first album the band produced on their own and is yet another example of why they're one of the most exciting young bands in the Melodic Hard Rock scene.
Ever since Kissin' Dynamite made their debut (with 2008's Steel of Swabia), they've delivered a high energy mix of metal edged Melodic Rock, and Generation Goodbye is no exception. The album is full of catchy guitar hooks and ultra-infectious melodies, but it has that metal backbone and Modern Rock crunch that makes it more than just another collection of poppy hooks. "Somebody to Hate," for example, kicks you right in the teeth with metal rhythms. "She Came She Saw" has a great sense of heaviness as well, but it's catchy and melodic at the same time.
Generation Goodbye isn't exactly a concept album, but you do see some themes running throughout these songs. The prevalence of social media and the need to be connected 24/7 seems to be a major focus. Hence songs like "Hashtag Your Life" and the title track. It adds another aspect to the songs, in that you actually want to pay attention to the lyrics. The whole album is rock-solid, but towards the second half, you get a series of absolutely fantastic melodic rockers in "Highlight Zone," "Masterpiece," "Flying Colours" and "Under Friendly Fire" that just put this already good album right over the top.
Kissin' Dynamite has never really released a bad album, but their last couple haven't had quite the same impact that their 2010 album Addicted to Metal had. Generation Goodbye not only captures that energy, it is arguably the best release of the band's career. It's one of the best Melodic Hard Rock albums 2016 has to offer and is a must-hear for fans of The Treatment, H.E.A.T., Eclipse, Pink Cream 69 and The Defiants.
Edition Notes: The physical CD release of Generation Goodbye comes in a digipack and includes four bonus tracks – "Living in the Fastlane," an acoustic version of "Only the Good Die Young" and live versions of "Ticket to Paradise" and "I Will Be King" – as well as a bonus DVD with videos, live clips, and documentary footage.
Genre: Heavy Metal, Melodic Hard Rock
Band:
Hannes Braun (v)
Jim Muller (g)
Ande Braun (g)
Steffen Haile (b)
Andreas Schnitzer (d)
Track Listing:
1. Generation Goodbye
2. Hashtag Your Life
3. If Clocks Were Running Backwards
4. Somebody to Hate
5. She Came She Saw
6. Highlight Zone
7. Masterpiece
8. Flying Colours
9. Under Friendly Fire
10. Larger Than Life
11. Utopia
Label: AFM Records
Website: www.kissin-dynamite.de
Hardrock Haven rating: 9/10