In Remembrance: Raymond Smith of Tear Gas Union
by Jonna Ambur
– Sr. Photojournalist —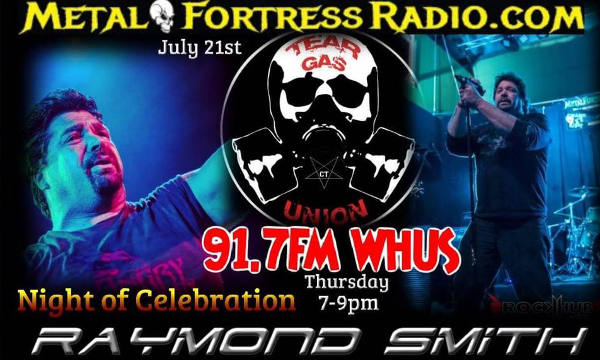 Connecticut's music community lost one of their own on Friday, July 15, 2016. Raymond Smith, vocalist of Metal band Tear Gas Union (TGU) passed away after injuries suffered in a motorcycle accident which also left his fiancé Allison in critical condition and without the man she was to marry after 11 years together.
Ray brought real-life lyrics and hooky melodies to TGU that most people can relate to. He brought a great vocal dynamic to the band starting when he answered an ad looking for a vocalist. Very excited to be in an original metal band, he had always wanted to write original lyrics, of which he had plenty. There was a fast bond with the band and music just started pouring out. Within several months of Ray joining the group, they started recording their first album Scream in Vain. Their second album was in progress at the time of his passing and September was to hold a mini-tour in Richmond, Virginia Beach, Philadelphia and New Jersey.
Tear Gas Union's drummer, Pete Fratta, and one of Ray's closest friends shared his thoughts.
"Ray was the type of guy who really didn't have a negative bone in his body. He always seemed happy in life and was very loyal to his friends, family and to anyone who would come see him perform. He loved the stage but did not have an ego. Ray would always say; "Hey man I'm on the record!" and was very excited to have an original album released. He was very genuine and real and all that knew him were honored to call him a friend."
Saturday, July 16 was set to be the first annual Unholy Fest that was put on and headlined by Tear Gas Union. With Ray's passing, it was unclear as to whether or not the show would continue as planned. After some heart-wrenching conversations; his band, friends, and family decided "the show must go on" and the show would continue and become a tribute show in honor of their fallen brother.
As Darkness Dies signed to Pure Steel Records, was asked to take over Tear Gas Union's headlining spot. Their first live performance with their new lineup started with a full minute of silence. Vocalist Joe Re had the room at full attention and the minute asked for was observed by every single guest and employee in the room. You could have heard a pin drop. Incorporated into their 45 minutes set of songs off their 2015 self-titled album, was a song dedication, "The Other Side," that featured intense dual vocals from Joe and their original vocalist, Martin O'Brien.
Enemy of Reason pulled in to cover the slot just before As Darkness Dies. The band's recently released CD was performed with a full set in Ray's honor complete with the Unholy Fest cage dancer, encouraging words and of course that metal energy that Ray loved.
Buzzard Canyon took the starting spot at the last minute to fill a band that wasn't able to attend and Weird Hero closed the night out as guests, family and friends paid their final respects in full Metal style!
Ray and his family, friends and loved ones remain in the thoughts and prayers of everyone in the CT music scene … musicians and fans alike.
"… I am happy to be a part of writing original music with Tear Gas Union and really showing my old and new fans that I will be rockin' till I die."
–Ray Smith (2/2/1967 – 7/15/2016)
Website: www.teargasunion.com
Facebook: www.facebook.com/TearGasUnion