André Kvarnström of Blues Pills
by Anabel DFlux
– Sr. Photojournalist —
Senior Photojournalist Anabel DFlux caught up with Andre of Blues Pills while the band tours in Salzburg, Rockhouse. The journalist inquired about the Lady In Gold album, Andre's history as a drummer, his inspirations, and upcoming events!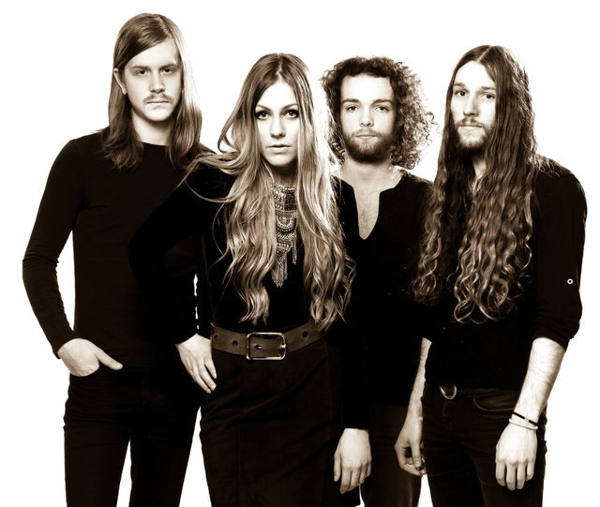 Hardrock Haven: Hi Andre! Thank you so much for speaking with me today. How are you?
André Kvarnström: Hello! Everything is good over here, we are currently doing some shows over the summer – festivals and club shows – so right now we are in Salzburg, Rockhouse.
Hardrock Haven: Blues Pills' anticipated new album Lady in Gold releases on August 3rd. What are you most looking forward to from this release?
André Kvarnström: Since it's the first full-length studio album that I am a part of in the Blues Pills catalog, I'm very excited to be able to share the new music with the people. This album is something that we have been working on for the past 2 years together with the producer Don Alsterberg and we are very proud of what we have created.
Hardrock Haven: Tell me about the writing and recording process. How did you get inspired for your percussion, and how was the album recorded?
André Kvarnström: We started the first recording sessions in late 2014 and we decided to work with the same producer Don Alsterberg who also produced and recorded the first album. The writing process happened a bit different than the first album, as we didn't have that many songs or riff ideas going into the studio. We had to write the music more on the spot while at the same time recording.
It's hard to say what exactly inspired me on the percussion side but since we were all in the studio when the songs were recorded, I think I went with the approach to playing the drums for what the song needed. Of course, other music and drummers affect and inspires the way that I play the drums but I always try to "translate" it to my style of playing.
Hardrock Haven: I hear this is your first album with this band. How did you meet them?
André Kvarnström: I met Zack, Elin, and Dorian in 2013. At that time, they had moved to the city that I lived and grow up in, Örebro. I was playing in another band at the time and was also out touring but since Örebro isn't a very big city, we eventually met each other and started hanging out and jamming when both of us weren't on tour.
Hardrock Haven: What's the theme or concept of Lady in Gold?
André Kvarnström: I don't think we went into the studio with a specific thought on what theme or concept the new album was supposed to have. We just wanted to do a great album. Some of the lyrics are inspired by made up stories and some from real life experiences which kind of lets the listener decide.
Hardrock Haven: Do you have a favorite song on this release? Best to play live?
André Kvarnström: I have to say that it's really hard to choose just one song but I really like "Bad Talkers" and "Little Boy Preacher." I do also think that "I Felt a Change" is a song that really stands out on the album.
Hardrock Haven: Tell me a bit about you. What inspired you to drum?
André Kvarnström: I started to play the drums when I was around 11-12 years old, at first I was supposed to start taking classes for guitar, but I do remember that the waiting line was about 4 months so then my dad saw an add in the newspaper for a drumkit and it just kind of started there. I started listening to bands like Kiss and Red Hot Chili Peppers but got later into more metal and hardcore music.
So I played in a few Metal and Hardcore bands before I one day got asked to join a band from Örebro called Truckfighters. I went out touring with them for about 1 year before I got asked to join up with Zack, Elin, and Dorian to play in Blues Pills. And I had at the time started to get back a bit more in the 60's and 70's style of music.
Hardrock Haven: I hear Blues Pills have some exciting tours coming up! Tell me about them!
André Kvarnström: We are currently in the middle of the festival season and we are also doing some club shows in between the festivals. The last date of the summer is the 28th of August at the Rock En Seine in Paris. Then we'll be back in Örebro for some weeks until we will go out on a long tour throughout Europe with our friends In Kadavar which we, of course, are really excited about!!
Hardrock Haven: How do you feel the music culture changes between countries?
André Kvarnström: It's really hard to say, from what I experienced the crowd is always a bit different depending on what country you are in. But in the end, I do feel like everyone that likes music and the people that are going out to see bands play live are just in it for the music and enjoying a good evening with your friends or family.
Hardrock Haven: What is your fondest musical memory?
André Kvarnström: I don't think that any of us will forget when we got the opportunity to play so many big festivals last year such as Rock am Ring, Rock am Park and NovaRock.
Hardrock Haven: Finally, any words for your fans before we conclude this interview?
André Kvarnström: Thanks to everyone that supports our band and that comes out to the shows. Also, a big thank you to everyone that buys and support our music, it means the world to us.
Hardrock Haven: Thank you so much!
Visit Blues Pills onlne: https://www.facebook.com/BluesPills/