Doug Aldrich of The Dead Daisies
by Marija Brettle
– Sr. Columnist —
Since exploding onto the scene in early 2013, Aussie/American rockers The Dead Daisies have taken the Rock world by storm, releasing two albums to date and touring with the biggest names in Rock including ZZ Top, Aerosmith, Lynyrd Skynyrd, Bad Company KISS, Whitesnake and more.
Their new and highly anticipated studio album, Make Some Noise, is a celebration of the ferocious arena sound of the Seventies. The album, which was produced by Marti Frederiksen (Aerosmith, Def Leppard), is set for an August 5 release and boasts an array of intense riffs, huge hooks, and tasty melodies.
Following the busy summer touring schedule the 'Daisies' recently announced they'll be playing their first ever headline show in America at the legendary LA venue, Whisky a Go Go and will be the opening act for Kiss for a month's worth of dates on this year's Freedom to Rock Tour.
The current Dead Daisies line-up features an impressive arsenal of notable musicians, including David Lowy (Red Phoenix, Mink), John Corabi (Mötley Crüe, Ratt), Doug Aldrich (Whitesnake, Dio), Marco Mendoza (Whitesnake, Thin Lizzy) and Brian Tichy (Ozzy, Foreigner).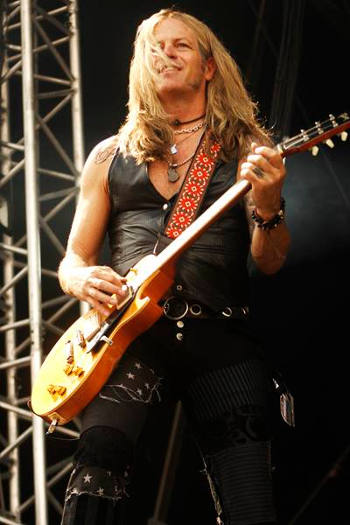 Hardrock Haven caught up with the guitarist Doug Aldrich backstage at Ramblin' Man Fair, to discuss the new record and why people should make some real noise on their shows. Also their busy touring schedule and what really makes the band happy and blessed right now…
Hardrock Haven: Despite the early start for you, by the reaction of the crowd, it was obvious that The Dead Daisies are a big hit with the British fans! How it was for you on the day, considering this was The Dead Daisies first English appearance of the year after arriving in Europe?
Doug Aldrich: It's awesome to be able to spend a few hours hanging out at the festival with other bands I normally have to come in for the show. We really enjoy the vibe of the festival!
HRH: Two festivals in one day is becoming almost a normal practice for many bands these days. So how do you 'survive' playing at the Rambling' Man and Rock & Blues Festival in one day and with a good distance of 250 miles apart?
Doug: It's always remarkable for any band to be able to do that in one day, logistically. You would think it would be really difficult, but naps on the bus ride always save the day! (Laughs)
HRH: The Dead Daisies often been praised and loved for the intense guitar riffs and glorious distinctive vocals. In the eve of the release of your new record, Make Some Noise, tell me what we can expect from this record musically and lyrically?
Doug: It's a really great record because it doesn't try to do too much; it's pretty unique… good energy and vibe. I think people will really enjoy this record driving, getting ready to go out or at the party, because it kicks ass! It brings you up and never lets you down!
HRH: So, why people should 'make some real noise' at your shows?
Doug: It's a good release and it sets off a chemical reaction inside your brain and sets free millions of tiny cute endorphins! (Laughs)
HRH: How does this record differ musically from the previous 'Daisies' album, Revolucion?
Doug: I really, really love Revolucion! It was a strong release and of course, you want to make a record that compliments it. This record Make Some Noise is straight up kicking teeth of rock n roll!
HRH: Taking into account that The Dead Daisies are 'all-star band' with an amazing music background and experience, what was the creative dynamic in the studio in the process of making this record?
Doug: It was basically the five of us locked in the studio for two weeks and plowed through a variety of musical ideas until we found the musical direction we were after.
HRH: Your new single "Long Way To Go" is already a huge hit with the British fans and music critics? What was it about this track that made you choose it for a single?
Doug: It was a management decision to leak the track and we all felt it was a fun and effective song to show the direction of the record.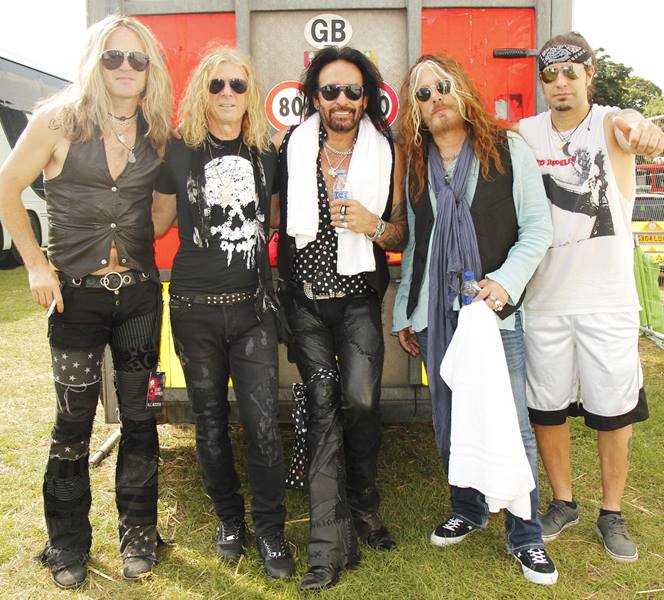 HRH: Could you give me some insight into a few of your new songs from your new record?
Doug: John did a great job of hitting a lot of topics which are a very current at the moment. The record is deep … I mean lyrically … awesome songs! For example "Long Way To Go" is a song kind of about the state of the world at the moment that we have a long way to go and a short time to get there. Also, "Song And A Prayer," tells a story of what some people go through in order to move forward in their lives and sometimes it's not always pretty. "All The Same" is the struggle of a man with a woman, who is strong minded and somewhat difficult, but we've all been there and we still love it anyways. By the way, I'm not speaking of my wife; she is the exception (Laughs).
HRH: You also have a two cover songs from Creedence and The Who. Why did you choose those songs in particular… was it much to do with the fact that The Dead Daisies are all about celebrating and bringing back the best of the 70's and 80's classic rock?
Doug: "Join Together" was an idea that John had. Although it wasn't maybe my first choice, I loved how it turned out. I tried to find a way to put my stamp on the song so I could toughen it up a little bit.
"Fortunate Son" was a song that the band had played previously and apparently always went over well, so we decided at the last minute to give it a shot in the studio. The Daisies are trying to support and create new classic rock.
HRH: So far for The Dead Daisies been quite an eventful year, going from strength to strength, playing many shows and festivals. Looking back now, is there any memorable experience you would like to share with us?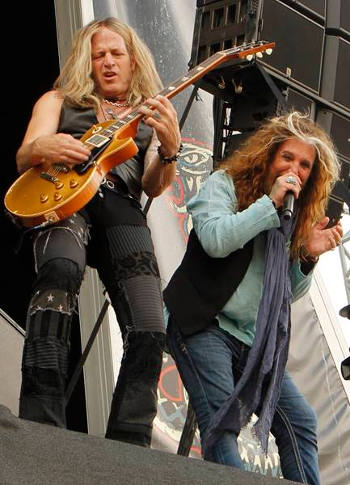 Doug: Well I'm very happy to be part of the band, these dudes are my friends and we have a great time playing music together. So far the festivals have been the highlight! It's awesome to share a big stage with these guys, but we've got a long way to go, tour wise.
HRH: By few British music critics more recently you've been called a mega-band, all-star band. How would you describe The Dead Daisies in a few words?
Doug: We don't really think of it like that, but its nice people say such a nice thing. (Laughs) We pretty much all feel happy and blessed that we can make music together and bring some new music people can enjoy!
HRH: Thank you for making the time for this Interview! It's been a real honor meeting you guys! Hope to see you soon on your next shows!
Visit The Dead Daisies online: http://thedeaddaisies.com/
Photos appear courtesy of Jadranka Jade
Special thank you to Roland Hyams/Owner at Workhard PR, for all the help with the interview!