Lanfear | The Code Inherited
by Franco Cerchiari
– Sr. Columnist —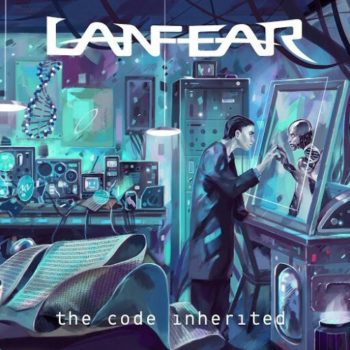 Germany's Lanfear really is one of the good, if not one of the better Power Metal bands around. The music of The Code Inherited, the band's latest, released on the Pure Legends label, is the follow-up to 2012's This Harmonic Consonance. With 4 years of silence behind them, the band has had a lot of time to show that they still have the ability to bring to market a release that would once again have their fans loyal to their brand of complex, heavy, multifaceted, and structured Power/Progressive Metal. It is a good thing to be able to say, the wait was well worth it.
The sound is incredible, and in a time when marginally talented songwriters seem to be stupidly flooding our listening landscape with nonsensical fluff, the music of The Code Inherited is indeed a great listening experience. May sound strange to say, but it comes down to taking control of the songwriting process. Taking their time, investigating what works, keeping what does, and casting aside the superfluous. The result is music that will keenly appeal to the lovers of music that is created with thought. Not about putting themselves on a pedestal and filling a release so bogged down with a complexity that it becomes hard to sit through, but rather the music of this release is a strong listen, played by musicians who like to challenge themselves, and not be content with the "status-quo." Throughout The Code Inherited, diverse chord progressions take sudden turns that are unanticipated, the songs take surprising feels and vibes mid track, while tempos shift from slow to fast, and synthesizers and acoustic guitars intermingle without warning. But what is heard, works, and works well. Fans of Vanden Plas, Magnitude 9, Mind Key, Illusion Suite, Evergrey, and Section A are going to simply love this, for Lanfear has done it again.
The music of The Code Inherited while staying true to the echo of Power Metal, hints of Melodic and Progressive Metal, and even rudiments of Industrial Metal, can be heard. With a lineup that has stayed the same since Lanfear's previous offering, vocalist Nuno Miguel de Barros Fernandez has such an incredible control of the lead vocal slot. Shifting from soft to loud, from melodic to almost death, from hazy to pure fury, his voice completes each and every song. Surrounding his vocals is music that is glorious, best when played loud as it is wonderfully mixed.At the Gates, Falconer, Sandalinas, Evergrey, Dragonland.) The guitars are melodic, the drums and bass played to their fullest, and god love the sweet keyboards.
Listen to the chunky guitar chords, growling vocals, and synthesizers of the opening track, the almost Death Metal heavy – real heavy – "The Delusionist," the loud drums of "Evidence Based Ignorance," the synthesizers of the progressive "Self Assembled," and the riffing guitars of "Converging Saints." "Remain Undone" with its gloomy, despondent feel was fantastic, and easily this CD's highlight, and closing The Code Inherited was an ode of sorts to Bryan Adam's "Summer of '69" called "Summer of '89." Truth be told, a seemingly strange addition to a Power Metal release, as this song completely changed the succession of what was heard up to that point. Not a track that one would expect, as the sound changed from Power Metal to more Melodic Rock. But leave it to Lanfear to take on the different, and play tricks with the listener's intellect, not letting them take for granted on what is coming up next – so for that, the band is to be commended.
Loud, and again, extremely well done is The Code Inherited. Of course, another release and band that horrible, and completely useless mainstream American radio will wholly disregard, and once again prove their infectiveness in helping support bands only known to a cult following. Once more, let it be said that Lanfear is one of the great ones. And this release once again proves that.
Genre: Power Metal, Progressive Metal
Band:
Nuno Miguel de Barros Fernandes – vocals
Markus "Ulle" Ullrich – guitars
Richard "Richy" Seibel – keyboards
Kai Schindelar – bass
Jürgen "General" Schrank – drums
Track Listing:
1. The Delusionist
2. The Opaque Hourglass
3. Evidence Based Ignorance
4. The Code Inherited
5. Self-Assembled
6. Converging Saints
7. Remain Undone
8. Summer Of '89
Label: Pure Legends
Website: www.lanfear.eu
Hardrock Haven Rating: 8.9/10