by Justin Gaines
– Sr. Columnist —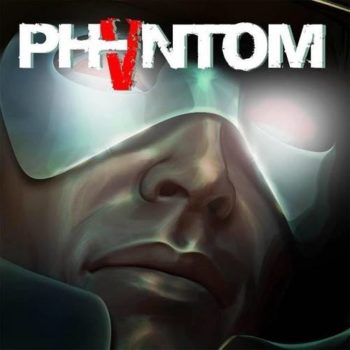 2016 sees the debut of Phantom 5, a bonafide supergroup featuring some of the brightest stars in the German Melodic Rock scene. The band was formed by vocalist Claus Lessmann (until recently the voice of Bonfire) and guitarist/singer/producer Michael Voss (Mad Max, Casanova), and also includes bassist Francis Buchholz (Scorpions), guitarist Robby Boebel (Frontline) and drummer Axel Kruse (Jaded Heart, Mad Max). With that lineup, you just know the Phantom 5 debut is going to combine the best elements of Bonfire, Mad Max, Frontline and Jaded Heart, right?
Sort of. The style is definitely there. This is really polished, really Melodic Rock with instantly recognizable vocals and catchy hooks. And it does make you think of those classic Bonfire and Mad Max albums. It's pretty much impossible to hear Lessmann singing and not think Bonfire. Unfortunately the Phantom 5 debut falls short of those classic albums. It's closer to, say, Strike Ten and Another Night of Passion than it is to the classic Fireworks or Stormchild. It's good, and at moments it rises a bit above that (leadoff single "All the Way" is the one song that captures the classic aura), but given the pedigree of this lineup, good just isn't good enough.
So where does the album fall short? It's missing that electricity that makes you want to turn the volume way up and sing along. It has hooks, but it isn't until the last two tracks – "We Both Had Our Time" and "Why" – that they get truly infectious. And while Lessmann sounds exactly like you'd expect him to sound, the lyrics he sings are pretty bad. "They Won't Come Back" in particular, which was supposed to be a tribute to fallen Rock icons, was particularly cringe-inducing.
It's not a bad album by any means, but the Phantom 5 debut should have been something truly special. Die hard fans of Bonfire, Mad Max, Casanova, Frontline and Jaded Heart will, of course, want to hear it, but unless you unconditionally love all of those bands' albums, Phantom 5 probably won't live up to expectations.
Edition Notes: The digital version of Phantom 5 includes the bonus track "Sing Along." Adding that to the MP3 version of the album rather than the physical CD seems like an odd choice.
Genre: Melodic Rock
Band:
Claus Lessmann (v)
Francis Buchholz (b)
Michael Voss (g) (v)
Robby Boebel (g)
Axel Kruse (d)
Track Listing:
1. All the Way
2. Blue Dog
3. Someday
4. Don't Touch the Night
5. Renegade
6. Flying High
7. Since You're Gone
8. They Won't Come Back
9. Frontline
10. We Both Had Our Time
11. Why
Label: Frontiers Records
Hardrock Haven rating: 7/10