Project N-fidelikah | Project N-fidelikah
by John Kindred
– Publisher —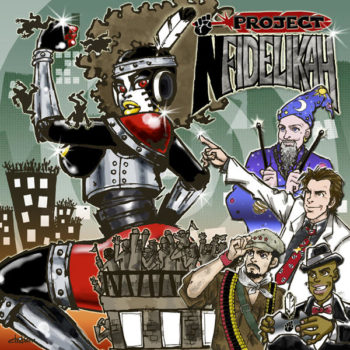 If you wanted listen to a diverse mish-mash of rockers, then look no further than Project N-fidelikah. The band, self-described as "Funk Punk ghetto underground," is built from parts of Fishbone, Dokken/Lynch Mob, Endangered Species and WAR. Fishbone front-man Angelo Moore directs the quartet, which also features guitarist George Lynch, bassist Pancho Tomaselli and drummer Chris Moore.
Originally known as the Infidels, the band opted to change its name to Project N-fidelikah. Rock, Funk, Blues, Pop, again, this a mish-mash of genres with each musician bringing specific style to the foray. Project N-fidelikah is melting pot of genres and ethnicities, tackling social constructs of the world today – albeit with a little humor. They are serious topics – the band, not so much.
Project N-fidelikah's self-titled debut features 12 songs, the last a bonus track. Funk Master Sergio Rios of Orgone was brought in to record the album. The band went way old school, recording the rhythm section on a TASCAM DA 388 8 multitrack recorder. With overdubs handled at Lynch's studio, Bob Daspit mixed and mastered the final product.
With what's going on in the U.S. nowadays, the lyrics are a spot on commentary, touching on sociopolitical issues and the state of humanity. Hard Rock and Metal fans may be pulled from their comfort zone as the music is more Funk than Rock. Quirky, almost '70s in tone – James Brownish – hell, there are many ways to describe Project N-fidelikah, but you are not going to pigeon hole this in one, specific direction.
The video single released prior to the album's release of "Landslide Salvation" offered a glimpse into the group's creative explorations and is probably the sanest track on the release. In terms of structure, it falls within the Pop-Rock genre. As for the rest of the album, well, that's a mixed bag of musical expression, including groove-oriented Funkish vibes, spacey keys, slithering guitar runs, tight bass lines and punchy drums. In terms of style, songs, such as "I Wanna Be White (But I Can't)," are reminiscent of Lenny Kravitz; whereas, "Deprivation of Independence" has a total Blues vibe.
Project N-fidelikah offers a fresh change of pace to a tired musical landscape. Old is new again, and Moore, Lynch, Tomaselli and Chris Moore deliver a solid 12-song studio album that is musically diverse and socially in step with the times.
Genre: Rock, Funk, Blues, Pop
Band:
Angelo Moore (v)
George Lynch (g)
Pancho Tomaselli (b)
Chris Moore (d)
Track Listing:
1. Project Blackout
2. Army of Jesus
3. Exposure Fi' Pay
4. Landslide Salvation
5. Corazon of Doubt
6. I Wanna Be White (But I Can't)
7. Deprivation of Independence
8. Anchor Baby
9. I Know
10. She Was Dead When I Got There
11. Rain Again
12. Curse of 1000 Mommies (bonus track)
Label: Rat Pak Records
Hardrock Haven rating: 8/10