Arkham's Razor | Carnival of Lost Souls
by John Kindred
– Publisher —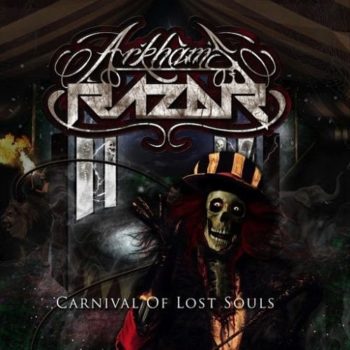 Guitarist Neil Hibbs has joined forces with vocalist Lee Small (SHY, Skyscraper, Phenomena), forming the band Arkham's Razor and releasing the band's debut album Carnival of Lost Souls. The band is rounded out by bassist Mart Trail (Fury, Tainted Nation), drummer Erik Engebretsen (session musician from Norway) and guest keyboardist Geoff Nicholls (Black Sabbath).
The connection between Hibbs and Small revolves around the band SHY. Hibbs worked with former SHY vocalist Tony Mills (ex-TNT) solo album Vital Signs. Small took over as SHY's frontman when Mills left to join TNT in '06. Hibbs then joined Small's band, SHY, for live performances.
At some point the duo interactions as guitarist and vocalist became the prime ingredients needed for the formation of Arkham's Razor. The band combines elements of Hard Rock, Metal and some Prog, whipping those genres into a heavy metallic concoction of 11 blistering songs.
Music fans are in for a treat if they never have heard Small's vocals before. Glenn Hughes, The Voice of Rock, has been quoted as saying, "When I hear a singer, the first thing I hope to hear is soul – you can't buy it – it comes from within. Secondly is tone and how it resonates with you – the singer, and, in turn, the listener. Lee Small is one of these special singers. He lives and feels the moment, may you shine, my friend." Hughes knows a thing or two about all these elements. And when you hear Carnival of Lost Souls, you will understand exactly what Hughes is saying.
Again, it's difficult not use the terms "heavy" and "metallic" to describe the music on Carnival of Lost Souls. Hibbs' guitar provides a consistent rhythmic crunch and searing solos, and Engebretsen's percussive attack provides the thunderous steady beats Trail's bass molds with the drums, emphasizing the low-end heaviness – with the musical sound bed laid out before his, he delivers soulful and emotionally charged vocal melodies.
Hibbs and Small deliver quality ear-grabbing tunes. Their explorations within different genres of Rock work extremely well. They are able to merge heavy with melodic and soft with aggressive arrangements without the dynamics clashing together or losing momentum. The production is stellar; it's nice to be able to hear the bass and drums standout during each song. The music has a lot of oomph, a lot of energy and lays down a steady groove. Combine that with the listenable vocals, memorable choruses, strong songwriting, excellent musicianship, and Arkham's Razor's Carnival of Lost Souls will most certainly find its way to many 2016 top 10 lists as the year comes to a close.
Carnival of Lost Souls is an album that you know you are going to like by just listening to the first song.
Genre: Hard Rock, Heavy Metal
Band:
Lee Small (v)
Neil Hibbs (g)
Mart Trail (b)
Erik Engebretsen (d)
Geoff Nicholls (k)
Track Listing:
01. Carnival of Lost Souls
02. Vaudeville Lillie
03. Skeleton Swing
04. Neon Haunted By Your Love
05. The Asphyx
06. Gangland Wonderland
07. T.V On the Radio
08. Afterlife
09. Sin'orita
10. Visitor from the Grave
11. Positive/Negative Man
Label: Lynch Music Group
Web: https://www.facebook.com/arkhamsrazor/
Hardrock Haven rating: 8.5/10