by John Kindred
– Publisher —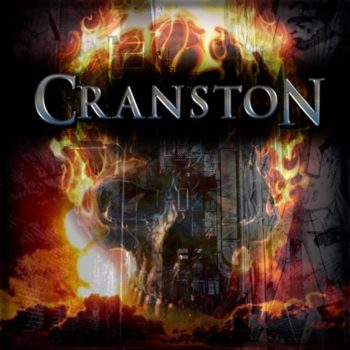 Paul Sabu (Only Child) has joined forces with Phil Vincent and delivered their first studio album under the moniker Cranston.
Sabu is known for working with artists such as Lee Aaron, David Bowie, Little Caesar, Alice Cooper, Jesse Damon, Fatal Smile, Prince, Silent Rage, Tattoo Rodeo and John Waite. Vincent, over the course of his career, has released 20 albums with bands like Tragik, Legion, D'Ercole and as a solo artist.
The duo's self-titled debut combines their talents as producers and songwriters to create 10 Melodic Hard Rock songs. Cranston features Vincent handling all the lead vocals, while Sabu joins him on backing vocals and provides all the string and keys instrumentation – guitar, bass and keyboards, and B.F. D'Ercole mans the drum kit.
Sabu's many years of experience offer Cranston insight into delivering 10 straight-to-the point songs and avoids the cliché filler tracks that typically bloats a CD with way too many songs. The album has strong AOR leanings, mixed in with '80s Melodic Hard Rock. Surprisingly, the production isn't as crisp as one might expect.
Cranston clocks in at a little more than 40 minutes. The album features plenty of heavy riffs, combined with hook-laden choruses, keyboard layers, prominent bass lines and on-the-money drumming. Sabu and Vincent put a lot of emphasis on memorable choruses with the songs like "A Long, Long Way To Go" and "Fallen" that prompt a sing-along as you bob your head to the music. Except for "Sea of Madness," the album maintains a moderate pacing. The song is as close as you can get to the genre defined "power-ballad" on the CD. While Vincent shows off his vocal prowess, Sabu displays his multi-instrument talents – from lead guitar to crunchy guitar riffs, bass, keys, every song has his stamp all over it. Vincent provides layered backing vocals that fatten up each song.
After a few spins, the song arrangements reveal themselves to be predictable and a bit formulated. Ultimately, the album is quite nostalgic. For fans of '80s/'90s Melodic Hard Rock, the familiarity with the genre brings a certain comfort in expectations. It's a solid debut by the duo and a building block for future musical excursions by Sabu and Vincent.
Genre: Melodic Hard Rock
Band:
Phil Vincent – Lead and Background Vocals
Paul Sabu – Guitars, Bass, Keyboards, Backing Vocals
B.F. D'Ercole – Drums
Track Listing:
01. Long, Long Way To Go
02. You Oughta Know
03. See You On The Other Side
04. Trouble Ahead
05. Fallen
06. Queen Of The Pain
07. Let It Go
08. Sea Of Madness
09. Hangin' On
10. Unwanted
Label: Rock Company Records
Web: http://www.cdbaby.com/cd/cranston22 – Phil Vincent website http://www.philvincent.com/ – Paul Sabu website http://www.paulsabu.com/
Hardrock Haven rating: 7/10