Kamelot | Where I Reign: Very Best Of The Noise Years
by Franco Cerchiari
– Sr. Columnist —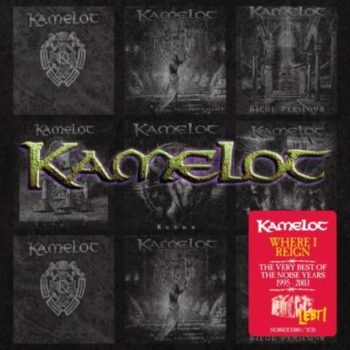 Formed in Tampa, Fla. by Thomas Youngblood and Richard Warner in 1988 as "Camelot," by 1991, the band would change their name to "Kamelot" and sign a deal with Noise Records and release their debut Eternity in 1991. Which brings us to this, their first "best of" package from their days signed to the Noise Records label titled Where I Reign, The Best of the Noise Years, 1995 – 2003, featuring tracks from the band's 1995 Eternity on through 2003's Epica, released on the Nuclear Blast label.
While a release that also featured tracks from Kamelot's incredible The Black Halo, Silverthorn, and Haven would have been an amazing offering, this does show the beginnings of one of America's great Symphonic/Power Metal bands. The term "best of" is entirely subjective of course, but there are a few issues to be brought up. First, is the sound and a wonder why some of these tracks weren't given a re-mastering that is available with today's studio technology. "We Are Not Separate," and it seems "Eternity," the opening track, could have been even louder and fuller than what was heard here. Second, for a CD to be called "The Very Best Of" it stands to reason, that it is just that – The Best Of. "We Are Not Separate" a rather forgettable track from their 1997 release Dominion should have been replaced by "Birth of A Hero," a gorgeous, soaring, loud, Queensryche–esque song with a sensational piano and acoustic guitar accompaniment. The monster "Farewell" from their Epica release should have made its way onto this "best of," and well, so should have been the bombastic Metal track "Fire Within," the lush "What About Me," both from Kamelot's debut Eternity, and the omission of "King's Eyes" from Siege Perilous, and the epic "Glory," from The Fourth Legacy was a disappointment. But, all day long this could be done – what could have been, what should have been, and what is. The end result is, this still is a look into Kamelot's early years, and when looked at it in that regard, Where I Reign does hold up.
Worth a listen is, of course, the towering "Karma," the pure power of "Until Kingdom Come" and the guitars, towering vocals, and galloping refrains of the heroic "Wings Of Despair," and the sensational "The Edge of Paradise," were both this CD's highlight. "Rise Again" with its loud drums was a standout, the furious "The Gleeman," the head nodding, "III Ways To Epica" the strings of "Rhydin," and the synthesizers of "Descent of the Archangel," were all great. Not to minimize or take anything away from the other members of this band, but a note must be made for original vocalist Roy Kahn, who is truly one of Metal's best, and most prolific voices.
There are threes versions of "Where I Reign…" available for purchase, single disc, 2-disc, and a 3-CD set, with the first two CDs being the band's chosen songs, and the third disc being a compilation of songs by other Nuclear Blast heavyweights, Tankard, Helloween, Kreator, Grave Digger, Running Wild, and Skyclad, all of whom have recently released similar Best of the Noise Years compilations.
Fans of Sonata Arctica, Angra, Avantasia, Hibria, Almah, Stratovarius and Shaman will all find something to love about Where I Reign, but who also should give this a listen are those who are only familiar with Kamelot's later releases. This is a look into the band's early years, and with a different lineup. Of course, nothing that will be heard on useless American radio airwaves, but overall a good selection of songs are part of this "best of."
Genre: Power Metal, Symphonic Metal, Progressive Metal
Band Members: (vary with each album featured)
Roy Khan – vocals
Glenn Barry – bass
Glen Tibbetts – bass
Thomas Youngblood – guitars
Richard Warner – drums
Casey Grillo – drums
David Pavlicko – keyboards
Track Listing:
CD 1
1. Eternity
2. Black Tower
3. Call Of The Sea
4. The Gleeman
5. Ascension
6. Heaven"
7. Rise Again
8. Creation
9. Millennium
10. Expedition
11. Where I Reign
12, Rhydin
CD 2
1. The Fourth Legacy
2. Desert Reign
3. Nights of Arabia
4. Until Kingdom Come
5. We Three Kings
6. We Are Not Separate
7. Wings of Despair
8. The Spell
9. Karma
10. Center of the Universe
11. The Edge of Paradise
12. Descent of the Archangel
13. III Ways to Epica
Label: Noise Records, BMG
Website: www.kamelot.com
Hardrock Haven Rating: 8/10