Toby Knapp | The Architect of Paradox
by John Kindred
– Publisher —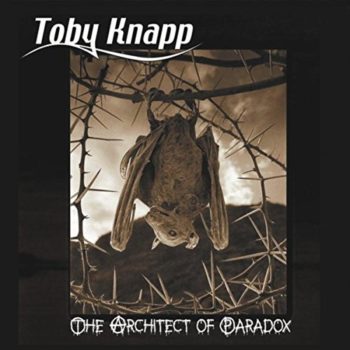 Toby Knapp's last solo album, 2013's Static Warfare, saw Knapp return and exorcise lingering demons from his past. This expulsion seemed to have empowered Knapp to open up the vaults and revisit his old band Onward, release Shred Black Metal with his band, Waxen, on the group's 3rd album Weihung Auf Satan, and also release music with his band Where Evil Follows with the release of 2015's Portable Darkness.
His latest endeavor titled The Architect of Paradox is a return to his roots of shred guitar, offering fans an instrumental album that harkens back to the glory days of Shrapnel Records. Shrapnel Records was known for launching the careers of a slew of Metal's most well-known shredders, Paul Gilbert, Bruce Bouillet, Vinnie Moore, Greg Howe, Jason Becker, Marty Friedman, James Byrd, David T. Chastain and many, many more amazing players. Knapp is also a member of this elite group of musicians releasing Guitar Distortion on Mike Varney's label in 1993.
The Architect of Paradox features 8 new instrumental songs that lean heavily on the Heavy Metal and Neo-classical Metal genres. Careening over the top of these Metal excursions is the blazingly-fast fingers of Knapp as he unleashes a fury of notes that scorch the fretboard and the listener's ears. Interwoven into the construct of his soloing is melody and fluidity that truly defines him as a master of his craft. Each song maintains a level of energy that keeps you, the listener, locked into Knapp's musical world for the duration of the CD.
The Architect of Paradox is a joyous return to the "good ole' days" of glutinous overindulgences of spiraling ecstasy as the guitar travels at light speed, note after glorious note. Where Neo-classical shredders like Malmsteen can become polarizing, Knapp drifts from speedy, flashy solos, to melodic overtones, mixing in arpeggiated runs thus creating enough dynamic changes to keep your head in the game.
All those key elements from those glorious '80s shred albums manifest themselves on The Architect of Paradox. Knapp offers instrumental shred guitar fans pause as they may become a bit nostalgic hearing his latest studio release. It is a sure sign that this style of instrumental albums are relevant as much now as they were in the '80s and early '90s. Virtuosity combined with the ability to craft listenable music is what separates the great guitarists from the mediocre. And with The Architect of Paradox Knapp shines once again.
Genre: Instrumental, Heavy Metal, Neo-Classical Metal
Band:
Toby Knapp – everything
Track Listing:
1. Dead Hand Initiative
2. All's Forgotten
3. Remote Viewing Syndrome
4. Cross Elevations
5. Heaven's Indifference
6. When the Sky Meets the Flames
7. The Archangel's Hymn
8. As the Seasons Disappear
Label: Crushing Notes Entertainment
Web: http://tobyknappmusic.com/
Hardrock Haven rating: 8.5/10