Alter Bridge | The Last Hero
by Jonna Ambur
– Sr. Columnist —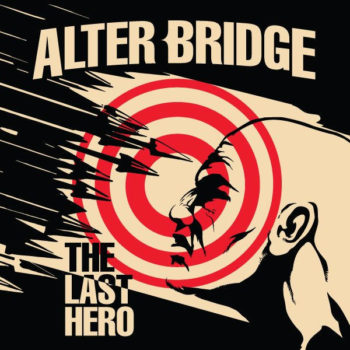 Formed in 2004, Alter Bridge recently released its fifth studio alum The Last Hero, which was produced by Michael "Elvis" Baskette, a longtime collaborator.
There is a huge, heavier sound heard on this album, as it covers themes of current news and political affairs, but it's softened with inspiration and hope. The smooth transitions, crisp changes and the writings of Tremonti/Kennedy put this 13-song album at the top of the list of must-haves. Alter Bridge;s sound always has been Rock, but with this album, Alter Bridge does an excellent job of laying down Heavy Metal.
Songs such as "Crows on a Wire" and the first single, "Show Me a Leader," express the political woes of the United States and the frustrations of Americans, while "You will be Remembered" is a heartfelt dedication to the heroes that fight for American freedom. Each Alter Bridge album seems to have that one song that gives the boost you need to fight through whatever personal battles you may be waging, and on The Last Hero, "My Champion" is that song. "Poison in my Veins" is right behind it and is another "windows-down" song that will get you singing even if you don't know the words. "The Other Side" proves that you don't have to let go of quality writing and musicianship to create something heavier. The album may be a bit long with 13 songs, with a few tunes starting to sound the same after you listen for a while, but, overall, it is packed with some killer songs. Listeners will appreciate the steadfast and true feel of Alter Bridge while embracing its heavier style.
Watch for Alter Bridge on the road as they start the U.K. tour leg, immediately following up with a U.S. tour. Known for its stellar live performances, combined with the energy that is on this album, and will be a tour you won't want to miss.
Genre: Alternative Metal, Hard Rock
Band:
Mark Tremonti (guitar/backing vocals)
Myles Kennedy (lead vocals)
Scott Phillips (drums)
Brian Marshall (bass)
Track List:
1. Show Me a Leader
2. The Writing on the Wall
3. The Other Side
4. My Champion
5. Poison In Your Veins
6. Cradle to the Grave
7. Losing Patience
8. This Side of Fate
9. You Will Be Remembered
10. Crows on a Wire
11. Twilight
12. Island of Fools
13. The Last Hero
Label: Caroline, Napalm
Website: www.alterbridge.com – www.facebook.com/alterbridge
Hardrock Haven Rating: 8/10