by Joe Mis
– Sr. Columnist —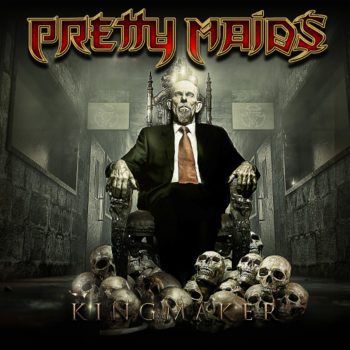 Waiting is hard, and waiting for good music is harder. It has been 3 long years since we last heard new material from Danish Metal masters Pretty Maids, but the wait – as hard as it was – was worth it. Kingmaker, the band's 15th studio release, is sure to please both long-time and new fans. It is clear that the boys in the band have not been on holiday since 2013's Motherland – they've been hard at work and have put together an album that belongs on the this year's Top-10 list of every hard rock and heavy metal fan.
Pretty Maids is all about the chemistry between frontman Ronnie Atkins and guitarist Ken Hammer. The pair has been the heart and soul of the band since its formation in the early 1980s, and prove that Atkins/Hammer deserves to mentioned in the same breath as any of the great songwriting teams in modern music. Atkins delivers his trademark mix of rasp, grit, and clarity, while Hammer dishes out riffs and solos that are at times beyond imagining – and they both are equally at home whether performing heavy, in-your-face Metal, Pop-tinged Rock, or mellow acoustic Rock. The founding duo receives great support from the returning Rene Shades (bass), Allan Tschicaja (drums), and guest keyboardist Kim Olesen, resulting in a polished album that will appeal to just about everyone.
"When God Took a Day Off" opens with a relatively long intro based on choral chant before becoming a blistering bit of social commentary seemingly lifted straight out of today's international news headlines. "Kingmaker" follows, continuing the hard-edged Metal (and a bit more political commentary) but adding a little bit of thrash feel thanks to Hammer's powerful rhythms and flowing solo supported by Tschicaja's dynamite drums. Atkins pulls out all the stops and delivers his best vocals on the album. The band tones it down a little for the softer and upbeat "Face the World" – the first track where Kim Olesen's keys are an integral part – and shows that the band can write songs about non-political topics as well. "Humanize Me" is a very heavy track that features a surprising sing-along chorus on top of pounding drums and big bass. Hammer's solo is incredible. Of course, Pretty Maids does the traditional ballad thing with "Last Beauty on Earth," but one can hear the true emotion in both the lyrics and their delivery.
"Bull's Eye" cranks it right back up and has a little early-80s metal feel through the opening riffs and massive guitar heroics. The varied tempos mixed in highlight the strong coordination of bass and drums. "King of the Right Here and Now" is another heavy track with intricate and complex rhythm guitars and a surprisingly melodic chorus for a track that is about as metal as you can get. "Heaven's Little Devil" is just a little cheesy, but will bring a smile to the face of almost every rocker out there – Pretty Maids just sounds like they are having so much fun on this pop-tinged rocker. Atkins cranks it up to the top of his power range on the pounding "Civilized Monsters," and Hammer gets to truly cut loose on his break. Big guitar riffs power "Sickening", while "Was That What You Wanted" closes the release as a very heavy, modern rocker with hints of Alternative, Industrial, and Thrash Metal mixed with old school Hard Rock.
The only potential negatives on Kingmaker are the drawn-out intros and fades to "When God Took a Day Off," and the very long fade outs of "Humanize Me" and "Was That What You Wanted."
Kingmaker simply sounds fabulous thanks to the hard work and experience of producer Jacob Hansen. Everything is crisp and clear, and the album possesses an overriding feel of melody and warmth – in other words, it is typical Pretty Maids. The songs are well written and structured, and there is not a stinker in the lot. The band hangs together well no matter the style.
Once again Pretty Maids has proven itself to be one of the most versatile, talented, and reliable rock bands out there. Kingmaker is another in a long line of excellent albums that ranges from heavy, near thrash metal to radio friendly pop rock – and is packed with tight performances from start to finish. Strong songwriting, strong musicianship, and strong production values are what we have come to expect from Danish Dynamite – and Pretty Maids meets this expectation every time out. They are perhaps the only decade's old band that has never released a disappointing album – and they keep chugging along as reliable as an old Timex watch, never missing a beat or dropping a note.
Pretty Maids Kingmaker is a shining example of Melodic Metal, and is very highly recommended – in other words: business as usual!
Genre: Metal
Band: Ronnie Atkins – vocals
Ken Hammer – guitar
Rene Shades – bass
Allan Tschicaja – drums
Kim Olesen (Anubis Gate) – keyboards
Track Listing:
1. When God Took a Day Off
2. Kingmaker
3. Face the World
4. Humanize Me
5. Last Beauty on Earth
6. Bull's Eye
7. King of the Right Here and Now
8. Heaven's Little Devil
9. Civilized Monsters
10. Sickening
11. Was That What You Wanted
Label: Frontiers Records
Website: http://www.prettymaids.dk/
Hardrock Haven rating: 9/10