Steve Grimmett's Grim Reaper | Walking In The Shadows
by Joe Mis
– Sr. Columnist —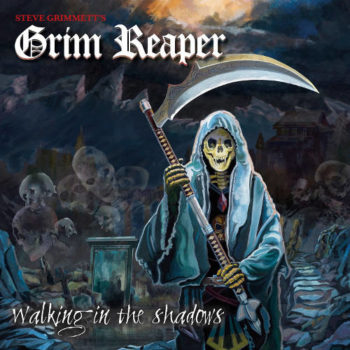 Steve Grimmett's Grim Reaper's Walking in the Shadows is a hard rocking example of the Metal genre commonly known as NWOBHM (New Wave of British Heavy Metal) – not at all bad for a band that has been on hiatus for nearly three decades! In fact except for noticeably better recording techniques, Walking in the Shadows could have been released as is all those years ago.
Direct, hard hitting, and totally unapologetic, Grim Reaper's music today is exactly what it was thirty years ago. Steve Grimmett has not allowed his Metal edge to dull and has not softened his approach one iota. He may have lost a tiny little bit of his top end, but the years have seasoned Grimmett's vocal technique and songwriting skill enough that even the most hardcore fans of old Grim Reaper won't complain.
The original Grim Reaper was formed back in 1979 but did not release their first album until 1983's See You in Hell. Riding the crest of the New Wave of British Heavy Metal, they released their sophomore album Fear No Evil in 1985, and after a legal dispute with their label, they spun Rock You to Hell two years later in 1987. When the New Wave broke Grim Reaper disbanded in 1988 with Grimmett brought his distinctive voice to other projects including Onslaught and Lionsheart, while his primary songwriting partner and well-respected guitarist Nick Bowcott went freelance. The band flirted with reunions in the mid-2000s, playing some festivals and live shows, but nothing truly solid materialized until they played a series of live gigs starting in 2009. That leads us at long last to 2016's Walking in the Shadows.
Steve Grimmett as expected fronts the band, and his voice remains as distinctive and identifiable as always – and his style has changed very little, which in this case is a very good thing. Ian Nash handles the guitars, and at times seems to be channeling original guitarist Nick Bowcott. Any fan of the original band would have doubts about GR without Bowcott, but Nash's style is similar enough that the riffs carry the same musical punch and overall spirit while being different enough in execution that one can be sure that it is not someone trying to imitate him. Chaz Grimaldi proves to be a talented bassist and knows how to fit himself into the music, staying steadily in the background and stepping forward and kicking butt when called upon. Drummer Paul White can do it all, handling insane double bass and straight up rock styles with equal skill, and is just flashy enough to catch notice, but not too extreme that he dominates or becomes a distraction.
Musical highlights include: "Walking In The Shadows" – a titanic track built around both Grimmett's strong vocals and Nash's superb rhythm guitars (his solo is pretty damned good here as well – Bowcott's shoes have been filled well and truly); "I'm Coming For You" – a slower, pounding track that allows Grimaldi's bass and White's drums to rule; "Call Me In The Morning" is a near thrash / speed track with a dynamic drum line and huge guitar chops; "Temptation" features a manic drum line and machine gun bass behind gritty vocals and a superb lead break; and finally "Thunder" is a massive, rolling rocker that pushes everyone in the band to be their best. There is not a bad track on the CD!
Nicely produced and mixed, Walking in the Shadows is NWOBHM with a modern sound. Grimmett's voice is as metal as ever, and the new lineup is tight enough that it seems that they've been together for decades. Their sound is a throwback to the glory days of Metal and is refreshing in its familiarity. Steve Grimmett's Grim Reaper delivers pure old school Heavy Metal without any fluff (no ballads, no keyboards, no love songs). Despite a mostly new lineup, long-time Reaper fans will love it, NWOBHM fans will be immediately at home, Grimmett fans will enjoy his vocals, and anyone looking for a new candidate for a guitar hero will have to consider Ian Nash…
Steve Grimmett sums it all up when he roars "Rock will never die!" and proves that Grim Reaper is not dead – not even close!
Genre: Heavy Metal
Band:
Steve Grimmett (vocals)
Ian Nash (guitars)
Chaz Grimaldi (bass)
Paul White (drums)
Track Listing:
1. Wings Of Angels
2. Walking In The Shadows
3. Reach Out
4. I'm Coming For You
5. From Hell
6. Call Me In The Morning
7. Rock Will Never Die
8. Temptation
9. Thunder
10. Now You See Me
11. Blue Murder
12. Come Hell Or High Water
Label: Dissonance Productions
Website: http://grimreaperofficial.co.uk/
Hardrock Haven rating: 8.5 / 10