by Alexandra Mrozowska
– Sr. Columnist —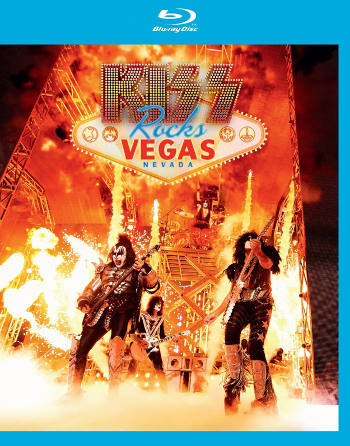 With the obvious exception of KISS' die-hard fans, the general audience may not be that familiar with the band's particular albums and line-up changes as well as treat their credo of "rock and roll all nite, party every day" less than seriously. But if asked, everyone would have associated the flamboyant quartet with theatricality, hedonism, and exaggeration. Could there be a place for their over-the-top Rock 'n' Roll spectacle suited better than Las Vegas – the neon-lit den of decadence? And could it be anything more interesting than to see them there live, but in a small, indoor venue rather than the vastness of the huge concert hall? The band's residency at the Hard Rock Hotel and Casino in November 2014, where Paul Stanley, Gene Simmons, Tommy Thayer and Eric Singer played a nine-show run, proved not. Two years later, everyone can catch a glimpse of KISS' stint in Sin City as the new release – a live album and DVD/Blu-ray Disc entitled KISS Rocks Vegas – makes another interesting addition to the band's vast videography.
In spite of a small venue, KISS Rocks Vegas remains, obviously, all things KISS. From Gene Simmons' blood-spitting side show to Paul Stanley's feathered costume bearing resemblance to his stylistic ventures in the early 1980s, it's a combination of elements that became the group's trademark over the course of four decades. And speaking of that, let's not forget the amounts of pyro, smoke, and lasers that would have ashamed any other band on the planet but them… Frequent glimpses into the audience also show the assembly no other band would have gathered. A good part of the crowd traditionally goes beyond the usual attire of a concert t-shirt and jeans, many people having their faces covered with the group's trademark make-up. However, all gimmicks aside, it's the raw charm of KISS classics – along with the occasional throwbacks to the unmasked and post-reunion eras – that put smiles on the faces of the cheering audience.
In spite of the band having released twenty studio albums during more than forty years of their career, there's hardly a better opener to their show than "Detroit Rock City." Raw and loud, the sounds exactly as it should. It's a reminder, one of many in KISS' catalog, that some things are best if kept simple for the sake of sheer entertainment – and that Rock 'n' Roll doesn't always require virtuosity or artistry. Fueled by powerhouse groove, "Creatures Of The Night" goes next. It's a song which might not have been KISS' most successful one ever and perhaps is not even a common fan favorite – but those of the audience who have been teenage outcasts lured into the hedonistic, larger-than-life world of KISS once surely considered that moment one of the show's highlights. The title track of the infamous reunion album, "Psycho Circus", engages the audience in call-and-response accordingly to the song's lyrics before Gene Simmons takes over the microphone.
The early KISS' days are being then revisited with a rough rendition of "Parasite," the Demon sounding as if time had no effect on his raspy, ominous voice. "War Machine" sounds even harder and heavier than its 1982 original – even in spite of the slight glimpse of cuteness as Stanley invites a young girl wearing Starchild makeup to play with him onstage throughout the song. A rare throwback to the unmasked era, "Tears Are Falling" is something each mid-'80s KISS fan will enjoy and a guilty pleasure otherwise. And speaking of absolute KISS classics, the next song in the set – "Deuce" – is certainly one of them. The dynamic performance of "Lick It Up" shows that these days the group is more eager to reach back into their '80s catalog than it used to be before.
This hymn of '80s hedonism is followed by the anthemic and ever-present "I Love It Loud", again a very convincing performance of the song delivered by Simmons. "Hell Or Hallelujah" is the newest song in the set list and an obvious reference to the modern era, but it wouldn't have really mattered if it was skipped altogether too. There is nothing particularly spectacular about Tommy Thayer's relatively short guitar solo, but at the same time, it's a well-crafted interlude in accordance with the old school of concert performance, a set of codes one hopes would never die.
An obligatory act of blood-spitting, performed by the Demon himself, precedes another must in the set which is "God Of Thunder." Sung in half by the enthusiastic audience, "Do You Love Me" features an unexpected nostalgia trip – a footage of KISS' history, from the earliest of days to the snapshots of the unmasked era being shown in the background. "Love Gun" is next and lacks of some high chorus notes compensated by Stanley's change of his location to the back of the venue. An old school way of doing things again – if only it hadn't been for the handful of devices capturing that moment on video, you might have forgotten for a moment it's 2014.
Traditionally, "Black Diamond" has Eric Singer taking over the microphone as well as that final wailing guitar solo which might not have been that typical to the early style of the group but which makes this 1974 track a fan favorite. The encore features songs no KISS show (with the possible exception of their memorable Unplugged gig) could have happened without. "Shout It Out Loud" and "Rock And Roll All Nite" reach their crescendo in the confetti storm, with Stanley's Townshend-esque antic for the grand finale.
Speaking of KISS Unplugged, the bonus feature included on the release is an acoustic set including "Coming Home", "Plaster Caster", "Hard Luck Woman", "Christine Sixteen", "Goin' Blind", "Love Her All I Can" and "Beth". Surely a treat for the fans, it allows one to see KISS in a different setting than usual – just as their Unplugged venture did years ago.
Always a pleasure to watch live, KISS proves they're still the hottest – or the most entertaining – band in the world with KISS Rocks Vegas. Although there's hardly a spontaneity to their perfectly synchronized shows fueled with generous doses of pyrotechnics and visual effects, you can't help but have fun. And isn't that what rock'n'roll was all about in the first place…? KISS Rocks Vegas also captures the band in what was the fortieth year of their history. Although it simultaneously reveals some natural shortcomings, such as Stanley's vocals sounding worse than it used to be – these are things to be forgiven after four decades of rocking. What is obviously still in place for Stanley is his charismatic stage persona, complemented with Gene Simmons' trademark tongue-wagging and his ominous faces of the Demon. Tommy Thayer remains relatively static throughout the gig, although he does his job well – as his years in KISS came to prove, there's more to that man than his past in Black N' Blue. There's not much to be said about Eric Singer's powerhouse drumming that hasn't been said before, as now – having the rich resume prior to KISS under his belt – he remains the driving force behind the band's live sound. All these things combined into one make KISS Rocks Vegas a must for the fans. And also – a glimpse into the alternative world of fun, music and theatrical hedonism the New York-based quartet has invited us to over forty years ago…
Genre: Hard Rock
Band:
Paul Stanley – vocals, rhythm guitar
Gene Simmons – vocals, bass
Tommy Thayer – lead guitar, vocals
Eric Singer – drums, vocals
Track listing:
01. Detroit Rock City
02. Creatures Of The Night
03. Psycho Circus
04. Parasite
05. War Machine
06. Tears Are Falling
07. Deuce
08. Lick It Up
09. I Love It Loud
10. Hell Or Hallelujah & Tommy Solo
11. God Of Thunder
12. Do You Love Me
13. Love Gun
14. Black Diamond
15. Shout It Out Loud
16. Rock And Roll All Night
Acoustic set:
01. Coming Home
02. Plaster Caster
03. Hard Luck Woman
04. Christine Sixteen
05. Goin' Blind
06. Love Her All I Can
07. Beth
Label: Eagle Rock Entertainment