Scorpions | Live in Munich 2012
by John Kindred
– Publisher —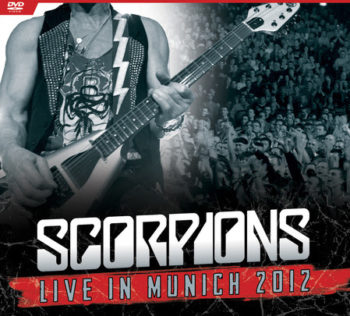 Still rockin' the world like a hurricane, the Scorpions are back with another live concert video release. Live in Munich 2012 captures the band on its 2012 tour in support 2010's studio album Sting in the Tail. This was the final Dec. 17, 2012 show of the tour, with the band returning to its home country of Germany performing at the Olympiahalle in Munich.
Eagle Rock Entertainment is releasing Live in Munich 2012 on DVD, Blue-ray and digital formats.
The Scorpions are one the first bands to break down the barriers that were in place during the Cold War era. They are one of the first bands to perform in Moscow during the Moscow Music Peace Festival in 1989. And the band became a prominent musical voice when the wall came down separating East and West Germany with its hit "Winds of Change," released on 1990's Crazy World studio album.
The Scorpions celebrated its 50th anniversary in 2015, and after all that time, shows no designs in walking away from the stage. With more than 100 million albums sold and having toured the world from U.S. to the Far East, Europe, Russia, the music of the Scorpions has touched many fans all over the globe.
Live in Munich 2012 is captured here in high-definition video and audio. The video performance captures the band playing all the classic hits, including "Rock You Like A Hurricane," "Still Loving You," "The Zoo," "Big City Nights," "No One Like You" and songs of off 2012's Sting In The Tail.
In all, the band rocks through a 21-song set list in front of group's home crowd during its last show of the tour. The visual spectacle shows that age hasn't slowed the band down too much, as the band muscled its way through hit after hit. The high-definition experience brings the band right into your living room and will benefit any fan with an HDTV and surround sound audio system.
Original members Meine and Schenker, along with Jabs (who's been with the band since '79), bassist Maciwoda (2004-present) and former drummer James Kottack (has since been replaced by Motorhead's Mickey Dee) still carry the Metal torch high for Rock 'n' Roll fans worldwide.
Genre: Hard Rock
Band:
Klaus Meine (lead vocals, rhythm guitar, percussion)
Rudolf Schenker (rhythm guitar, lead guitar, backing vocals)
Matthias Jabs (lead guitar, rhythm guitar, backing vocals)
James Kottak (drums, backing vocals)
Pawel Maciwoda (bass, backing vocals)
Scorpions – Loving You Sunday Morning

Track Listing
1. Sting In The Tail
2. Make It Real
3. Is There Anybody There?
4. The Zoo
5. Coast To Coast
6. Loving You Sunday Morning
7. We'll Burn The Sky
8. The Best Is Yet To Come
9. Send Me An Angel
10. Holiday
11. Raised On Rock
12. Tease Me Please Me
13. Hit Between The Eyes
14. Kottak Attack
15. Blackout
16. Big City Nights
17. Still Loving You
18. Wind Of Change
19. No One Like You
20. Rock You Like A Hurricane
21. When The Smoke Is Going Down
Label: Eagle Rock Entertainment
Order online:
DVD: https://www.amazon.com/#1605461
Blu-ray: https-//www.amazon.com/#160545B