by Franco Cerchiari
– Sr. Columnist —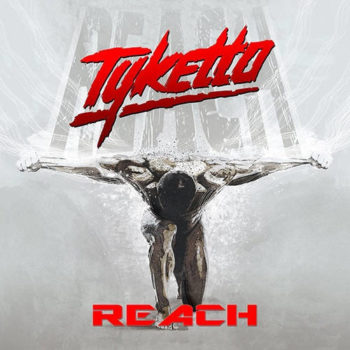 2016 has proven itself to be one hell of a year for lovers of Melodic Hard Rock with Treat, Cry Of Dawn, Palace, Tango Down, Nordic Union, Seven, Dante Fox, Ted Poley, and the beyond astonishing release by Pretty Maids, all of whom have released outstanding music. To add to that list is Tyketto, and their latest, Reach, released by the always-great Frontiers Records label.
As happens over time with a lot of bands, there is a change in the lineup with original guitarist Brooke St. John replaced by riff master Chris Green (Rubicon Cross, Furyon,) and beefing up the overall sound adding full-time keyboardist Ged Rylands (Tygers of Pan Tang, Ten, Rage of Angels,) and new bassist Chris Childs (Thunder, Shadowman,) all of whom have joined forces with the great Danny Vaughn and original drummer Michael Clayton.
Reach may have a few too many "fillers" songs perhaps, but on the whole, this is an excellent addition to this exceptional band's repertoire. More veering toward the genre of Hard Rock rather than Melodic Hard Rock, this is still as grandiloquent, loud, and hard rocking as fans would expect. Vocal screeches, sinful sounding guitars (as heard on "The Fastest Man Alive,") all make this a must have. Danny Vaughn once again proves why it is that he is considered to be one of the finest singers in the business. His voice has held up nicely over time, and on Reach, on many occasions, he sings his lungs out. Of note, though, and this is not a criticism really, but rather an observation, is that Reach seemed to be a vehicle for Danny Vaughn. While anything done by the incredible Danny is worth having and hearing, this Tyketto album doesn't have the feel of a "band," as Don't Come Easy most certainly did. Not that this should be construed that Tyketto isn't a band, but by way of comparison to Tyketto's releases past, with the exception of a few songs, Reach plays out like a Danny Vaughn solo album. It must be said, though, that all the members of this album are given time in the spotlight, but the attention is certainly drawn to Danny's vocals.
So let's talk about the songs and what it is that makes Reach a must have. The opening song, the over the top title track is nothing but 5 minutes and 36 seconds of pure magic. A hard to believe song, with layered vocals, incredible guitars, and a massive chorus, this was a fantastic track and a great way to get the listener's blood pumping, and right away your attention is grabbed. Pay note to the restrained guitar riffs heard in the background during the verses, as it is those guitars which add so much to the overall sound. Also great was the drums and bass guitar of "Big Money," the Aerosmith feel of "Kick Like A Mule," and "Tearing Down The Sky," was an easy pick for this CD's highlight. The backwoods-sounding "Remember My Name," the piano of the mid-tempo "Scream," and Chris Green absolutely shines on "The Run." Closing Reach is the Lenny Kravitz-esque guitars of the bonus track "Precious Little Gets Away."
So while American radio will prove once again how utterly useless they are in helping support bands like Tyketto and giving them much deserved play time on their stations, fans of Mitch Malloy, Bonfire, Jaded Heart, the great Sleeze Beez, Fair Warning and Giant will want to hear this. Great music here, with some really great songs, and of course the voice of Danny Vaughn is simply amazing.
Genre: Melodic Hard Rock, Hard Rock
Band Members:
Danny Vaughn – vocals
Chris Green – guitars, vocals
Ged Rylands – keyboards, vocals
Michael Clayton – drums, vocals
Chris Childs – bass, percussion, vocals
Track Listing:
1. Reach
2. Big Money
3. Kick Like A Mule
4. Circle The Wagons
5. I Need It Now
6. Tearing Down The Sky
7. Letting Go
8. Fastest Man Alive
9. Remember My Name
10. Sparks Will Fly
11. Scream
12. The Run
13. Precious Little Gets Away (Bonus Track)
Label: Frontiers Records
Website: www.tyketto.com
Hardrock Haven rating: 8.5/10