Abbath: The Holiday Edition
by Steve Patrick
– Sr. Columnist —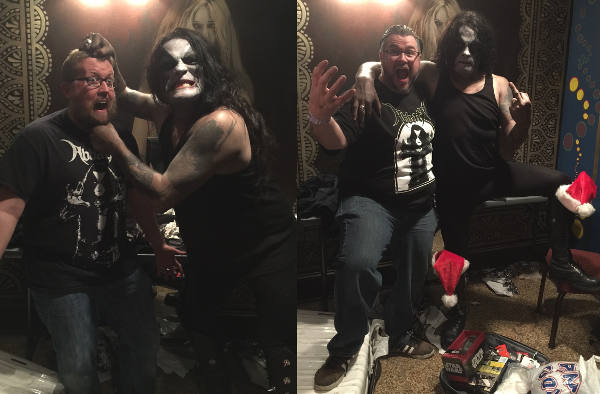 One of the best gifts given to the metal community in 2016 was the stellar first album from Abbath Doom Occulta since his departure from Norweigan black metal legends Immortal. The eponymous record is on numerous "best of" year-end lists and is destined to carve out its own frosty corner of metal history.
Abbath the album has been the gift that keeps on giving because Abbath the man has toured the North America twice now this year supporting it, first headlining the Decibel Magazine Tour in March/April and then as support for Children of Bodom on their I Worship Chaos tour in November/December.
Since Hardrock Haven's first interview with the Son of Northern Darkness went so well back in April, we decided to pay another visit when Abbath returned on November 28th to the House of Blues Cleveland. What started out as a typical interview quickly became more of a social call when it came time for Abbath to open his Christmas presents.
During our conversation Abbath talks about the work towards his sophomore album, his vocal love of Star Wars and KISS, and what he really wants for Christmas this year (the answer will warm the blackest of hearts).
::: Watch to the Interview :::
For more information, please visit www.abbath.net
iPhone videography technician: Mark Sylva