by Erik Tweedy
– Sr. Columnist —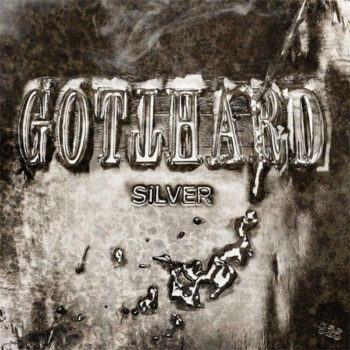 Surviving 25 years in the music business as a band is a major milestone and should be celebrated in a big way. In 1992, the legendary Swiss rockers Gotthard released their self-titled debut with tempered expectations and have done nothing but churn out 11 straight studio releases of some of the best melodic rock you will ever hear. In 2017 the band is releasing the aptly titled Silver to celebrate the silver anniversary of one of Switzerland's most successful bands. Throughout the 25 years, founding members Leo Leoni, Marc Lynn and Hena Habegger have remained a constant force and even survived the accidental death of original vocalist Steve Lee. Six years after the death of Lee, Silver marks the third release with vocalist Nic Maeder and continues the trend of platinum selling records in their homeland.
The aptly titled "Silver River" kicks off this release with a keyboard infused bassline groove very reminiscent of late '70s era Deep Purple. What sticks out most on this track and several others is the thunderous drumming by Habegger and the smoky vocals of Maeder. "Electrified" continues the feel good '70s vibe and rolls into a classic Gotthard mid-tempo rocker with "Stay with Me". Having the unfortunate task of finding a new singer when your band is at the pinnacle of its career is a tough task for anyone, just ask Van Halen, but Gotthard has secured themselves a terrific vocalist in Maeder.
Track 5 shakes things up with "Everything Inside" which has an early Whitesnake feel to it with the crunchy guitars layered over the keyboards and showcases the solid guitar playing of both Leo Leoni and Freddy Scherer. Gotthard's trademark ballad shines through once again with the soulful "Not Fooling Anyone" as it leads into "Miss Me" and some of the best tracks on Silver with "Tequila Symphony No. 5", "Love is Real" and "My Oh My" which features some of the hardest guitar riffs on the disc. Finishing up this wonderful 25th-anniversary celebration is "Blame on Me" which arguably is the best track on Silver which again features the groovy keyboard laden bass-line that has filled this disc throughout.
Silver continues the long line of well-crafted radio-friendly melodic rock/AOR standards that fill the airwaves of the Scandinavian region of the world. If you are a fan of Gotthard's catalog, Silver fits perfectly in the middle of it. There's nothing earth-shatteringly new on Silver, but it does contain 13 tracks full of great musicianship and vocals that will have you hitting the repeat button over and over. Gotthard set the standard for the Melodic Rock genre back in 1992 with their first release and 25 years later Silver continues that tradition. Let's hope for another 25 years.
Band:
Guitar – Leo Leoni
Guitar – Freddy Scherer
Bass – Marc Lynn
Drums – Hena Habegger
Vocals – Nic Maeder
Track Listing:
Silver River
Electrified
Stay With Me
Beautiful
Everything Inside
Reason for This
Not Fooling Anyone
Miss Me
Tequila Symphony No.5
Why
Only Love is Real
My Oh My
Blame on Me
Label: G. Records
Website: http://www.gotthard.com/de/ – https://www.facebook.com/Gotthard/
Hardrock Haven rating:
(8 / 10)