by Franco Cerchiari
– Sr. Columnist —
Throughout the tumultuous 1960s rightly so celebrated and legendary artists like Woody Guthrie, James Brown, Country Joe MacDonald, Janice Joplin, Creedence Clearwater Revival, Pete Seeger, Crosby Stills Nash & Young, and Bob Dylan took a long look at them and took their feelings, worry and views of the world around them onto their music, and gave their fans a reason to think. But come the mid-70s, radio and music were going through a change. Long ready to forget about Vietnam, Watergate, and the gas and oil crisis, bands like Boston, REO Speedwagon, Queen, Styx, Foreigner, Journey, and Foghat's music was about fun, hanging out with friends, and being seen on a Saturday night on the city's main cruising strip. These bands were filling arenas, and packing in the teenagers. Music transcended from poetic protests to arena-filling anthems.
New England was one of those bands whose music perfectly fit into what was popular in the 1970s, and time and again released a solid body of music that today radio seems to have turned a blind eye to, and continue to prove their ineffectiveness in helping keep their music alive. New England and Alcatrazz bassist Gary Shea took the time to speak with HRH Senior Columnist Franco Cerchiari and talk about his life in music, where his journeys have taken him and his views on where music is heading.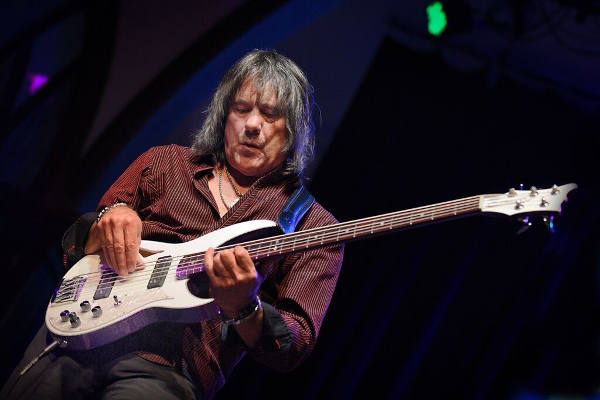 HRH: As a bassist, who were your biggest influences? And conversely, what bassists of today do you listen to and say, "wow…"
Gary: I always liked Bernard Odum with James Brown and James Jamerson`s Motown catalog. My favorite Rock bass player was always John Entwhistle for his power and musicianship. He did so much to further the bass with his technique and helping to invent better strings, basses, and amplifiers. Paul McCartney is a huge influence for melody and playing what a pianist's left hand is doing with a song. His lines always sing to the song. The bass is what you groove to. I've always enjoyed everything from Bossa Nova to Jazz looking for the deep grooves. I'm very impressed with new guys like Henrik Linder of the Swedish band Dirty Loops. His playing is just awesome. I also like Jamareo Artis in Bruno Mars band. Really funky playing.
HRH: I read on your website, where you said "..if there is anything else in my career I would hope to achieve it would be to influence others to pick up an instrument and say, "that's what I want to do." Take that a step further Gary, what would you say to that young kid who comes up to you and says "Gary, I want to be a musician for the rest of my life. What do I have to do?" What would you tell that young kid?
Gary: I would answer, learn everything you can about your instrument. Sleep with it, practice until you're numb, and learn theory and how to read music. Then you have to be relentless in your search for like-minded musicians and learn about music law. The music business is cut throat and you need to know about how music is published and who gets what of the profit. After that, big dashes of being in the right place at the right times and deliver the goods. Be prepared to be poor.
HRH: What is it about music that moves you? Is what moves you or inspires you to create music today the same as it was when you were that eager, hungry, young musician?
Gary: For me, it's a thrill to create original music that you love doing and having others acknowledge that by enjoying it and digging listening to your hard work. The thrill has always been there and has nothing to do up and down times. It's what drives me to spend the endless hours it takes to make it happen time after time.
HRH: Do you believe you have to be in a certain mindset to create music? Or does that feeling of making music really never leave you?
Gary: You must specialize to an extent and seek a certain goal. If you love jazz, go for it. Don't try and be Heavy Metal and Bluegrass starting off. I think the feeling of making music comes from your heart, your mind, and your fingers if you love what you're doing. It only leaves you if you let it.
HRH: Finish this sentence: "Music to me is …?"
Gary: Music to me is the soundtrack of history through the ages. What a dull world it would be if you couldn't hum a song or whistle a tune. There are so many endless, incredible musical milestones and styles to breathe in and listen to since tribal drums and early instruments.
HRH: Do you think that music is a by-product of the world around us? I mean does the events happening in this world find its way onto the songs created by artists such as yourself? Should those events play a part in the creating of music?
Gary: Everyone is inspired by events and everything you've ever heard on the radio and TV. Music composition starts with a feeling and is influenced by so many things – whether you're near the ocean on a sunny day or in the middle of a war zone. "Ohio" by Buffalo Springfield is a good example of being inspired by current events, as so is "Hiroshima" by Alcatrazz.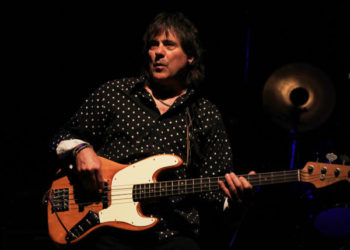 HRH: To you, what purpose and place does music have in this world today?
Gary: Music is the one thing that all people around the world relate to and love. You don't need lyrics, just melody and rhythm to speak the universal language of music. It's in your soul and no one can take it from you. Music brings people together like nothing else. Kids singing and jumping rope are doing the same as a major symphony, just different tools.
HRH: Let's talk about New England. How did that band come to be?
Gary: New England is a Boston band that played the club circuit in The Northeast and Mid-West constantly under a few different names throughout the 70`s. After living in London I came back Boston and joined the band in 1975. The group reformed in 1977 with the aim of writing original material and getting a record deal. We did demos in Philadelphia at a friend's studio and the third group of songs led to a major label bidding war. We signed with Infinity/MCA and Bill Aucoin for management.
HRH: While your band's biggest hit, "I Don't Want To Lose Ya," came from New England's debut, I personally like your second release, Explorer Suite, better as it seemed to feature bigger melodies, a fuller sound, a bigger production, with the best song being "Hey, You're On The Run." I love the vocal harmonies on that one, and the keyboard riffs are excellent, and man, the piano on "You'll Be Born Again," is so well done. And how can anyone not love the song "Living In The 80s." Talk to us about those songs. Did the change in labels have anything to do with the difference in sound? And Walking Wild, was a change again in your sound, as Walking Wild, is harder with tougher sounding guitars. Was that producer Todd Rundgren's idea to add more of a punch to your music?
Gary: We loved working with Mike Stone of Queen fame as an engineer for the first two albums. For the third album, we were looking for a musical producer and Todd was a great choice, as we were all serious Jazz fans. The label change had nothing to do with the music, as that took its natural course of development. The angriest song is actually "Shoot," from the first album that is about someone that sued each of us individually for a million dollars apiece before we signed our first deal. We were in the studio for the second album at the time Infinity Records vanished, so that really had no effect on the music either. For the third album, Todd recorded us on his custom console at his home in Woodstock New York. Everything on the Walking Wild album was pretty much written the week before at Utopia`s rehearsal studio and the music was recorded and completed the following week. All the songs are first, and second takes for the drums and bass live. Our only goal was to make a great record. Elektra wanted to release "Explorer Suite" as a single as they said we were their American Queen and they wanted to show off our musicianship. We wanted to release "Conversation" as a much more radio friendly song at the time. When the single came out the radio said we were dinosaurs and the record was lost. Way to go Elektra. With Walking Wild ourselves and Todd were convinced "Loves Up In The Air" was our radio choice but Elektra said "DDT (Be My Dirty Dream Tonight") was the hit. When it came out all the female program directors nationally said we were pigs and refused to play it. Todd said as we left his house "Don't let Elektra screw this up". Elektra dropped us for not selling records a few months later. Way to go Elektra.
HRH: Does one New England or Alcatrazz song stand out to you? Why?
Gary: One of my favorite New England songs is "Shall I Run Away." The song was originally longer and very moody, ala King Crimson. We see ourselves as a Prog band with all the Mellotrons and big sounds, which put all that into 4-minute pop songs time frames. My favorite Alcatrazz song is "Mercy" on the second album Disturbing The Peace. The song is about the killing of the Bengal tigers from the tiger's point of view. The second verse is sung in an Indian dialect, which I was chosen on a Sunday to run around LA and get a translation for. The lyric is "Brother Sun and Sister Moon Shinning Down On My India." We thought we were very clever at the time. Hell, I still do.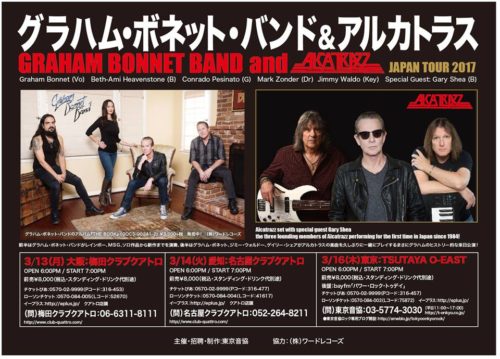 HRH: What a difference in genres between New England and Alcatrazz. Having been so used to the AOR of New England, was it difficult to get used to the groove of the harder sounds of Alcatrazz? There was never any transition between the two bands.
Gary: I have always loved heavy music as do the other guys in New England. I have always loved Deep Purple and The Who and I bring that frame of mind to my bass playing. I'm the guy who brings the thunder to the party and the reason I love playing bass. I can dig in or play more complicated parts according to what song I'm playing.
HRH: Yngwie Malmsteen is regarded as one of the great guitarists of our time. When you worked with him in Alcatrazz, did you know that he would have the status that he does today?
Gary: When we auditioned both Yngwie and Steve we saw them both as diamonds in the rough. We were all on the same wavelength and we are all proud of our work together. No one can see the future but I knew they were a cut above the usual suspects. Alcatrazz is The Yardbirds of the 80`s with cutting edge guitarists. The whole band was spot on, very musical and very focused.
HRH: What is and what was your favorite part of being in both New England and Alcatrazz? Did you ever think back then in the late 70s and early 80s when both those bands were at their peak, that their music today would be held as classics? Or let me ask that question this way – knowing those bands and their music are such sought after classics, what does it mean to you to have been a part of that?
Gary: I love the fact that I am in both bands as they both provide different musical challenges. They both demand different styles of bass playing. I feel very grateful that our music has stood the test of time and reaffirms my conviction that when we made the music originally, we were on to something very good. Knowing that music you made had and still has, a large influence on people, is very humbling and rewarding.
HRH: Let's jump ahead again. From 1976 to 2016, how has music changed to you? Is it more personal to you today?
Gary: To me, my sense of music has not changed at all. The music business itself has changed and always continues to morph and change with new trends and talent. I vividly remember rehearsing with Vinnie Vincent in a very well known facility in Hollywood, pre-Alcatrazz and an employee snickering in 1983 that heavy music is dead and a thing of the past. You can only follow your heart musically, fads come and go.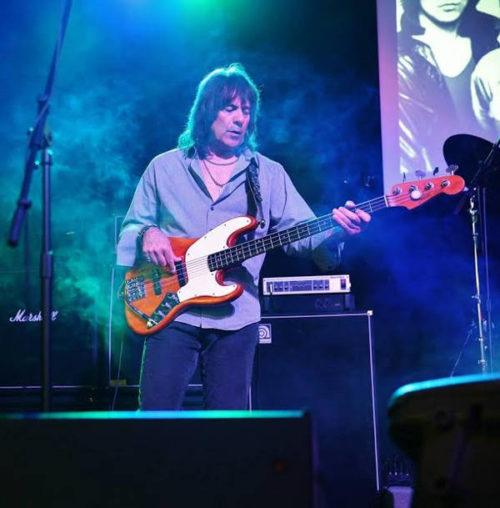 HRH: What is the toughest part of being a musician today? Is creating music today easier for you? Harder?
Gary: It is harder in the sense that record companies don't fund bands like they used to. There is very little support from the major labels that are still left. On the other hand, the digital revolution has made it easy for amateurs and pros alike to get noticed and go around some of that. The creative juices only stop to flow if you let them. For me, I still look forward to making music whether it's recording or playing live.
HRH: I can't remember the last time I heard New England's music on the radio. Occasionally I hear "Island In The Sun," of course, but that is getting more and more rare. So, let me ask you, Gary, with "Classic Rock" radio being as useless as it is in helping keep the music of New England and Alcatrazz alive, how do we keep your music alive for upcoming generations?
Gary: Again since there is little support it's up to the networking of fans who tell their friends about your music and music handed down from the previous generation of music lovers to the younger generation.
HRH: Tell us about what you are doing these days in music. Are you recording? Touring?
Gary: I have just come off a tour with New England playing live in Boston, Los Angeles and Tokyo, supporting our new CD Live At The Regent Theatre. The shows were terrific and we plan new shows for 2017. In January I will be going on the road with The Graham Bonnet Band, playing a special set of Alcatrazz music along with Jimmy Waldo, who is on Graham`s new CD and is in his touring band. We will return to Japan with shows in Tokyo. Nagoya and Osaka in March 2017. The shows start in Dallas, San Antonio, and Corpus Christi Texas. I have also released an album recently with my old cohorts from my London days, the amazing DH Cooper on guitar and Hermann Rarebell (ex-Scorpions) on drums. The band is Cooper -Shea and the CD is called Partners In Time. Great Hard Rock. Look for it on digital media. Check out all three bands on Facebook.
HRH: Any chance of a full blown New England or Alcatrazz reunion and a tour of America?
Gary: New England has been back together since 2005 playing select gigs. We have recently released a new song on vinyl called "I Know There`s Something Here" which has had a great response. As I said we have just returned from Japan supporting a new live album and hope to do more shows in 2017. Hopefully with the Alcatrazz shows in 2017, some of our friends may show up to play a bit. Never say never. It's hard to get everyone together these days as we all live in different parts of the world and there are numerous other projects involved. We are all friends and remain in contact, so anything is possible in the future.
HRH: What else keeps you busy these days?
Gary: Playing ukulele and remote recording.
HRH: Pick one moment from your days in those two awesome bands? Why that moment, and why does it mean so much to you?
Gary: The best New England moment would be playing Madison Square Garden in New York City. I used to get thrown out of high school on the 60`s for dress code violations and would tell the powers that be that one day, we would play The Garden and to fuck off. We played The Garden twice. With Alcatrazz it would have to be our first tour in Japan. The band was red hot and we all had a blast. We played Tokyo, Osaka, and Nagoya and the fans were amazing. Of course, there are many more great times and stories to be told with both bands and I am very lucky to be a founding member of both camps.
HRH: Thanks so much Gary for taking time in speaking with me. Anything you'd like to say in conclusion?
Gary: Thanks for having me and thanks to all our great fans around the world who have made this possible. Come out and see us and Keep Rockin`!
Visit Gary Shea online: http://garyshea.net/