The NAMM Show Report January 19-22, 2017 Anaheim, CA
by Alissa Ordabai
– Sr. Columnist —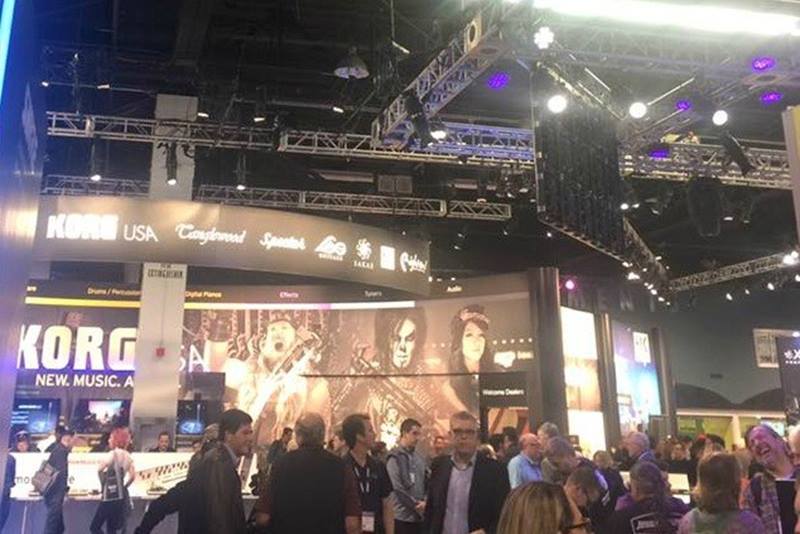 Commerce, artistry, and technology come together every year in Anaheim, CA for the world's biggest annual music industry event. As if to prove that popular music remains the main driving force in product innovation, rock stars descend en masse on the small Orange County town to testify to the excellence of the most cutting-edge music instrument brands. Meanwhile, manufacturers meet dealers to get business done for the year ahead. The concept works so well that it remains unchanged for over a century: the NAMM Show has been taking place in Anaheim each year since 1901. These days, of course, the 4-day event is not just a glorified power mall: it also includes seminars, lectures, and education sessions on subjects ranging from copyright protection to online marketing. But the core of the show's purpose remains the same — to present the latest music instruments and sound equipment to dealers and to do so with as much swagger and aplomb as possible.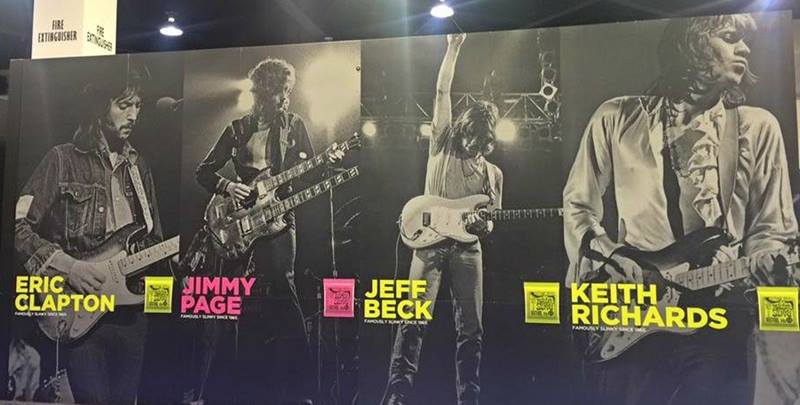 The Ernie Ball booth this year epitomized the attitude: 10-foot billboards displayed legendary names and iconic images to make sure 107,000 attendees from 125 countries got the message. And indeed, Ernie Ball became one of the busiest booths at this year's NAMM.
Known the world over for its durable strings, Ernie Ball in 2017 introduces Paradigm Strings and describes them as "the most advanced guitar strings ever created." Available both for acoustic and electric guitars, Paradigm Strings deliver up to 37% more tensile strength and up to 70% more fatigue strength than usual string sets. Plasma-enhanced wrap wire ensures resistance to corrosion and Everlast nano treatment repels sweat, buildup, and oils.

Superstar endorsers who held signing sessions at the Ernie Ball booth also helped to attract crowds. Guitar virtuosos Steve Vai, Tony McAlpine, Albert Lee, Chris Broderick, Paul Gilbert, John Petrucci, and Steve Morse all had crowds of fans line up for hours for autographs and selfies.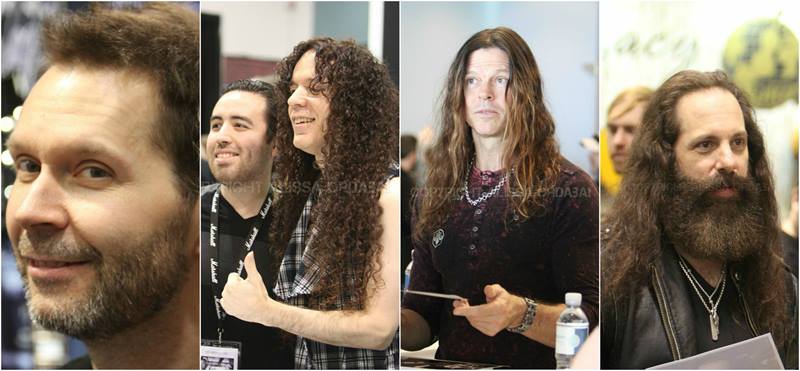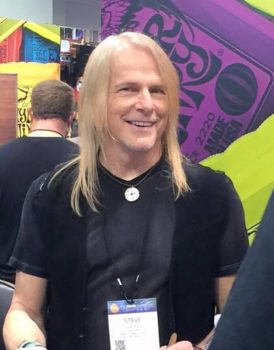 Steve Morse this year marks his 30th anniversary with Ernie Ball Music Man and to help celebrate the occasion, Sterling and Brian Ball presented Steve the second-ever guitar produced in the line. "Steve still owns and plays the first guitar made for the series, so Number One and Number Two were reunited for the first time in 30 years," said the Ernie Ball website.
Talking about anniversaries, Ibanez this year delivers a new George Benson 40th anniversary signature model. The GB40THII features a solid source top, flamed maple back and sides, maple set-in neck, gold hardware, and a narrower hollow body.
Other Ibanez signature models this year included Steve Vai's new JEM777, Kiko Loureiro's KIKO10BP-TGB, Paul Gilbert's PGMM31- WH, and two Paul Stanley models: PS120L-BK and PSM10-BK.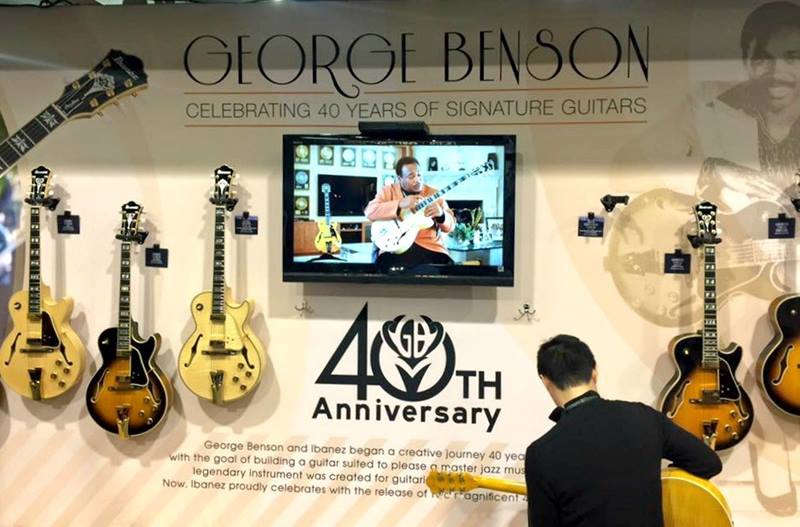 The new limited edition JEM celebrates the 30 anniversary of Vai's relationship with Ibanez and comes in 3 wacky colors with a basswood body and a slim, five-piece JEM maple/walnut neck. "Who would have thunk that a dayglo skinned guitar with a hand holding monkey grip would have such legs!" Vai wrote on his Facebook page earlier this week.

Kiko Loureiro's new signature guitar comes in beautiful transparent gray burst finish, flamed maple top and alder body, maple/walnut neck, and rosewood fretboard. Pickups in the neck, middle, and bridge positions are DiMarzio KIKO originals.

In contrast to Loureiro guitar's price tag ($1,999), Paul Gilbert's new signature guitar is only $499 and features simpler specs: maple neck, poplar body, maple fretboard, and Infinity pickups in neck and bridge positions.

Overall Ibanez showed 55 new models at this year's NAMM. The most notable new products included the new dreadnought style acoustic in its Artwood series which uses thermo aged tonewood for the bridge and the bridge plate; limited edition curly maple premium models; and two new RG models featuring beautiful poplar burl top over a basswood body, a slim-grip, 11-piece neck and a wedge fretboard with stainless steel frets.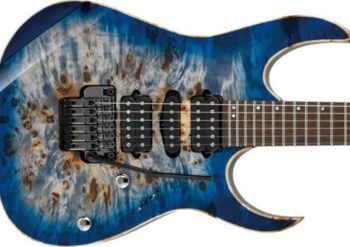 Over in the heavy metal land, Jackson, ESP, and Schecter are going head-to-head this year with signature models by superstar shredders. Jackson is boasting new artist signature models by Phil Collen, Marty Friedman, and Gus G. Ex-Megadeth guitarists Friedman and Chris Broderick (who also had a signature Jackson guitar released in 2016) held signing sessions at the Jackson booth, drawing enormous crowds.
The Marty Friedman Jackson MF-1 features a mahogany body with 3.4" plain maple top, one-piece mahogany set neck and rosewood fingerboard with 22 wide medium jumbo frets. Pickups are Marty Friedman EMG MF signature humbuckers. The guitar is also equipped with two tone and two volume knobs, a 3-way toggle switch, and a TonePros adjustable Tune-O-Matic Style bridge with Gotoh® stop tailpiece and Schaller® locking tuners. X Series Signature Marty Friedman MF-1 has a more affordable price ($699.99 vs. $3,199.99), but doesn't include the TonePros bridge.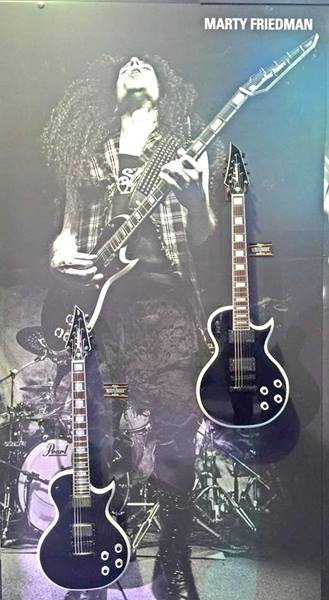 Jackson's new Dinky models also turned heads this year with the new Pro Series. The Pro Series Dinky DK3, DK3M, and DK3QM are fitted out with an HSS pickup configuration with JB TB-4 humbucker in the bridge position and the new Strat SSL-6 single-coil in the middle and neck positions. There are master tone and volume knobs, a five-way blade switch, and a Floyd Rose double-locking tremolo bridge. All three models have a one-piece bolt-on maple neck with scarf joint and graphite reinforcement rods, 12"-16" compound radius fingerboard with 24 jumbo frets, and thumbwheel truss rod butt adjust.