Witherfall | Nocturnes & Requiems
by Franco Cerchiari
– Sr. Columnist —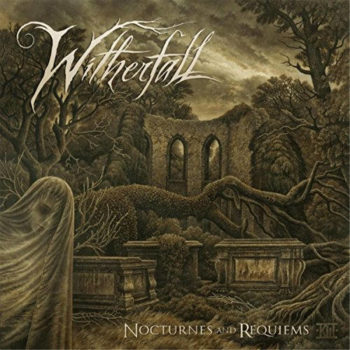 It's a horrible thing when during the final production stages of a debut release a band member passes away. Dedicated to the memory of their late band member, drummer Adam Sagan (Circle II Circle, White Empress, Into Eternity) who, in 2016 died, at the age of 36, after a valiant battle with cancer is Witherfall's Nocturnes & Requiems. Larger-than-life, atmospheric as hell, straightforward, with incredible shredding guitars, aggressive, massive in its delivery, drums that pound is Witherfall's first full-length release, and their follow-up to their debut EP. Fundamentals of Dream Theater and even Firewind can certainly be felt, but fans of Fates Warning, Pain of Salvation, Psychotic Waltz, Evergrey, and Nightingale will want to be all over this one, for Good Lord, this one is one astounding release.
The combined dream of guitarist Jake Dreyer (Iced Earth, White Wizzard) vocalist Joseph Michael (White Wizzard) and drummer Adam Sagan, Witherfall began to take shape in 2013 in Los Angeles. Fast forward to 2017 and we have this, the album we are talking about here. Songs shift from the truly heavy, to the soft and sorrowful to the furious, to the elegant and heartfelt, to the macabre, sometimes all within the span of one single song. Never knowing what's to come from the next musical bar is what keeps the interest high. The way the songs grow and progress from moment to moment showcases a unique talent the boys of Witherfall have. It's not an easy thing for a band to allow so many sentiments to shine through an entire album much less one song, but Witherfall here makes it look – and sound – easy. The musicianship is incredible. The guitar solos are extraordinary, and with it come vocals that transcend from shrieks to the melodic.
This album surpassed so many expectations, for what an experience this was. Listen to the amazing, shifting back and forth from melodic to heavy is the opening track "Portrait," with its double bass drums, almost growling vocals, guitar hooks, riffs, and solos. From there check out the speed at which "Sacrifice," comes barreling toward you, and "What We Are Dying For" will crush your skull. Elegant acoustic and electric guitars escort heavenly vocals on the frightening "The Great Awakening." Beautiful doesn't always mean gentle, and to prove it listen to "End Of Time, and the way it went from soft to heavy back to soft with razor sharp guitar riffs and lyrics talking about "living with no remorse," and "coming to the end of time, and a promise of paradise." A CD highlight if ever there was one, "End Of Time" showcased guitar work that was beyond superior and will prove that Jake Dreyer belongs in the same company as many of the world's Neo-classical shredding masters. The intense, passionate, short instrumental "Finale" took this album into almost a doom metal genre, and the closing track "Nobody Sleeps Here," is a head-nodding mid-tempo song with great synthesizers and bass guitars.
In the Metal heavens above, Adam can rest easy knowing that here on earth Nocturnes & Requiems is a triumph all the way around and an achievement worthy of the highest accolades. His work is sorely missed, but we have this collection of songs to carry his legacy forward. The fact that radio will overlook this band and this album is a true injustice and travesty. What a magnificent gift this was to us, the fans of Metal. Rest easy, Adam, for you and your band mates has come up with what could be one of the highlight releases of 2017.
Genre: Melodic Power Metal, Heavy Metal
Band Members:
Jake Dreyer – guitars
Adam Sagan – drums
Michael Joseph – vocals
Track Listing:
1. Portrait
2. What We Are Dying For
3. Act II
4. Sacrifice
5. End Of Time
6. Finale
7. Nobody Sleeps Here
Label: Independent
Website: www.witherfall.com
Hardrock Haven rating:
(9 / 10)