Black Sites | In Monochrome
by John Kindred
– Publisher —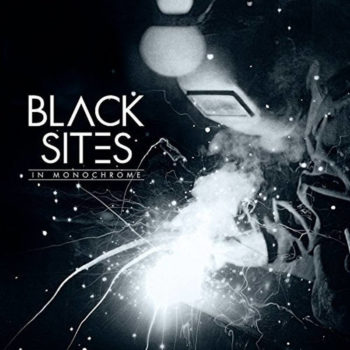 Comprising some of Chicago's finest musicians from the underground Metal scene, Black Sites debut the group's first album on the Mascot Label Group.
Black Sites features ex-Trial members, guitarists Mark Sugar and Ryan Bruchert, with Sugar also handling vocal duties. Also along for the ride are bassist John Picillo (Without Waves, Immortal Birds) and drummer Chris Avgerin (Autonomy, Lost Dog).
The quartet of musicians has come together to release In Monochrome. The album features nine songs that are drenched in the band's Hard Rock and Metal influences with the final, 10th track, being a cover of the Scorpions' "Steamrock Fever."
Black Sites' musical style offers listeners Thrash-inspired grooves, molten Metal riffs that combine with the slower tempos and thick heavy sounds of Doom Metal that is complemented by Sugar's intelligible vocals.
The quite deceiving opening song, "M Fisto Waltz," starts off tranquilly as an instrumental piano piece, with slightly distorted lead guitar melody leading the way before it jettisons off into a heavy melodic prelude. This shot of adrenaline keeps the ride alive for the duration of In Monochrome.
The intro track, which leads into "Dead Languages," gives us our first taste of Sugar's vocals. Off the bat, it is good to hear his audible voice versus the guttural, indistinguishable vocals of many of his peers. Slightly gritty and falling into the mid-timbre range, he guides us through the realm of Black Sites. While Sugar typically is the lone singer throughout the CD, the band isn't afraid to utilize vocal harmonies within the confines of the music, adding another dimension to its sound.
The tonality of the guitars is grounded in the mid-range, harsh crunch that appeals to Modern metallers. As songwriters, the band's ability to meld varied genres of Metal is exceptional. They move easily between Thrash progressions to slower tempos that create Sabbath-inspired grooves. These dynamic changes keep it interesting. The band also isn't afraid to soften its sound, introducing listeners to the acoustic wanderings of "Hunter Gather," as the music eventually moves off to Doom-ville, offering some heavy riffing. But a brief respite with Sugar's vocal and the acoustic guitar seems to relax the reins, if just for a minute or two. They do this again on "The Tide," which is another cool acoustic-driven song.
The bass and drums are easily discernable throughout In Monochrome. From a production standpoint, a fine balance is struck between the audibility of the instrumentation and vocals.
The album closes with the Scorpions' cover "Steamrock Fever." The music is pretty close to the original, with a most certainly heavier rhythmic sound from the guitars. The vocals aren't Klaus Meine, so Sugar does an admirable job in that respect.
Genre: Heavy Metal, Doom Metal
Band:
Mark Sugar (vocals/guitar)
Ryan Bruchert (guitar)
John Picillo (bass)
Chris Avgerin (drums)
Track Listing:
1. M Fisto Waltz
2. Dead Languages
3. Monochrome
4. Burning Away The Day
5. Hunter Gatherer
6. Watching You Fall
7. Locked Out – Shut Down
8. In The Woods
9. The Tides
10. Steamrock Fever
Label: Mascot Label Group
Web: http://blacksitesband.com/
Hardrock Haven rating:
(7 / 10)