Hurricane | Over the Edge
by Derric Miller
– Managing Editor —
Classic Albums Revisited —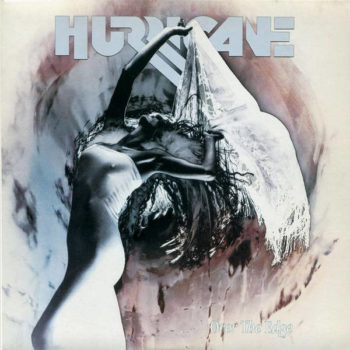 Repackaged. If that doesn't define this decade's entertainment industry, nothing does. Remakes of hit movies (King Kong, War of the Worlds, The Longest Yard, Willie Wonka and the Chocolate Factory), republished bestsellers (like I Am Legend, also made into a hit movie!) and of course, re-releases of music basically tells you two things about America. Number one, the collective entertainment industry is devoid of anything remotely close to a "good" or "new" idea, or, secondly, Americans are pathologically nostalgic.
But when it comes to being pathological, there are few better bands from the '80s to channel that intensity towards than Hurricane. When Over the Edge was released for the first time in 1988, the band was on tour, opening for Cheap Trick, and Bon Jovi was paving the way for hard rock bands of this ilk. Hurricane simply couldn't miss, especially considering Hurricane featured a better singer (Kelly Hansen) than Bon Jovi and an almost zero cheese-factor in their brand of Heavy, Melodic Rock. But miss they did, and by the time their next CD was released, the music industry was only offering music to hang yourself to, and Hurricane went away. (In 2002 they did reform and offer a new studio CD, Liquifury, which was better than 90 percent of the releases that year and still didn't make a huge splash).
Thanks to Caroline Records, today you can snag a much better sounding version of Hurricane's classic, shoulda-been platinum album, Over the Edge.
The opening song and title track, "Over the Edge," is one of the few flawless rock songs you'll ever hear. Yes, flawless. It begins with stormy special effects, slowly building into a guitar intro. If you happened to see Hurricane on this tour, Hansen would hit the stage under smoke and lights, with just an acoustic guitar, and open with this song. He alternates between falsetto and full voice on the first four lines and then belts out in full voice the rest of the opening verses. Comparing him to the hoards of screaming, shrieking, minimally talented singers in the same genre was unfair. This song embodies every definitive Hurricane element — unparalleled vocals (lead and background), intricate songwriting, top-shelf musicianship most importantly, timelessness.
Hurricane got themselves into trouble with two songs. The first was their remake of Alice Cooper's "I'm Eighteen." Because they were such an intrinsically polished band, they probably tried to show a dirtier, trippier side and picked this legendary song. In the end, it was somewhat unbelievable. The second was their decision (or probably their label's) to pick "I'm On to You" as their first single. Whatever credence they hoped "I'm Eighteen" would earn them, "I'm On to You" washed that way. It's not a bad Pop Rock song, but the silly echo effect on Hansen's vocals and the "nah nah nah nah nah" repetitions were clearly aimed at Warrant and Poison's fans. Hurricane wasn't that kind of band, and they should not have tried to be. While their biggest hit, it robbed Peter to pay Paul career wise.
The kind of track they excel at is "Messin' With a Hurricane." Hansen has the palpable ability to build and build, and when the crescendo begs to explode, few singers can unleash the fury like Hansen. When he powers into the chorus, belting out, "So come on! I dare you! To step across that line; I'll show you what I mean!", you are hearing another incredible moment in Rock. Tony Cavazo's funky bass playing and the vehement guitar passages of Robert Sarzo add layers of impressiveness to the overall composition as well.
If you like Queen, check out the beginning of "We Are Strong." All four band members can sing, as they do with this a capella intro, and their expert harmonies are just another facet that makes one wonder how Hurricane isn't celebrated in larger, more monumental circles.
The band gets quirky on "Give Me an Inch," sort of like a '80s Pop Rock composition juiced up on HGH. Hansen over-enunciates the verses, playful but annoying in a politely British way, which all leads to another humongous, melodic and hooky chorus.
"I know of the most insane, raging party!" You have probably heard how the CD ends, a semi-instrumental called "Baby Snakes," which is a guy with stalker-like determination calling up some hot chick and trying to get her to go to a party and see his band play the upcoming weekend. Between phone calls, the band tears into frenetic musical passages, and the Everyman Jeff keeps calling the girl, Jenny, who hangs up on his with excuses like, "I have to wash my hair; I'll call you back." It ends with Jenny telling Jeff, "I won't go out with you tomorrow night or any other night!" Definitely one of the most-unique approaches to an "instrumental" you've ever heard.
Over the Edge is one of the few repackaged highlights of the decade — it's actually better the second time around.
Band:
Robert Sarzo (g)
Tony Cavazo (b)
Kelly Hansen (v)
Jay Schellen (d)
Track Listing:
1. Over the Edge
2. I'm Eighteen
3. I'm On To You
4. Messin' With a Hurricane
5. Insane
6. We Are Strong
7. Spark My Heart
8. Give Me an Inch
9. Shout
10. Baby Snake
Label: Caroline Records
Web: http://www.kellyhansenrocks.com/bio/
Hardrock Haven rating:
(8.8 / 10)