John 5 and The Creatures | Season of the Witch
by Alisssa Ordabai
– Sr. Columnist —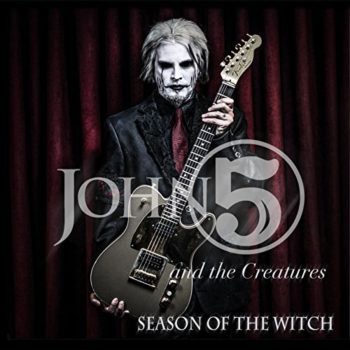 On his 9th solo release, the grand master of Modern Rock guitar proves yet again that he remains at the forefront of the global super-chops game. While not telling us anything we don't already know about his colossal technique or his genre-bending vision, this record rather distils the essence of John 5's approach into bite-size sketches and shows us how he continues to refine and polish his methods.
From cryptic nuances of an unaccompanied slo-mo guitar to barnburners fueled by power riffing a la Jimmy Page, the album maintains the same top standard of Rock guitar virtuosity that John 5 has always been known for. The genres he feeds on remain eclectic: 1970s rock, 1990s Metal, Bluegrass, and — this time — even Jazz. But the fierce, laconic way in which he compresses these styles into a unified whole and the way his laser-sharp technique cleans them of all the trimmings gives the music a new meaning — beyond what we traditionally expect from Rock, Metal, or Country.
What makes this album different from its predecessors are experiments with tone and the extra care John 5 takes to recreate the retro Hard Rock sound on some of its key tracks. On standout "Now Fear This" the riff could have easily been a leftover from Led Zeppelin II. It's raunchy, heavyweight swagger instantly says "early 1970s all over again" but not just compositionally: even the tone of the guitar is deliberately authentic to that time, taking us miles away from the customary dry timbre we usually associate with John 5.
John 5 used to tip his hat off to Jimmy Page before (most notably on his 2010 album The Art of Malice), but here he takes extra care to reawaken the vibe, the spirit, and even the guitar tone of the era — a touching gesture from one of Page's most talented admirers.
Another surprise of the album is John 5's flirtation with Jazz, as on highlight "Here's To The Crazy Ones" where he interrupts his habitual Heavy Metal frenzy with jazzy/funky breaks. "Hell Haw" is another jazz-inspired cut and brings to mind George Benson having a jam with a Country-and-western band.
Most tracks on this record don't run over 3 minutes, but still become a worthy follow-up to such modern-day classics as Requiem and The Art of Malice. With a string of groundbreaking instrumental guitar albums under his belt, John 5 nowadays maintains a complex but coherent vision that sets the standard not only for Rock guitar but other genres and other cultures beyond rock.
Genre: Heavy Metal, Hard Rock, Bluegrass, Experimental
Line-up:
John 5 — guitar
other band members unknown
Track Listing:
1. Book of Spells
2. The Black Grass Plague
3. Guitars, Tits, and Monsters
4. Now Fear This
5. Behind the Nut Love
6. Making Monsters
7. Dr. Evil's Spookshow
8. Here's to the Crazy Ones
9. The Macabre
10. DDD
11. Hell Haw
12. Ode to Jasper
13. Season of the Witch
Label: 60 cycle hum records
Online: http://john-5.com/main/
Hardrock Haven rating: 8/10