by Anabel DFlux
– Sr. Photojournalist —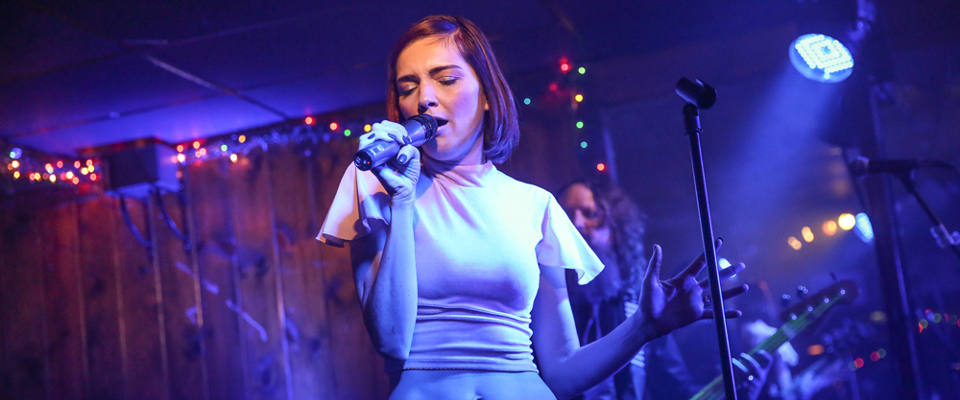 February 4, 2017 at Joe's American Bar and Grill in Burbank, CA —
Punk Rock Barbie is a tribute band straight out of one of the quirkiest parts of Los Angeles: Burbank. On February 4th at Joe's American Bar and Grill on West Magnolia Blvd, Punk Rock Barbie played a whopping three full sets from 9:10pm all the way into 1:30 in the morning. Founded by drummer Richard Piscitello, Punk Rock Barbie "breaks the mold of bubble gum pop and turns it into rhythmic mashable ROCK!"
Vocalist Jackie Johnson is Punk Rock Barbie, full of spunk and enthusiasm! With cute humor and an absolutely rocking attitude, Jackie gave new life to the beloved songs. Playing with a fervor that cannot be beat, bassist Tom Von Doom rocked the night away, playing on a bass whose neon green strings lit up the side of the stage! Lead guitarist Alon Mei-Tal played with a devoted passion, throwing out skilled guitar playing all evening. Drummer Richard Piscitello brought life into the percussion side of the music, always playing devotedly with a smile! Also the humorist of the group, Richard kept the crowd laughing in between sets.
The set list included each and every well-known Punk, Metal, and Rock song you could imagine from the most nostalgic of times. Covering bands such as Blink 182, Avril Lavigne, Green Day, The Offspring, Weezer, Fall Out Boy, Sum 41, Paramore, New Found Glory, No Doubt, Pink, System of a Down, and so much more. The crowd filled up the floor with dancing, cheering, moshing, and endless shots! A great time on a fantastic Saturday night.
If you're looking for a sentimental night full of fun, dancing, and Rock and Roll- a Punk Rock Barbie concert is the best place to be!
Punk Rock Barbie Concert Photo Gallery
Connect with Punk Rock Barbie here: https://www.facebook.com/PunkRockBarbieLA/