by Joe Mis
– Sr. Columnist —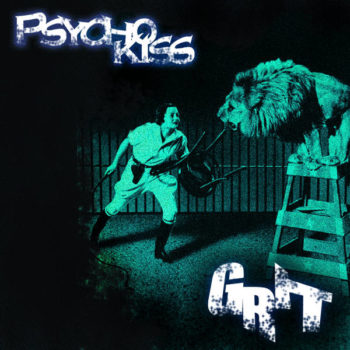 Fans of Female-fronted Hard Rock may have found a new heroine in Helen Ceri Clarke, the frontwoman of the U.K.'s Psycho Kiss. For those not familiar, Psycho Kiss hails from Wales, and the quintet hits all the right notes in their newly release third studio album entitled simply Grit.
The band is fronted by singer Helen Ceri Clarke and features the guitar duo of guitarists Paul O'Brien and Pete Rose, bassist Tom Williams, and drummer Penfold. If one had to do a "sounds like" comparison the obvious choice would be Halestorm, although Psycho Kiss leans a little more to the Metal end of the musical spectrum. Clarke delivers the bite and swagger of Joan Jett with the intensity of Lizzy Hale, and the band behind her is tight and precise – a winning combination. Grit joins their discography along with their debut album Monkeying Around (2011) and Bloodbath at the Disco (2013).
Well mixed and engineered to highlight the band's natural edge, Grit hearkens back to the old school Hard Rock sound of days gone bye. Warm and rough, the balance of voice and instruments is perfect and allows everyone a chance to shine while retaining a modern clarity and sharpness. The band writes well-structured songs without too much variation in style, and their lyrics are as biting as their sound, poking holes in many aspects of modern life.
"The Ballad Of Pennywise" opens in a purely theatrical manner – circus calliopes and sound effects, but it paves the way for "Grit." This tune lives up to its title – filled with raspy guitars, hard-rocking rhythms, punchy drums and bass, biting lyrics, and gritty vocal performances. "Scream Queens" is a solid piece of old school Hard Rock, built around strong drums and bass, and some kick-ass guitar riffs. Helen reaches deep and delivers a fine performance as she hits both ends of her vocal range. O'Brien proves that the art of the lead break is not dead with a short but intense solo. "Sociopathic Superstar" is all about the bass and drums. "Grieve For You" has a bluesy, almost Bon Jovi feel to the flow of the rhythm line and chorus and displays Helen's vocal prowess at its finest.
A touch of grunge is mixed into "Even Better If…" and the slower tempo allows Helen's hard rock voice to shine while O'Brien's amazing break soars to the skies. The down-tempo "Devil Inside" seems to echo Girlschool a bit, while the moody "The Haunting" has a fully Modern Rock sound thanks so the solid teamwork of bass and drums, and Rose's deft touch on the rhythm guitars. The lighter "Down" has a kicking riff, a blistering solo, and gutsy vocal delivery, while the brutal, more progressive "Bloodmoon" cuts with just enough edge to avoid being over-the-top. "Holding On" closes the album on a high thanks to strong keys and interesting tempo changes, giving the band a chance to really push their own boundaries – a brave and quite successful move.
Grit is a solid release, a musical effort that Psycho Kiss can be proud of in every possible way. Great songs, fine musicianship, and spirited delivery are the hallmark of a great band, and Psycho Kiss certainly lives up to it. Packed with all the juicy stuff that makes Hard Rock tasty, Grit will appeal to fans of Hard Rock old and new, from The Runaways to Halestorm. Highly recommended – and quite addictive…
Genre: Hard Rock
Band:
Helen Ceri Clarke (vocals)
Paul O' Brien (lead guitar)
Penfold (drums)
Tom Williams (bass)
Pete Rose (rhythm guitar)
Track Listing:
1. The Ballad Of Pennywise
2. Grit
3. Scream Queens
4. Sociopathic Superstar
5. Grieve For You
6. Even Better If…
7. Devil Inside
8. The Haunting
9. Down
10. Bloodmoon
11. Holding On
Label: Independent
Website: http://www.psychokiss.co.uk/
Hardrock Haven rating:
(9 / 10)