by John Kindred
– Publisher —
Classic Albums Revisited —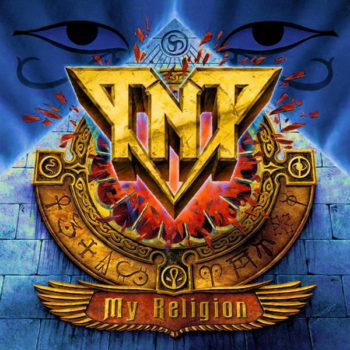 TNT's much anticipated My Religion heralded the return of the band, as the new album was its first full-length album with original band members since 1987s Tell No Tales. Following up 2003's teaser EP release Give Me A Sign, which featured four new tracks and a bonus unreleased track from the Tell No Tales sessions. My Religion continues the band's ground-breaking work. The CD is highlighted by the guitar heroics of Ronni le Tekro and the vocal majesty of Tony Harnell. Bassist Morty Black and drummer Diesel Dahl pump the life blood through the heart of the band with their impeccable and solid performances.
My Religion takes off were Give Me A Sign left off, featuring 11 new tracks, with the addition of two tracks taken from the EP (Give Me A Sign and Live Today). Produced by Ronni and Tony, the CD tips it hat to the classic TNT sound and takes a step or two forward as the band has evolved and matured.
The underlying guitar work is pure Tekro, featuring the unique rhythm work and impressive solo ability that he is known for. The overall guitar sound reminds a lot of his performance on his solo effort Extra Strong Strings as well as previous TNT efforts like Realized Fantasies, Intuition, Firefly and Tell No Tales. One would be hard pressed to find any negatives about his playing. He is a class act who writes catchy hooks and riffs and plays within the arrangement and structure of each song. He is never one to sacrifice a song to blatant over the top soloing. Tekro performs two breather tracks on the CD "Flow" and "The Last Word," which exclusively highlight his guitar playing.
Highlighting Tekro's performance on "My Religion," tracks that stand out with some cool Tekro riffs include "She Needs Me," "You'll Be There," "My Religion," and "Everything U R."
Harnell's vocal performance will draw comparisons to his acclaimed work done with his previous band Westworld. With Westworld, also a groundbreaking band, we have heard the maturation process of Harnell's voice. My Religion is on par with Harnell's growth as a vocalist; there may be a wee bit more falsetto vocal lines on the latest release (more true to TNT's traditional overall sound) but his vocal ability and lyric writing here are superb. Particularly the vocal performances on "Song 4 Diane," "She Needs Me," "My Religion." Harnell offers whimsical lyrics and vocals on the track "Everbody's Got a Secret." The romantic "Perfectly," is a beautiful ballad driven by his voice and Tekro's guitar. Harnell's balanced vocal performance exhibits his finely tuned, dynamic and original vocal style and beautifully intertwines with Tekro's guitar playing.
My Religion strength lies within its continuity; the songs are different in their own way, yet when listened to from track 1 to track 13, it is apparent that there is a starting point, a middle and an end. This journey is pleasant on one's ears. Its strength also is firmly rooted in the relationship between Harnell and Tekro. The melodic interplay between both creates the dynamic mixture that forms TNT's unique sound. You won't find a stronger band performance from all parties than on this release. Be it from Harnell or Tekro, and let's not forget Black and Dahl, for their role, at times, may take a backseat to the vocals and guitars, but they lay the foundation upon which each song is built upon and both put in solid performances.
If you haven't yet heard My Religion, it is a highly recommended album to add to your collection. My Religion is another classic TNT release added to their catalog and hopefully to yours.
Band:
Tony Harnell (v)
Ronni le Tekro (g)
Morty Black (b)
Diesel Dahl (d)
Produced by: Ronni le Tekro & Tony Harnell
Track Listing:
Invisible Noise
She Needs Me
Lonely Nights
My Religion
Give Me A Sign
Perfectly
You'll Be There
Flow
Live Today
Everybody's Got A Secret
Everything U R
Song For Diane
The Last Word
Label: MTM
Web: http://www.tnttheband.com/
Hardrock Haven rating:
(9.9 / 10)