Vanishing Point | Tangled In A Dream
by Franco Cerchiari
– Sr. Columnist —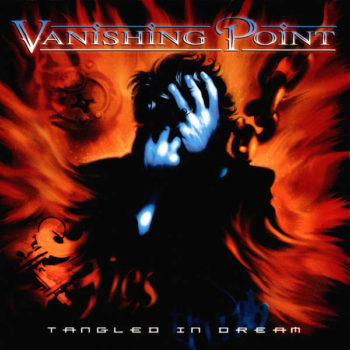 Rising from the ashes of the Metal band Eye, Vanishing Point was formed in the early 1990s in Melbourne, Australia by guitarist Tommy Vucur, drummer Jack Lukic and bassist Joe Del Mastro, with vocalist Silvio Massaro and keyboardist Pep Sammartino joining soon after. Shortly after their formation, the band would release their debut In Thought in 1997 with this, the album we are talking about here, which is a remastered version of their 2000 release Tangled In A Dream.
The great thing about Vanishing Point is their ability to play so many genres and play them well. Songs on Tangled In A Dream are heavy enough to keep Metal fans in rapture but for fans of the melodic and acoustic, there is more than enough to enjoy. Even hints of the Progressive can be felt, (check out "Never Walk Alone,") and the intro to the opening track "Surreal" is spacey and strange. Complete with an updated, cleaner, fuller sound and accompanying the release is a second CD with bonus tracks, live and acoustic versions of songs heard on Vanishing Point's other releases, a cover of Journey's classic "Separate Ways," Pink Floyd's "On The Turning Away," and a re-recording of the track "Samsara," titled appropriately enough, "Samsara II." The sound is really quite good overall, the mixing excellent and a tangible thought was given to ensure that each instrumental passage is heard. Vocalist Silvio Massaro has a throaty, lower ranged vocal style, but he possesses a true power and tests out his range on many of these songs.
Many of the songs heard on Tangled In A Dream sit comfortably in the genre of Melodic Metal, perhaps some bordering Power Metal, ("Two Minds and One Soul.") with keyboard-drenched refrains, until track 6, "The Real You," slows things down a notch with acoustic guitars, soft synthesizers, and lofty vocals. The slow, somber ballad "Dancing With the Devil," again changes the direction of the music, as only a superb piano is this song's only audible instrument. The CD's Japanese bonus track, "The Endless Road," was excellent, and "Father (7 Years) again drifted into progressive territory, and at more than 8 minutes long was the lengthiest song on the record. The true Metal vibe of "I Will Awake," with its heavy-handed drums, gorgeous keyboards, and riffing guitars was an easy pick for this CD's highlight, but also worth a listen was the expressive "Bring On The Rain."
As mentioned above, Journey's "Separate Way" was covered, with Jonathan Cain's keyboards were scaled way back and the Metal guitars brought to the forefront, which gave this cover a much harder, heavier, fiercer version of the AOR classic. Again, VP's cover of Pink Floyd's "On The Turning Away," spun the futuristic, revolutionary Progressive Rock of the original into Vanishing Point's Melodic Metal. If nothing else it's always interesting to hear other band's take on the songs of yesteryear, and on "Separate Ways," and "On The Turning Away," Vanishing Point do that for sure.
Fans of Secret Sphere, Eyefear, Burning Point, and Mob Rules will, of course, love Vanishing Point. A bit lengthy of a release perhaps, but with today's studio computer wizardry it's always excellent to give these almost 20-year-old releases an updated sound, and for those loving bonus tracks, this will give you plenty to listen to.
Genre: Melodic Metal, Power Metal
Band Members:
Joe Del Mastro – bass
Danny Olding – keyboards
Jack Lukic – drums
Silvio Massaro – vocals
Chris Porcianko – guitar
Tom Vucur – guitar
Track Listing:
1. Surreal
2. Smasara
3. Closer Apart
4. Bring On The Rain
5. Never Walk Alone
6. The Real You
7. Two Minds and One Soul
8. I Will Awake
9. Dancing With The Devil
10. Father (7 Years)
11. Tangeld In A Dream
12. On The Turning Away
13. The Endless Road (Japanese Bonus Track)
14. Veil of Deceit (Japanese Bonus Track)
15. The Real You (Unplugged Version)
16. Dancing With The Devil (Unplugged Version)
17. Inner Peace (Unplugged Version)
18. Hollow (Unplugged Version)
19. Vanishing Point (Unplugged Version)
Label: Limb Music
Website: www.vanishingpoint.com
Hardrock Haven rating:
(8 / 10)