by John Kindred
– Publisher —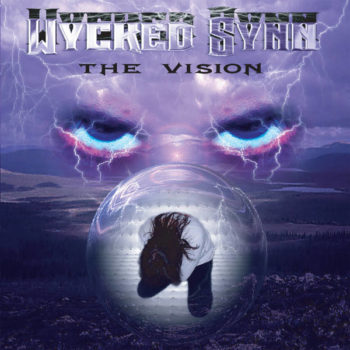 Ken Cassell, better known as Ken Orth, is in the process of resurrecting his band, Wycked Synn. Thirteen years after the release of The Vision, the album is being reissued on HighVolMusic. The debut release of Wycked Synn's The Vision is the only full-length studio album released by the band to date. So Wycked Synn has been fairly quiet for more than a decade.
The Vision, originally released in 2003 on Chavis Records, was a promised return to the glory days of Hard Rock and Heavy Metal.
Guitarist Ken Orth was very much involved in the music scene at the time that Grunge took over in the early '90s. With the change in the musical climate, Orth packed his bags and moved across the country from the East Coast and settled in sunny Arizona. Never giving up his love of music or changing musical styles to appeal to the masses, Orth went to work, building a studio and preparing for his return to the spotlight. He wrote and recorded the music for the then-untitled CD and searched for a vocalist to bring his vision to life. After a long search, Gary Grant joined Orth and brought the project to completion.
The Vision literally is "the vision" of Orth and Grant. The CD features 10 songs and one instrumental track, which highlights Orth's shredding abilities. Orth is a prodigy of the '80s Metal genre and is a solid guitarist in his own right. His bone-crunching metallic rhythms combine Progressive and traditional Heavy Metal textures. His solos also are what you would expect from that genre. Inspired by George Lynch (Dokken. Lynch Mob, Lynch Pilson), Orth's solos complement each song with fluid, melodic and speedy riffs.
Gary Grant's vocal style has been compared to Geoff Tate and Don Dokken, to name a couple. Many comparisons can be drawn as to which singers may or may not have influenced Grant. Simply put, Grant has a unique vocal talent that incorporates elements that have brought success to a quite a few Hard Rock and Heavy Metal singers.
The music on The Vision returns us to solid in-your-face Hard Rock, featuring muted power chords, extended lead breaks, double bass pounding and over-the-top vocals. Lyrically, the theme of The Vision is a concept album that follows a man's fall into despair. There are no filler songs here. This a very solid debut release from the band.
This is the only officially released studio album by Wycked Synn; however, there was a second unfinished album recorded that various well-known and unknown singers tried to complete, but the vibe in Orth's own words, "just wasn't right."
Flashing forward into 2017, Ken Orth (Cassell) is unleashing a new song on the upcoming HighVolMusic MEGAROCK #PayItForward compilation. Who knows? This may be the time for Ken Orth (Cassell) to discover the right vocalist to complete the untitled, unreleased album.
Genre: Melodic Hard Rock, Heavy Metal
Band:
Ken Orth (g)
Gary Grant (v)
Produced By: Ken Orth & Gary Grant
Track Listing:
1. Into the Darkness
2. Tell the Tale
3. The Vision
4. Let It Rain
5. If You Said Goodbye
6. Evil Ways
7. K.M.A
8. Til the End
9. In My Mind
10. Unchosen Path
11. The Savior
Wycked Synn – "The Vision"

Label: HighVolMusic, Chavis Records
Web: Order at Amazon
Hardrock Haven rating:
(8 / 10)