Chris Bickley | Digital Reflection
by John Kindred
— Publisher —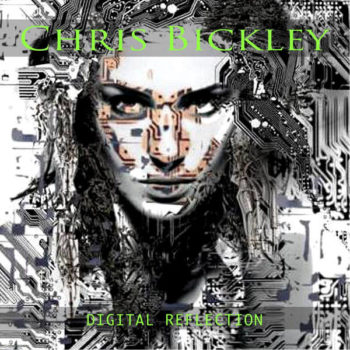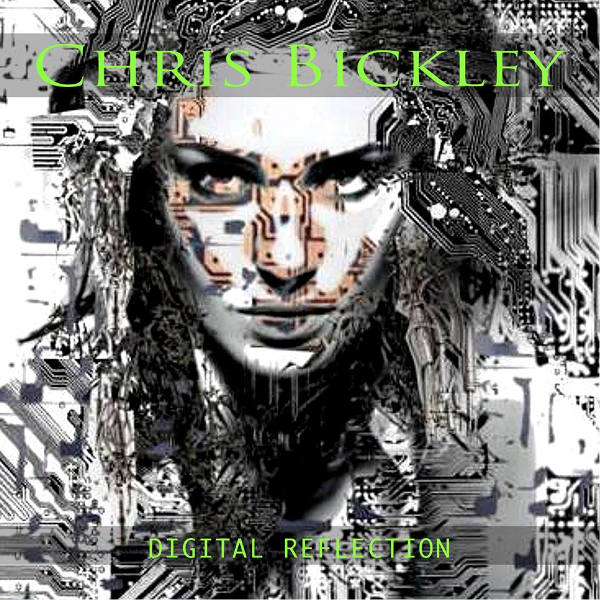 Chris Bickley has to be one of the hardest working musicians on the East Coast right now. He is currently working on wrapping up the forthcoming debut studio album from Eynomia that features vocalist Phyllis Rutter, Mike LePond (Symphony X), Jimmy Pitts (Christian Muenzer band, Fountainhead) and Gaetano Nicolosi (Ron Keel). Bickley also is a band member of Thunderhead, Christine Ohlman, Rebel Montez, and Terri Lane. Add to the list session musician, and one can see Bickley is not resting on his laurels, waiting for someone to hand him the keys to the kingdom.
So while we wait for the Eynomia debut studio album, Bickley starts 2017 off with the release his sophomore solo release of Digital Reflection on Shredguy Records.
Digital Reflection is the follow-up to Bickley's debut solo album Tapestry of Souls, which was released in 2012. Tapestry of Souls was a mixed bag of tricks, offering listeners musical explorations through a variety of genres. Digital Reflection is a more focused album that offers a collection of songs that rolls down the highway on a path, maintaining a specific perspective in continuity throughout.
Direct and straight to the point, Digital Reflection is primarily an instrumental album but also features two vocal tracks. Steve Johnstad "Zeus" (Mayday) appears on the song "Tragedy," and Terri Lane takes on the Iron Maiden's classic, "Wasted Years."
Bickley's backing band on Digital Reflection features bassist Dino Fiorenza, drummer Gaetano Nicolosi, and keyboardist Jimmy Pitts. If that is not enough, Bickley is also joined by fellow guitarists; Adrian English, Michael Abdow, Alan Williamson, Balawan, Gio "Mirage" Melendez, Irul FM and Taraz Bistara, along with keyboardist Mark Focarle.
Digital Reflection offers instrumental fans music that is piloted by the guitar as the lead voice. While Bickley has assembled a cast of players, all of whom are extremely accomplished musicians, their contributions are the icing on the cake to the nine original compositions that appear on the CD. Without great music, it doesn't really matter how well you can play.
On the new album, Bickley showcases his continued maturity and growth as a musician and songwriter. While listeners are treated to some amazing performances by all involved, Bickley hones in on adding melody and memorable passages to each song that sticks with you long after the music has faded. The rhythm guitars combined with bass, drums, and keyboards provide the sound bed that steers the music in many directions.
While the entire album is extremely good, several songs jump out at you. The opening song "Covenant," starts the album with energetic, shredding fretwork and melodic fluidity performed over the muscular drumming of Nicolosi. U.K. guitarist Alan Williamson joins the fray on the title track. "Digital Reflections" has a futuristic, slightly industrial heavy groove with spacey harmonized soloing. Mike Abdow appears on "Stratification," which combines several genres into one song. Starting with a heavy Rock vibe, it shifts into Blues-inspired riffs played over a Hammond organ, and eventually it transitions into Spanish Flamenco groove, complete with soloing that bounces between Flamenco and bluesy runs. "Tragedy," written by Johnstad and Bickley, is a slow burner and offers an emotional vocal performance. Johnstad's voice is reminiscent of a bluesy Damon Fox of Big Elf. The solo is as melodic as you can get, and while brief, it certainly makes a statement. The other vocal track, Iron Maiden's "Wasted Years," is a by-the-book re-creation of the original. The voice of Teri Lane fits perfectly to the music, as she recreates the infamous lyrics sung by Bruce Dickinson.
Digital Reflection is, in many ways, a throwback to the music released by Shrapnel Records during the 1980s. Chris Bickley's amazing skills, from production to performance, continues to grow and develop. Rocking out with his talented friends, Bickley and company shine on Digital Reflection.
Genre: Shred Guitar, Instrumental, Hard Rock, Metal
Band:
Chris Bickley – Electric Guitar, Slide Guitar, Mandolin, Classical guitar and Acoustic guitar
Dino Fiorenza – Bass
Gaetano Nicolosi – Drums and Percussion
Jimmy Pitts – Keyboards on "Squealer," "Arigato," "Shovelhead," "Stratification" and "Wasted Years"
Guest Musicians:
Mark Focarle – Keyboards on Tragedy, Covenant, From my Heart to Yours,
Digital Reflection and Balance of Power.
Balawan, Gio "Mirage" Melendez and
Adrian English – Guest Guitar on Balance of Power
Alan Williamson – Guest Guitar on Digital Reflection
Mike Abdow – Guest Guitar on Stratification
Irul FM – Guest Guitar on Squealer
Taraz Bistara – Guest Guitar on Shovelhead
Steve Johnstad "Zeus" Vocals on Tragedy
Terri Lane – Vocals on Wasted Years
Track List:
1. Covenant
2. Squealer
3. Arigato
4. Digital Refection
5. Balance of Power
6. Tragedy
7. Shovelhead
8. Stratification
9. Wasted Years
10. From My Heart to Yours
Label: Shredguy Records
Web: http://www.chrisbickley.net/
Hardrock Haven rating:
(9 / 10)