by Anabel DFlux
— Senior Photojournalist —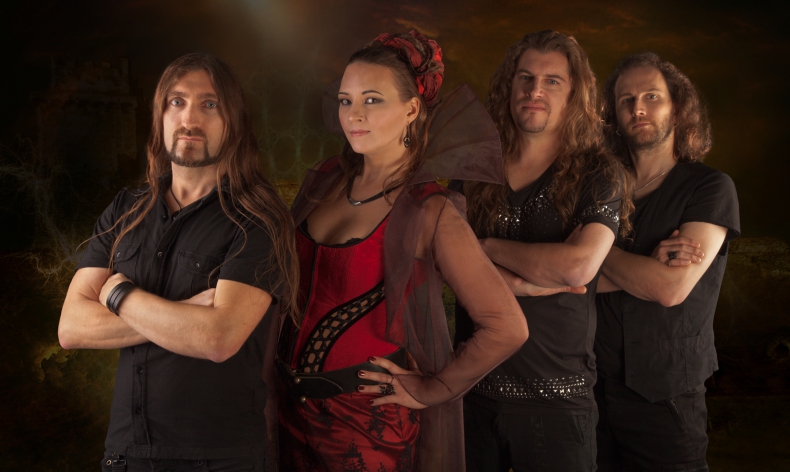 Senior journalist Anabel DFlux had a delightful conversation with Edenbridge's very own Lanvall. The band has recently released a new music video for its single "The Moment Is Now," and the two discussed the single's music video, how the song fits into their record The Great Momentum, and more."
Anabel: Hey there! Thank you so much for talking with me today. How are you?
Lanvall: Thank you. At the moment I am recovering from a nasty skiing accident 2 weeks ago. My knee is swollen with a big hematoma and I should not walk at the moment, so everything is a bit difficult right now.
Anabel: Tell me about "The Moment is Now." What was the writing and recording process like? What did you draw on for inspiration?
Lanvall: Right after our last studio album "The Bonding" I wanted to do something different musically. In 2010 Sabine and I played a short acoustic showcase in Hanoi (Vietnam), just piano and vocals. This was really inspiring, so we founded VOICIANO, the acoustic project. Only acoustic instruments were allowed to use, so no drums, electric guitars and keyboards. I recorded most of the piano parts live without click tracks and then everything followed. In 2014 we released our first album "Everflow." After that, I had the idea to do a History DVD about the first 15 years of our career. In the end, I sat over 1 year in the cutting room and out came a 9 hours documentary on 6 DVD´s called "A Decade And A Half…The History So far." In Spring 2015 I immediately started writing the new studio album "the Great Momentum" which also took me one year in the writing and arranging process. In June we recorded the drums and after that, I spent the whole summer of recording in my own studio. That all was a very relaxing process this time and made a lot of fun. After a 3 weeks holidays break, I went to England to Karl Groom (Threshold) for the mix, which was a great process again. It is the 5th album we have been done together now and the collaboration is always awesome. Finally, Mika Jussila put the final touches on the album on mastering in Finnvox.
"The Great Momentum" is a very powerful title, therefore it needed an equivalent artwork. "The Great Momentum" is the "timeless, absolute NOW". People often tend to live in the future or in the past and forget about this very moment, where life is happening. The stone lady in her meditation pose and the energy flowing through her body reflects this very well. "The Moment is now" also represents this title.
Anabel: Why did you choose this song to be a single?
Lanvall: It was the perfect song for a single, cause it is the most catchy tune on the album, so it was clear to go for that one.
Anabel: How did the music video come to fruition? Can you tell me about the crew that worked on the video?
Lanvall: You will laugh but the crew was the band, one makeup artist and the producer, who was also camera man and editor. We entered the green box, shot one full day and the rest was post production in the studio, which was a lot of work.
Anabel: How do you feel this song fits into the album The Great Momentum?
Lanvall: I think very well, it is different than the other tracks but not too different to fall out.
Anabel: I love all of the visual art and visual aspects featured in both the album and the music video. Who created these amazing backdrops?
Lanvall: This was all green screen animations and computer 3D graphics. No backdrops at all. When we filmed we stood in front of a green wall.
Anabel: Tell us about your next concerts. I hear you will be performing in Germany to support the new single! I little birdie also told me you have a festival booking in England.
Lanvall: Germany is in plans and there is one festival headline show booked in August in England, that´s right, I hope many more will follow.
Anabel: You've been a band for well over a decade. How do you feel your thoughts, feelings, and ideology on music has changed between your beginning and now?
Lanvall: I think it is important to develop as a composer and musician as well as you have to as a human being. Making one step further with every new album. Exploring new territories, trying new things, I think this is what music should be about. And this is still what drives me to continue with creating new music.
Anabel: How would you define the word "success"?
Lanvall: There are different definitions. For me, this is not just about fame and money. It´s also the outcome of a long journey filled with hard work and a solid fan base around the world. And most important: If you can look into the mirror day by the day and say, we have always done this for the sake of music and nothing else.
Anabel: How does music affect you and the world around you?
Lanvall: It has been my daily life for over 25 years as it is my mission and profession.
Anabel: Any words for your fans before we conclude this interview?
Lanvall: Thank you for all your support!
Anabel: Thank you so much!
Lanvall: Thank you for the interview.
EDENBRIDGE – "The Moment Is Now" (Official Video)

Visit Edenbridge online:
www.edenbridge.org
www.facebook.com/EdenbridgeOfficial
www.edenbridgefanclub.org