by Anabel DFlux
— Senior Photojournalist —
Senior photojournalist Anabel DFlux met up with Punk Rock Barbie on Sunset Boulevard the other day, and had the grand pleasure of capturing the musicians with her camera and exchanging a few interesting words with them about their music, their history, and what they love the most about punk!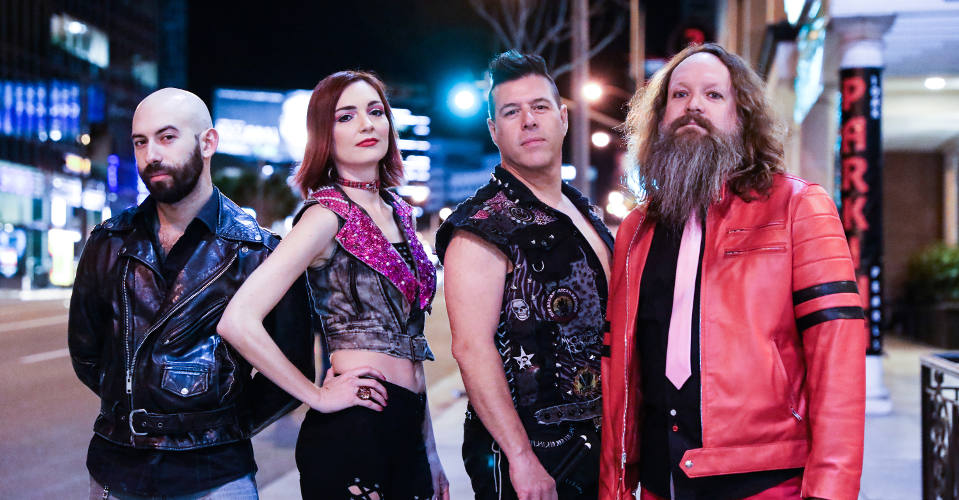 Hardrock Haven: Hey there! Thank you so much for chatting with me! How are you doing?
Richard: I'm doing great!
Jackie: Hey girl!
Tom Von Doom: I'm tingling all over!
Alon Mei-Tal: Pleasure's all mine, I'm super duper.
HRH: Tell me about Punk Rock Barbie's conception. What inspired this project, how did you settle on the name, and how did you all meet?
Richard: Wow, that's kind of a long story. Back when I lived in Sonoma County a really good friend of mine John Bocci asked me if I'd like to play drums in his band Punk Rock Elvis. It's a really cool song mash of Elvis tunes and Old School Punk Rock … example … Teddy Bear and I Wanna Be Sedated … lyrics and tunes mashed together into Sedated Bear. It was really fun. When I moved away I wanted to recapture some of that fun. John's band is campy with costumes and wigs. (Laughs) … but I was looking for something more serious. I love Pop Punk like Green Day and Blink 182 and many, many of the other songs from that era … I knew we needed a hook or we'd be just another cover band. Then I hit upon the idea of Punk Rock Barbie. I began searching for members through the LA area. I met Chris Kaye (our original guitarist) and Maxy Melrose the first girl I auditioned for Barbie. Maxy introduced me to Tom Von Doom. Unfortunately Maxy was not the right singer for the band, however once Chris, Tom and I got together we knew we had something we just had to find the perfect person to be Punk Rock Barbie. After many auditions, Chris told us about a girl he knew who would be perfect but he wasn't sure if she wanted the gig. The first time I heard Jackie Johnson sing, I knew. She 'IS' Punk Rock Barbie. We went through some trials and tribulations and Chris got so busy with work that he couldn't remain a part of the band. Tom was my rock, just like when we're playing, he told me not to give up. His charm and personality are infectious and you just can't say no to him. So I pressed on looking for a new guitarist. I'd almost given up hope when Alon Mei-Tal answered my ad. It was like a lighting strike. He's amazing as a guitarist and a vocalist and he's very humble. In fact, everyone in the band respects each other, Jackie especially, she is no diva. That's why her fans love her so much.
Jackie: I met Richard and the guys through the former guitar play, Chris, who is a buddy of mine through his wife. I'm primarily a comedian but have been doing musical comedy and slaying karaoke for years, and he mentioned his new pop punk cover band was looking for a singer. Being the frontwoman of a pop punk cover band is kind of my dream job, so I asked him if I could take a stab at the audition. I clicked with the guys and we had so much fun, and when they asked me to join, I said "duh."
Tom Von Doom: Out of the blue, a Russian singer called me looking for a bass player. She met my friend at a nightclub in Hollywood. I went to a band meeting and met Richard. It was a little confusing about who was in charge. Afterward, Richard told me he was putting a band together called Punk Rock Barbie. The Russian girl answered his ad, not the other way around. We jammed and realized that we were a great team, but she was not the singer we needed. We auditioned a ton of singers who just weren't right. Then, through the original guitar player, we found Jackie, and we were all blown away by her. We knew we had found our Barbie! Alon completed the line-up after the first guitar player dropped out.
Alon Mei-Tal: PRB was pretty much fully realized by the time I heard about the band. I answered an ad looking for a guitar player, came in to audition, and the rest is history.
HRH: What is it about the punk era that excites you?
Jackie: I came of age in the late 90's/early 2000's and pop punk music was the main soundtrack to those formative years. I have the fondest memories of driving around my hometown (Dallas Texas) goofing off with my friends, blasting Avril Lavigne, Fall Out Boy, Good Charlotte, eating Wendy's and being carefree teenagers. I would go see Blink 182 every time they came through town and they were my favorite dudes on Earth. Even now, they are always in my music rotation. My husband and I chose "Girl at the Rock Show" as our wedding recessional music because we met jamming together at a party and both love Blink so much. This era of time was such a great time in my life, and with PRB we all get to relive it every show. We love that nostalgia and the crowds really do, too!
Tom Von Doom: I love power pop and pop punk! I'm from New York City, and I was friends with Joey Ramone. He really helped my career!
Alon Mei-Tal: I'd have to say it's just the lack of pretension. The pop/punk stuff we play wasn't written to be high art or deeply meaningful. It was just meant to be fun, and it is.
HRH: You all cover a lot of very famous bands from various spans of the punk genre. What is your favorite song to play, and why?
Richard: Hmmm favorite song…. It's a tie between Green Day – Holiday and Blink 182 – All The Small Things. They are both very energetic songs with great lyrics and everyone in the band gets into the vocals.
Jackie: It is so hard to pick a favorite song we do because a lot of our set list was personally curated by me. I sent the guys a list of songs from this era that I already know every word to from just being a fan, and we picked the ones that we all dug the most. Some of the random, semi off-era songs we do, like Chop Suey by System of a Down, started with me singing them as a joke, then Richard saying "No for real we should do that song." So we learned it and it ruled! I would say I love doing "Happy Ending" by Avril Lavigne and "You Oughta Know" by Alanis Morissette cause those are songs every girl my age has wanted to shout out loud at some point in her life! It's so fun and the women in the crowd always shout out the words back at me. We have lived through those heartbreaks, honey!
Tom Von Doom: If I had to pick one band from the '90s as my favorite, it would be The Offspring. I love playing "Self Esteem!" What an iconic bass line!
Alon Mei-Tal: I'd say "Basket Case," is my favorite punk song that we play. The chord changes are pretty cool and there's a lot of freedom to mess with the rhythms however I want to. I never play that song the same way twice.
HRH: Do you come from a musical family? How did you get into playing music?
Richard: My family isn't particularly musical. I'm the only one but my mom really supported my dreams. I owe it all to her. I think she knew she was in trouble when I started using wooden spoons on her pots and pans.
Jackie: I grew up doing pageants and singing was always my talent. Later in life, I chose to pursue comedy, but music has always weaved itself into everything I do. Everyone in my immediate family isn't exactly musical, but we can all take a Karaoke mic and rock it like a champ.
Tom Von Doom: My Dad was classically trained on violin. My great uncle wrote musicals for MGM. My Mom worked for Columbia Records when I was a kid, so I was always surrounded by musicians.
Alon Mei-Tal: My mom plays a little piano, but that's about it. When I was nine she decided I was wasting too much time being fat and lazy in front of TV, so I needed a hobby and she would make sure I stuck to it. Here we are 19 years later. Thanks, mom.
HRH: What is your fondest musical memory?
Richard: Ooh … fondest musical memory? Vocally, it would be singing The National Anthem with Men Aloud at the Anaheim Pond. As a singing drummer, every time I play with Punk Rock Barbie.
Jackie: My fondest musical memory is singing "Crazy" by Patsy Cline at the Texas State Fair at four years old. Patsy's songbook was my go-to as a child Texas beauty Queen.
Tom Von Doom: When I was 15, my mom's friend took me backstage at a Blue Oyster Cult concert. That's when I knew that I wanted to be a rock star. More cowbell!
Alon Mei-Tal: My junior year of high school I performed with my high school wind ensemble. We played a piece that was a concerto for electric guitar and winds. Lots of Heavy Metal influence and an extended shred cadenza. It was my first time really being front and center on a big stage doing what I loved to do.
HRH: Describe one of your concerts! Why should we be there?
Richard: Punk Rock Barbie is a unique band … we 'NOT' just another cover band. Jackie Johnson is a tremendous talent and I've surrounded her with a wonderful group. We love what we're doing, the energy is electric. We don't just play songs, we take people back in time, back to fond memories.
Tom Von Doom: Rock out with a knockout! PRB shows are all about dancing, singing along and having fun!
Alon Mei-Tal: It's always a good time at a PRB show! We're there rocking out your favorite throwback jams and you're there dancing and making regrettable choices involving alcohol. It's a party for everyone!
HRH: What's the best and worst thing about playing clubs?
Richard: The best thing about playing clubs is the people. We love our fans. And we're getting more every time we play. The worst thing is the hours, it's tough packing up and going home at 2:30 in the morning.
Jackie: The best thing about playing clubs is the interaction with the crowds and fans! The worst party about playing clubs is coming down from the performance high late at night and not being able to sleep! Punk Rock Barbie needs her beauty rest but doesn't mind a good post-gig 4 am trip to Taco Bell.
Tom Von Doom: Being able to connect with crowds in a club is amazing. Being able to collect from clubs, as a young band, is challenging.
Alon Mei-Tal: The best thing is definitely being up close and personal with the crowd. We're all in it together, there's no separation there. The tough part is the crowd itself. You're really at the mercy of the audience and if they're not on board with you, you're in for a long night.
HRH: What are your long-term career goals?
Richard: Long Term? That's a tough one. Sure everyone dreams of being a Rock superstar, live large, big house, five cars … but if we got to play music for a living. that would be amazing. And if some of it could be original and the fans enjoyed it as much as their favorite artists, well that would be incredible.
Jackie: Long term career goals with PRB are getting bigger and more high profile gigs. I want to be up on a huge stage with a roaring crowd, in a fierce pop diva outfit with a glittery mic like Ariana Grande!
Tom Von Doom: I want to keep rocking the crowds 'til I'm 60!
Alon Mei-Tal: Play, record, tour, repeat.
HRH: How would you define the word "success"?
Richard: Success? Punk Rock Barbie is already a success. We all love each other and we put on a great show. So could we do more? Of course, you can always do more. So success for me is if we keep this going indefinitely, make great music, make people smile and if we can make a few bucks along the way, that would be nice too.
Jackie: To me, "success" is creating art for a living and having a washer and dryer to call your own!
Tom Von Doom: Fame, happiness and the money that goes with it!
Alon Mei-Tal: a: a degree or measure of succeeding, then, b: favorable or desired outcome.
HRH: Any last words for your fans before we conclude this interview?
Richard: My advice to our fans is to believe in yourself and your dreams. Sure that sounds corny, and it is, but it's also true. If you don't believe nobody else will. Ashton Kutcher talked about luck. He said that luck was just hard work and he's right. If you sit around waiting for something great to happen … it never will.
Jackie: PRB is so excited to make its mark on the L.A. and California scene and we can't wait to rock for y'all!
Tom Von Doom: Come to the shows, dammit!
Alon Mei-Tal: Looking forward to seeing y'all at the shows!
HRH: Thank you so much!
Connect with Punk Rock Barbie here: https://www.facebook.com/PunkRockBarbieLA/