Letters From The Fire | Worth The Pain
by Joe Mis
— Senior Columnist —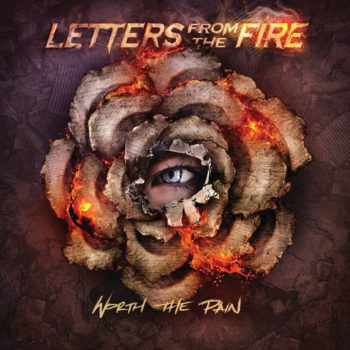 The California-based quintet Letters From The Fire have dug into their own experiences and lives to create their latest release entitled Worth the Pain.
Founded by guitarist Mike Kellar, Letters From The Fire has been around for a while. Originally called Park Lane, the band released a full-length album, then went through some changes and rebranded itself Letters From The Fire. The lineup has crystallized and seems to be hitting their full stride. Now fronting the band is singer Alexa Kabazie, who brings a good deal of power and expressiveness to the lyrics (in a FlyLeaf meets Halestorm way) without going over the top.
Mike Keller is joined by fellow guitarist Cameron Stucky, and the two make a formidable pair. They dish out solid and catchy riffs and know how to solo – proving that the lead break isn't a lost art. Clayton Wages (bass) and Brian Sumwalt (drums) provide a sturdy backbone, hammering hard when needed and adding layers of complexity to the melodies. The band manages to combine heavy riffs with delicate melody – making their music unique.
"Perfect Life" kicks of with a bit of dissonant electronica before turning into a pounding, heavy tune that varies in tempo and tone while giving Kabazie a chance to hit all the edges of her range. "Mother Misery" is a moody Gothic-tinged rocker with some fine bass work and multi-layered vocals – it sounds like it should be a simple tune but is actually quite complex. "Give In To Me" is an aggressive mix of brutal guitars and slick electronics, blending elements from almost metal genre into one massive rolling rhythm line. Kabazie's vocals on ballad "Bruised" are truly spectacular – she proves that she can flat out sing, while the rest of the band steps back and lets her voice shine. "Live A Lie" is a slick, grinding alt-rocker with somewhat muffled vocals atop a punchy guitar line (with a sweet lead break) and explosive drums.
"My Angel" is a drum driven pop-rocker which could be performed by anyone from Halestorm to Katy Perry to Taylor Swift with only a few simple arrangement changes. "Last December" is pure melodic metal in the Amaranthe vein, mixing electronics and metal while building around vocals and rhythms, and "Holy Ghost" opens with some riffs and a deep gurgling bass line that seem to channel Nine Inch Nails. The simple keys, powerful lyrics, and basic melodies of "At War" make it a standout track as it drifts from soft to cinematic. The contrast with the dark and murky "Control" is startling, once again demonstrating that LFTF is not a one-trick pony – they can do it all, and do it all well. The title track is true in-your-face modern metal with and incurably catchy groove and intensely manic bass and drums, while "Scars" takes it down a notch and builds on vocals and bass. The release wraps with the spooky Gothic metal "One Foot In The Grave", although somehow Kabazie's vocals are delivered with a Pop-Metal punch.
For Letters From The Fire, Worth The Pain is a truism. Their latest musical journey is solid from start to finish. Smart songwriting, excellent performances, and steady engineering make this release a pleasure to hear. The mix of traditional metal, Gothic, and alternative styles keeps the band from being pigeonholed into a particular category, and they handle all the tones and tempos well. The listener can tell that everyone involved kicked it up to eleven and never looked back. There are no negatives here – each track is unique and polished, and delivered with passion. It is also tough to say if there is one standout performer – Kabazie's intense delivery is no more important than the soaring Kellar/Stucky six-string work or the tight and driving bottom end provided by Wages and Sumwalt. There are few bands performing today that is as complete and integrated as these guys.
Worth The Pain is a musical voyage that deserves a spot on most musical top-ten lists despite the fact that it is early in the year. Thirteen tracks and not one a stinker… Letters From The File can be proud of this gem! Highly recommended all around!
Genre: Modern Melodic Metal, Alternative Metal
Band:
Alexa Kabazie (vocals)
Mike Keller (guitar)
Cameron Stucky (guitar)
Clayton Wages (bass)
Brian Sumwalt (drums)
Track Listing:
1. Perfect Life
2. Mother Misery
3. Give in to Me
4. Bruised
5. Live a Lie
6. My Angel
7. Last December
8. Holy Ghost
9. At War
10. Control
11. Worth The Pain (Explicit)
12. Scars
13. One Foot in the Grave
Label: Sand Hill Records
Website: http://www.lettersfromthefire.net/
Hardrock Haven rating:
(9 / 10)