LIVE! | Aesthetic Perfection
by Tamara Igleheart
– Photographer —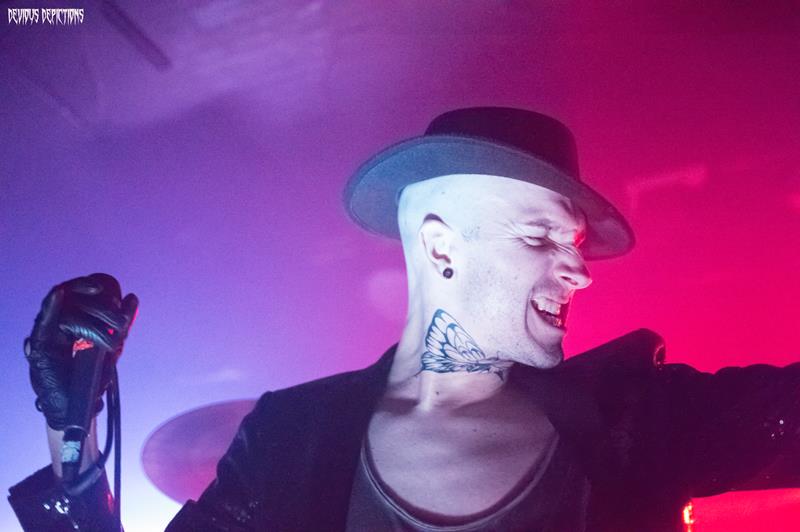 March 4, 2017 at the Complex in Glendale, CA. —
Aesthetic Perfection closed out their 6-week Industrial Pop Tour run on Saturday, March 4th, 2017 at the Complex in Glendale, California with a sold out show. The Industrial Pop band released their latest single, Love Like Lies, on December 2nd, 2016. The North American leg of the tour began on January 19th in San Diego, California. Openers NYXX and Night Club are two female fronted acts who the music industry will undoubtedly see great things from in the near future. They are true hidden gems in the Industrial genre and captivated the audience with their lovely voices and dynamic stage presence.
Anticipation for Aesthetic Perfection's arrival on stage grew almost unbearable in the darkness. The masses gathered in front of the stage, eagerly awaiting the start of the headlining set; this was the calm before the storm. Suddenly, the first notes of the backing track "Open Wound" rang out, and the band emerged to take their places. The crowd erupted into screams and cheers, for this was what they had been awaiting all night. The band then started their set with "Spilling Blood" from the album Blood Spills Not Far From The Wound. Vocalist and band founder Daniel Graves is a force on stage that must be experienced, as words cannot effectively capture the charisma and magnetism he exudes. However, do not think for a second that just because David Dutton and Tim Van Horn were performing behind their instruments means that their intensity was in short supply! This could not have been further from the truth, as Dutton (keys) and Van Horn (drums) were still as lively as their enigmatic frontman. The energy that the band displays in their live performance is infectious, as every patron in the venue was singing, dancing, and smiling. A strong sense of unity filled the air from start to finish, and the camaraderie between Aesthetic and their fans was unmistakable. The band faced many difficulties along their journey during this tour (including broken down busses, and Graves battling laryngitis), and it speaks volumes to their character to still be able to put on a great show in spite of it.
The only low point of the night was when the final song was announced; "The New Black" from the album 'Til Death. When it was over, the band thanked their fans and went backstage. Inevitably, the audience began shouting for an encore, hungry for more. The trio obliged, much to everyone's elation, and ended the night with "Spit It Out" from the album A Violent Emotion. As an added bonus to being incredible showmen, the members of Aesthetic Perfection are also complete gentlemen and very personable with their fans; a lengthy line to meet them formed as soon as they exited the stage.
Aesthetic Perfection; remember the name, for this is only the beginning. Make sure you visit their website at www.aesthetic-perfection.net, purchase their music from your favorite retailer, and follow them on social media.
Aesthetic Perfection Concert Photo Gallery
Connect with Aesthetic Perfection: http://aesthetic-perfection.net/