Michael Schenker Fest: Live Tokyo International Forum Hall
by John Kindred
— Publisher —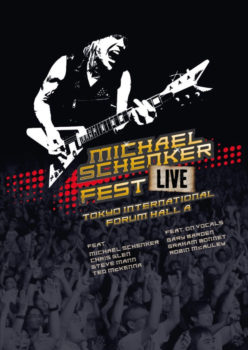 Michael Schenker returns with his latest multi-media release of the Michael Schenker Fest: Tokyo International Forum Hall on the inakustik music label.
The Michael Schenker Fest, a celebration of music from the legendary guitarist, made a handful of appearances exclusively in Japan in the fall on of 2016. The concert performance at Toyko's International Forum on Aug. 24, 2016, was recorded for release on Blu-ray, DVD, CD and digital formats.
On this special tour, Schenker focused on his solo band MSG, performing music from the catalog of albums from which the band recorded during the '80s. The uniqueness of these "performances" was the inclusion of three of the singers who helped put a stamp on the sound of MSG in that era of Schenker's career. Vocalists Gary Barden, Graham Bonnet and Robin McAuley, each, shared the stage, as the set list laid out the chronological order of songs from each singer's perspective albums they recorded as a member of MSG.
Schenker also returned to the stage, once again, with original MSG band members Chris Glen (bass) and Ted McKenna (drums) and Steve Mann (guitar, keyboards), who was part of the McAuley Schenker Group.
The 5,000 fans in attendance surely weren't disappointed as Schenker, armed with his signature flying V guitar, rocked the sold-out venue.
All the classic MSG songs are here, and the band performs the instrumental song "Coast to Coast," which Schenker recorded with the Scorpions on 1979's Lovedrive album. It covers the staples of MSG's catalog, which fans have been listening to for years on the live CDs and DVDs released by the Schenker. Barden is also in fine form here. Bonnet's gritty, gravely vocals have not changed much over the years. It is a bonus to hear McAuley-era songs, and his performance is strong. It would be great to hear a complete live album with McAuley, something from the past or recent recordings. The only official release is the Unplugged live album. He also sings on two UFO classics, "Shoot Shoot" and "Rock Bottom," both superbly done.
Schenker, himself, is on fire. His live performance is reminiscent of Uli Jon Roth, as his confidence is noticeable. He is rock steady; his musical voice majestically rolls through his fingers to each note he strikes on the guitar, re-creating the solos and rhythms he once laid down on vinyl. For any listener who doubts his magical touch, look no further than his extended guitar solo on "Rock Bottom." It is a testament to his mastery of the guitar.
As with all multi-format releases, the Blu-ray features the most features. The CD and digital release offer a traveling companion. The DVD, well I guess people still use those, so it's still needed. This a definite must-have for Schenker fans.
Genre: Hard Rock
Band:
Michael Schenker – Lead Guitar
Ted McKenna – Drums
Steve Mann – Guitar, Keyboards
Chris Glen – Bass
The Vocalists:
Gary Barden
Graham Bonnet
Robin McAuley
Track listing:
01. Intro: Searching For Freedom
02. Into The Arena
03. Attack Of The Mad Axeman ft. Gary Barden
04. Victim Of Illusion ft. Gary Barden
05. Cry For The Nations ft. Gary Barden
06. Let Sleeping Dogs Lie ft. Gary Barden
07. Armed And Ready ft. Gary Barden
08. Coast To Coast
09. Assault Attack ft. Graham Bonnet
10. Desert Song ft. Graham Bonnet
11. Dancer ft. Graham Bonnet
12. Captain Nemo
13. This Is My Heart ft. Robin McAuley
14. Save Yourself ft. Robin McAuley
15. Love Is Not A Game ft. Robin McAuley
16. Shoot Shoot ft. Robin McAuley
17. Rock Bottom ft. Robin McAuley
18. Doctor Doctor ft. Gary Barden, Graham Bonnet, Robin McAuley
Label: inakustik
Web: http://www.michaelschenkerhimself.com/
Official Trailer: