Vescera | Beyond The Fight
by Jonna Ambur
— Sr. Photojournalist —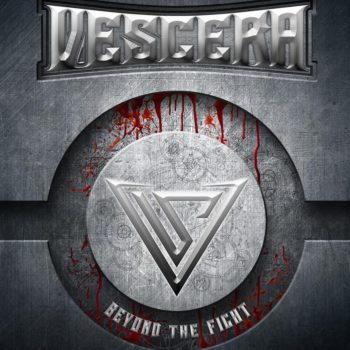 This might be the debut album for Vescera but these four amazing musicians are not newbies to the scene. Vocalist Michael Vescera, who is known for fronting Obsession, Yngwie Malmsteen, and Loudness to name a few, launched this newest project and added three more Metal powerhouses — Mike Petrone (guitar) and Frank Leone (bass) both formerly of Nitehawks and Fabio Alessandrini (drums) formerly from Annihilator.
With a group like that, fans are not only eager to hear this newest project but have hopes that it would meet the expectations of loyal metal listeners. Beyond the Fight features nine songs that are one after the other Progressive Metal masterpieces. Catchy riffs, lyrics that you can sing to, true Metal passion exuding from each note; overall the album brings the 40-something crowd back to their youth but not so far back that new listeners can't appreciate the musicianship that is Vescera.
Powerful vocals are at the forefront of each song but they don't cloud the fact that the music that sets the melody is powerful, consistent, clean and simply catchy. The first song on the album, "Blackout in Paradise" sets the stage for true Metal listeners next 40 minutes and comes out of the gate with a mission! Songs like "Vendetta" shows how well they can do heavier metal, while "Studio 95" and "Stand and Fight" are more traditional.
The entire album is one song after the next that make the listener say "YES"! The album drops April 7 and pre-order begins March 24. Tour dates are already being booked. 2017 is going to be a big year for these guys.
Time to spin the album once again and pretend to hit Mr. Vescera's flawless powerful high notes. Drums played on the car's steering wheel and air guitar breaks at the red lights … TURN IT UP!! This is METAL!
Genre: Hard Rock
Band:
Michael Vescera – Vocals
Mike Petrone – Guitar
Frank Leone – Bass
Fabio Alessandrini – Drums
Track Listing:
1. Blackout In Paradise
2. In The Night
3. Stand And Fight
4. Dynamite
5. Looking For Trouble
6. Vendetta
7. Troubled Man
8. Never Letting Go
9. Suite 95
Label: Pure Steel Records
Websites: https://www.facebook.com/VesceraEU/
Hardrock Haven rating:
(9 / 10)