Badass | More Pain, More Gain
by Joe Mis
– Sr. Columnist —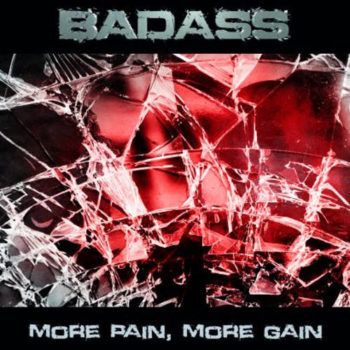 More Pain, More Gain is the debut full-length release from the Italian collaboration group Badass. This quartet of Metal stars has pooled talents and come up with something that will definitely kick butt particularly if you are a fan of bass guitar, or like your Melodic Metal filled with aggressive swagger and big attitude.
Badass, while a new name, has impressive pedigree. Vocals are provided by singer and drummer Titta Tani (DGM, Phoenix Rising, Goblin, Edu Falaschi, Mark Boals). The well respected Alberto Rigoni (solo artist, TwinSpirits, Lady & THE BASS, Vivaldi Metal Project) plays his usual amazing bass, while Alessio "Lex" Tricarico (Synapsis, HorsePowerOverload, FourRoxxDown) contributes fine guitar work. Young and talented Denis "Denzy" Novello (NeverNight, Rockdogs, Kim Bingham, Alberto Rigoni) handles the skins.
In a fit of apropos, "Intro" opens the release (and yes, "Outro" is the closer). It is a dissonant bass solo that tries to set the tone for the balance of the tracks by avoiding keyboards and electronics, being "different" from the expected. "More Pain, More Gain" is a heavy rocker built around intense bass lines and powerful drums, and features a strong vocal performance from Tani that ranges from clean to almost death growl. "Nightmares of My Youth" is a gritty track with a brooding bass line and hot guitar break, while "Royal Chains" is pure metal goodness from end to end – and features a killer bass solo. "Strong and United" sports the strongest vocals on the release, allowing Tani to explore his entire vocal range – and Rigoni's bass is cranked to eleven.
Novello turns "What We Need" into a drummer's expo piece, delivering an explosive and intricate performance. "One More Night" starts out as a soft and slow rocker that flips into an almost power metal chorus, a tune that allows the band to display their comfort in the slow stuff as well as the heavy end. Tricarico's outro break is short but jaw dropping. "Join Me" is a straight up metal anthem with a sing along chorus and outstanding coordination between bass and drums, while "Redemption" is a slow and pounding blues-tinged rocker. "Don't Bother Me" is an intense heavy rocker with Tani's best vocal performance that fades into the dissonant bass solo of "Outro."
Badass' More Pain, More Gain is nicely mixed & mastered by Federico Solazzo, and is quite aptly described in the band's press release: "…powerful vocals, killer heavy bass, massive rhythm guitar riffs, drums from hell…". Musically the release is traditional heavy metal with modern touches, filled with big hooks, slick grooves, and aggressive vocals and songwriting. The overall aggressive tone is tempered by an overriding sense of melody and very technical musicianship, allowing the band to pull no punches and deliver what is promised without compromise.
More Pain, More Gain simply ROCKS, should appeal to fans of old school Metal and Modern Melodic Hard Rock, and those who love their Metal kicky!
Genre: Metal
Band:
Titta Tani (vocals)
Alberto Rigoni (bass)
Alessio Tricarico (guitars)
Denis Novello (drums)
Track Listing:
1. Intro
2. More Pain, More Gain
3. Nightmares of My Youth
4. Royal Chains
5. Strong and United
6. What We Need
7. One More Night
8. Join Me
9. Redemption
10. Don't Bother Me
11. Outro
Label: Lion Music
Website: http://www.badassmetal.net/
Hardrock Haven rating:
(8 / 10)