Brother Firetribe | Sunbound
by Franco Cerchiari
– Sr. Columnist —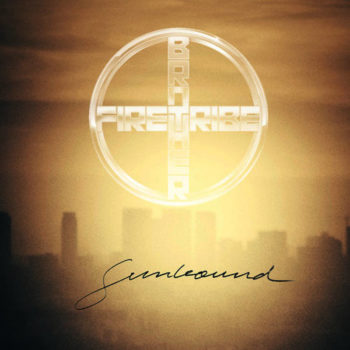 As luck would have it, the arena-filling, Melodic Rock sounds of the '80s seems to be making a comeback of sorts with bands like Place Vendome, Eclipse, First Signal, House of Lords and Pride of Lions all releasing pleasing on the ears, keyboard heavy, Melodic Rock. Adding to that playlist is Brother Firetribe and their 4th outing, Sunbound released on the Spinefarm Records label. Yeah, the songs are likeable, radio friendly, and accessible, but truth be told it's missing that "grab you by your soul and shake it loose" vibe that 2014's Diamond in the Firepit had, or even a better release was 2008's Heart Full of Fire (try listening to "Out Of Your Head" from Heart Full of Fire and NOT reach for the volume knob,) but on this, most of the songs came across as a Survivor inspired, at times tired sounding rehash of "Karate Kid/Rocky/Chariots of Fire" themed soundtracks (check out the tracks, "Taste Of A Champion" or "Indelible Heroes" for instance.)
Sure, the songs were well played, the mixing perfect, and true to the days when Survivor/Night Ranger/Journey ruled the airwaves, the melodies were awash with keyboard-drenched refrains thanks to Tomppa Nikulainen, and the incontestable, outstanding voice of Pekka Heino (Leverage/Cashmir) blends wonderfully with his sidekick guitarist, Emppu Vuorinen (Nightwish, Altaria, Almah,) But, it is a wish that these songs just had the from the heart, can't seem to play this music loud enough, over the top, coliseum-filling sounds this great band's past releases had.
Not to say that these songs were bad, for that is not at all the case. Opening Sunbound is the short instrumental title track which will make one want to find Sly Stallone's cell phone number and ask if he'd like to go for a run along the beach to work on your cardio prior to taking on the heavyweight champion of the world and also good was "Help Is On The Way" with its heavy use of guitars and keyboards. The drums of the mid-tempo "Last Forever," the gripping "Shock" were fine, and the rocking "Give Me Tonight," was this CD's highlight and a throwback to the days of "Out Of My Head." The lyrics of "Big City Dream" was worth thinking about, and closing Sunbound was the 5 minute "Phantasmagoria" which at times seemed to drudge along, but still, this was a song which was, in fact, massive in its delivery.
But in the end, as the last song faded into black, the headphones were set on the table, and the final sigh was made, it must be confessed that on so many occasions during this CD's playing time it was a wish that this music would just explode into the stratosphere, spellbinding the listener with one song after another that totally encapsulated the listener's heart, mind, and soul where a constant reach for the volume knob was made, but sadly, and truthfully, it just didn't. To admit that about a favorite band, and as well a band whose music remains as a favorite in one's collection, is tough, downright hard in fact. Still though, there was something fun about some of these songs, and yeah, in a time or two, it was a good listen, but overall the music of Sunbound kind of came across as flat, and as that sigh escapes one's breath it must be said – this is really not one of this fantastic band's best.
Genre: Melodic Rock
Band Members:
Pekka Heino – vocals
Erno "Emppu Vuorinen – guitars
Jason Flinck – bass guitar
Tomppa Nikulainen – keyboards
Hannes Pirila – drums
Track Listing:
1. Sunbound
2. Help Is On The Way
3. Indelible Heroes
4. Taste Of A Champion
5. Last Forever
6. Give Me Tonight
7. Shock
8. Strangled
9. Heart Of The Matter
10. Restless Heart
11. Big City Dream
12. Phantasmagoria.
Label: Spinefarm Records
Website: www.brotherfiretribe.com
Hardrock Haven rating:
(7 / 10)