Hammerfall | Built to Last
by Ron Higgins
– Columnist —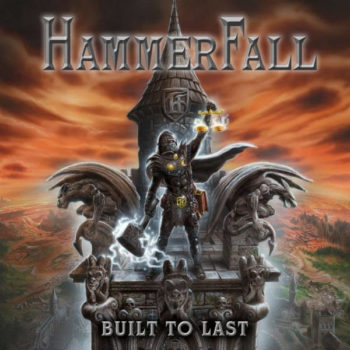 Hammerfall is back with its 10th studio album and it's a monster. The Swedish juggernaut has been churning out killer Power Metal for 20 years and they're still going strong. They first appeared back in 1997 with their debut release Glory to the Brave and their latest offering is as powerful and fist-pumping as ever.
Hammerfall was founded in Gothenburg, Sweden in 1993 by ex-Ceremonial Oath guitarist Oscar Dronjak. Although Metal's heyday of the '80s was fading into the past and grunge began to take over, bands like Hammerfall picked up the metal torch and began blazing new trails of metal mayhem. Killer riffs, blazing guitar solos, screaming vocals and catchy sing-along choruses were back and headed towards the 21st century.
The bands latest offering, Built to Last, is a worthy follow-up to 2014's impressive (r)Evolution. Although musically it may not break any new ground, it does what it does best, gets your head banging right from the opening track "Bring It!" Okay, the title and chorus may be a little cheesy but hey, they're challenging their audience to "Bring It" while they themselves, well, 'Bring It!' It's a great opening track. Once your heart rate is up and your blood is pumping, along with your fists, they offer up "Hammer High," a fairly typical medieval Metal tune, replete with an infectious chorus.
Next up is "The Sacred Vow," one of the album highlights. There's a nice acoustic guitar intro followed by some cool riffing and pounding drums. Again, there's another sing-along chorus and who wouldn't love the lyrical homage to this fantastic genre of music when they sing, "The sound of metal, the sweetest sound of all!" Sweet, indeed!
"Dethrone and Defy" is another album highlight. The guitar playing is furious with blistering solos. The energy is high and if you have a penchant for watching soccer, it may just amp you up enough to turn you into a hooligan. Yeah, it's got power.
After charging out of the gate at top speed with the first four songs they finally give the listener a rest with their obligatory mid-album ballad "Twilight Princess." It starts with a lovely flute, invoking a more Folk-Metal feel, then leads into some fine guitar work and drums. There's an impressive lead guitar solo as well. As far as metal ballads go, this is one of the better ones, reminiscent of the outstanding Scorpions tune, "Still Loving You."
The second half of the album is just as good as the first and just as heavy. You've got the furious dual ax-attack and galloping double-bass of "Stormbreaker," the catchy title track with group vocals in the chorus, the high-energy up-tempo "The Star of Home" and the anthemic "New Breed," featuring the melodious choral declaration, "New breed, old breed, we are the same breed. Heavy Metal running through our veins!" Finally, you've got the closing track "Second to None." The tempo is a bit slower, beginning with a subtle keyboard intro, but features excellent guitar work and generates a bit of an epic feel, to close out the album.
Overall, this is an excellent release by an extremely solid band. Some may complain that their sound doesn't change but as the saying goes, "if it ain't broke, don't fix it!" And it certainly "ain't broke." They do what they do and they do it well. In classic business parlance, their core competency is playing top-notch European Power Metal and there's no reason to change it. As Angus Young once said about his band, they just keep remaking the same album over and over. But when you've got something that sounds as good as AC/DC or Hammerfall, then that's certainly not a bad thing.
What makes this album so enjoyable is that it stays true to form. There's no rap breakdown in the middle or use of sampling or autotune – no attempt to be "cutting edge" or "Avant-guard." Just good, straight-ahead, Metal. Look at it this way, suppose that some aliens from Planet Clueless visit our lovely planet, have never heard of Heavy Metal, and really want to learn how to bang their large, green, pointy-eyed heads. You could always play them some Iron Maiden or Judas Priest (and you should), but then you could play them this epic release to showcase the very definition of Heavy Metal. This is, simply, classic Power Metal at its best.
Hammerfall may not be as well-known in the states as they are in the rest of the world but they should be. And with more releases like this, they hopefully will be. After 20 years of shredding and still going strong, they, like this album, are clearly Built to Last.
Genres Heavy Metal, Power Metal
Band:
Joacim Cans – Lead vocals
Oscar Dronjak – Guitar and backing vocals
Pontus Norgren Guitar and backing vocals
Fredrik Larsson – Bass and backing vocals
Johan Koleberg – Drums and percussion
Track Listing:
1. Bring It!
2. Hammer High
3. The Sacred Vow
4. Dethrone and Defy
5. Twilight Princess
6. Stormbreaker
7. Built to Last
8. The Star of Home
9. New Breed
10. Second to None
Label: Napalm Records
Website: http://www.hammerfall.net/
Hardrock Haven Rating:
(9 / 10)