Hardrock Haven's Derric Miller Unleashes Chunks of Hell: A Horror Anthology With Co-Writer of Gristle and Mudslingers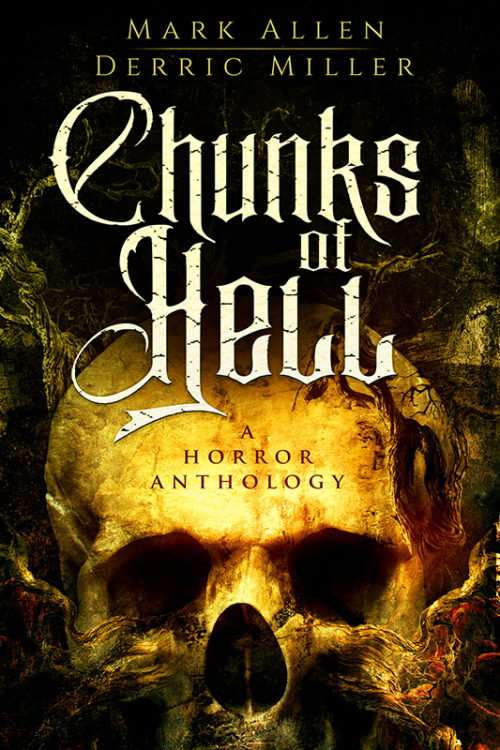 SIOUX FALLS, S.D. — Two fiction writers who have never met each other—Mark Allen from New York and Derric Miller from South Dakota—have put together their third foray into the horror genre with Chunks of Hell, an anthology of their respective short stories, including a brand new co-written short story, "Gurgles." Miller is also Hardrock Haven's managing editor, and Allen is a former staff writer for the site.
"Gurgles" was based off an idea Allen had but as with Gristle—based on a screenplay Allen had written before he had even met his future co-writer—Miller took the first stab at the draft and Allen filled in the blanks with his own ideas and nuances once the first draft was finished.
Mudslingers, on the other hand, was more of an experimental pissing contest, with each writer penning a chapter and passing it back and forth with no outline or discussion as to where the story would take them.
Gristle received rave reviews as a co-written novel while Chunks of Hell highlights the differences in the authors' individual ideas and writing styles when they write their own respective stories as opposed to the unified voice they established when writing together.
"Mark and I are often different animals when it comes to writing," said Miller. "He's coming into his own as an action writer— with books about assassins blasting guns I didn't know existed—while my non-horror writing leans more toward the speculative fiction genre, like The Twilight Zone but usually with more blood and sex." Miller is currently in the midst of writing his first solo novel, Heed.
"Derric and I are now on our third project together and I still have no idea how we make it work," Allen said. "Our individual styles—not to mention our personalities—are strikingly dissimilar, yet when we force them to mesh, it somehow just all comes together. Maybe it's our muses, maybe it magic, or maybe it's divine intervention … but whatever it is, it works." Allen recently released Warlock #1: Autofire Blitz, an "action-splatter" novella that has been described as Commando meets Sin City.
Up next for the duo is Gristle 2: Meat Your Maker, the sequel to their acclaimed survival-horror novel, and a Christmas/Holiday themed slaughter-fest featuring all the mythical holiday creatures like the Easter Bunny, Frosty, and Cupid being defiled and butchered by a feral, murderous Santa Claus. Because these guys don't do Disney.
You can find Chunks of Hell on Amazon.com at https://t.co/XA3aWx61DD.
Mark Allen's Amazon author page is https://www.amazon.com/Mark-Allen/e/B008OHHLUS and Derric Miller's is https://www.amazon.com/Derric-Miller/e/B00HXOG1EK. You can find all of their joint and individual works in both paperback and Kindle at those links.