by Joe Mis
– Sr. Columnist —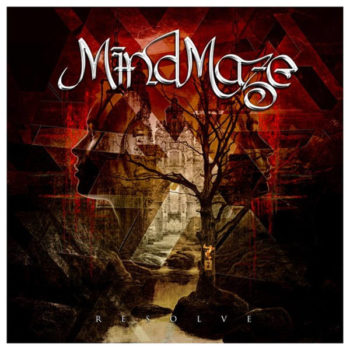 Female-fronted rockers MindMaze have just finished work on Resolve, the band's third full-length release. Continuing their traditional blend of power, progressive, old school heavy metal, and melodic rock, MindMaze has produced a gem of a concept album that in the band's own words "…explores the depth of human emotion and struggling in the face of loss and betrayal."
Born out of the dreams of the brother/sister duo of Sarah (vocals) and Jeff (guitars, keys, backing vocals) Teets, MindMaze made the decision early on to avoid living as a clichéd "female-fronted" band and decided to focus on delivering solid performances and good music instead of gimmicks. The quartet is completed by returning bassist Rich Pasqualone and new drummer Mark Bennett. MindMaze released Mask of Lies independently in 2013 and followed up in 2014 with Back from the Edge signing with Swedish label Inner Wound Recordings, and a limited edition EP, Dreamwalker, in 2015.
Bucking tradition again, MindMaze made Resolve a "concept" recording by building all of their songs around a central theme rather than trying to build a "story". Lyrically they focus on "…the universal concepts of loss and the coping mechanisms people use in the face of guilt, blame, absence, and the road that must be traveled in order to gain perspective." Despite the pretentious wording and the "concept" idea, each track is fully capable of standing on its own and can be enjoyed
Musical highlights include "Reverie," a powerful guitar-driven instrumental, opens the journey and gives Jeff Teets, Rich Pasqualone (bass), and Mark Bennett (drums) a chance to hit just about every rock genre from acoustic to thrash. Theatrical keyboards and an almost Gothic aura highlight the short instrumental "In This Void," that leads into "Drown Me," a tune with a definite Queensryche/Dream Theater feel to it. Jeff's finest guitar heroics and probably the band's best efforts overall appear on the energetic rocker "Sign Of Life." Influences from Savatage to Anthrax to Iron Maiden are heard throughout the release buried in brutally heavy guitar hooks and rollicking bass and drum lines.
While she does not have the massive range or operatic chops of her contemporaries, Sarah pulls no punches and makes the most of her vocal range while remaining crisp and understandable throughout, and well-done backing vocals tie everything together well. The depths of her vocal abilities are particularly apparent on the ballad "One More Moment." Jeff lays down some super catchy riffs and hooks, and his solo abilities are clearly demonstrated on the short instrumental "Sanity's Collapse." Bennett and Pasqualone prove to be an integral part of the band's sound while dishing out some amazing rhythm lines as on the barn-burner "True Reflection." Well engineered and recorded with almost power metal perfection by Brian J. Anthony, Resolve is mixed to the strengths of the band, allowing the raw talents of each musician to shine without one stepping on the other.
MindMaze's Resolve is an excellent release, one that will please fans of almost any rock genre. Refreshingly free of the crutches of cliché and breaking the mold of the "concept" album, MindMaze has taken the title of their closing track to heart – by following "The Path To Perseverance" they have found success!
Highly recommended!
Genre: Power Metal, Progressive Metal
Band:
Sarah Teets (vocals)
Jeff Teets (guitars, keyboards, backing vocals)
Mark Bennett (drums)
Rich Pasqualone (bass, backing vocals)
Track Listing:
1. Reverie (Instrumental)
2. Fight the Future
3. In This Void (Instrumental)
4. Drown Me
5. Sign of Life
6. Abandon
7. Sanity's Collapse (Instrumental)
8. One More Moment
9. Twisted Dream
10. True Reflection
11. Shattered Self
12. Release
13. The Path to Perseverance
Label: Inner Wound Recordings
Website: www.mindmazeband.com
Hardrock Haven rating:
(8.5 / 10)