Mark Schuster | Mark Schuster
by Joe Mis
– Senior Columnist —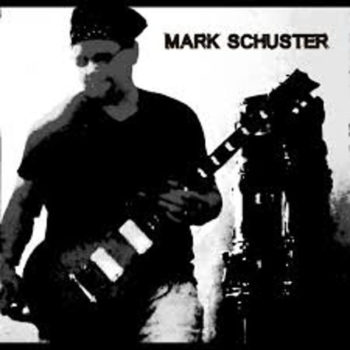 Chicago-based guitarist – well, multi-instrumentalist really – Mark Schuster has once again proven to the world that he is a complete musician. Mark is the full package – he sings, plays every instrument on the album (with the exception of one guitar solo), writes all his music and lyrics, and even engineers and mixes.
Starting his musical career as a drummer and moving on to the guitar, Schuster flirted with just about every genre from Classical to Metal, finally setting his sights on good old fashioned Hard Rock. As a solo artist, he has released instrumental collections (Monster Me in 2005 and Unstable Melodics in 2014), added some vocals to his arsenal on 2010's Losing Faith, and now has completed a full album of vocal tracks called simply Mark Schuster.
There is no doubt that Mark is a talented guitarist and an exceptional rhythm player. From the opening in-your-face hooks of "Put Up or Shut Up" there is no doubt that Schuster will be dishing out hard rock throughout the album. His self-titled release is filled with great big riffs and chugging rhythm lines, and Mark seems at home whether dishing out soft and melodic acoustic riffs or ultra heavy power chords. His solos are smart, intense, and tidy while his hooks do just that. Schuster has a deft songwriting touch that lets his music match the tone of his lyrics. His bass work is also excellent, with aggressive bass riffs that mesh seamlessly with his guitar rhythm lines. He is also a very capable drummer, doing everything from simple cymbal fills to rapid fire bass.
His music pulls elements from just about every genre from old school blues rock to power metal (consider the intense harmonies on "Somebody Save My Soul"). "Janie Janie" is dripping with Blues Rock and pure Hard Rock rhythms are at their best in "My Beautiful Black GTO." "One Of A Kind" has a Rockabilly bounce to it, and Mark does a nice job with the upbeat lyrics and self-harmonies. Hair Metal tries to appear at the start of "Writing's On The Wall" but quickly changes to heavy, bass driven rock with a bluesy break. "Slide A Little Left" definitely channels Mark's inner-80s child – a blistering track with a GNR/Aerosmith vibe. Mark almost seems to be channeling Tim "Ripper" Owens on "Just Like You" (a slick modern rocker with a great bass line). His laid back and languid delivery on the closer makes this one a little different from the rest of the collection, and arguably the strongest track.
Schuster's vocal abilities have improved over the years. He is a decent singer, but his vocal talents pale in comparison to his instrumental abilities. A bit rough and dry, Mark's range is not the widest – but he seems aware of his limits and stays nicely in his comfort zone. At times he may remind the listener of Gene Simmons, and at others, his voice thins a bit and is reminiscent of Gilby Clarke. Always clear and understandable, Mark's enthusiasm and passion for music make it easy to overlook any shortcomings.
As always, Mark does a nice job with his own engineering. All the instruments are balanced and clear, and there is a warmth and natural tone to the album. He did a good job mixing his vocals – making plenty of backing tracks and overdubs without overdoing things.
There is little doubt that Mark Schuster lives and breathes music. His enthusiasm and desire are as obvious as his talent. While primarily a guitarist/drummer, he's worked hard to beef up his vocal skills. His efforts ensure that just about any hard rock fan will enjoy his release. Mark Schuster's Mark Schuster is definitely recommended.
Genre: Hard Rock
Band:
Mark Schuster – all vocals and instruments
Guest musician – Jim Reindel (guitar solo on "Put Up or Shut Up")
Track Listing:
1. Put Up or Shut Up
2. Somebody Save My Soul
3. Janie Janie
4. My Beautiful Black GTO
5. One of a Kind
6. Writing's on the Wall
7. Slide a Little Left
8. Just Like You
Label: Independent