The American Nightmare Tour: Beartooth, Underoath & Bring Me The Horizon
by Cynthia Jo
– Columnist —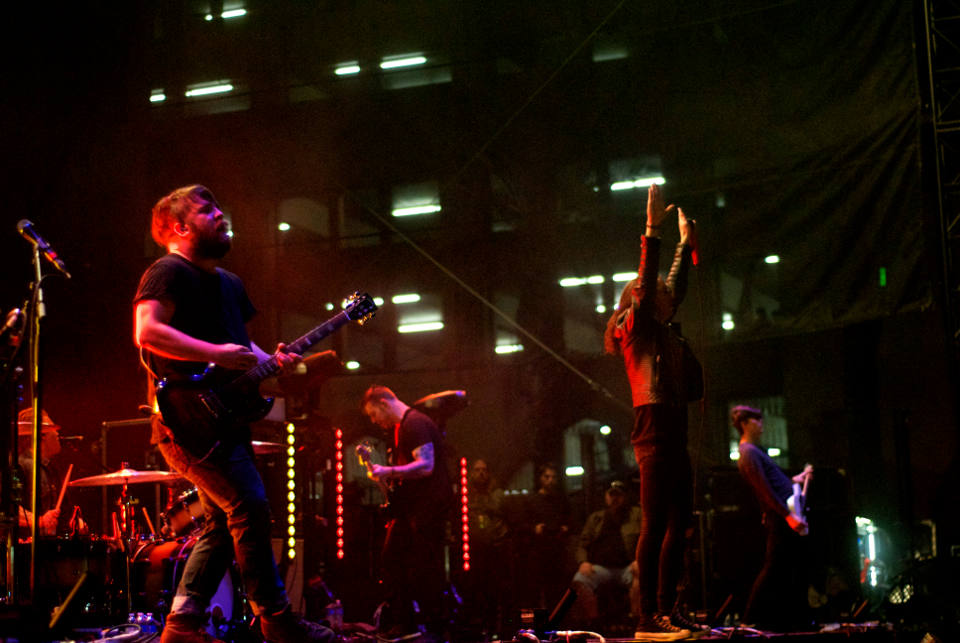 April 6, 2017 at Shrine Expo Hall in Los Angeles, CA. —
Southern California got a taste of The American Nightmare Tour at the Shrine Expo Hall to an expected sold-out crowd on Thursday, April 6, 2017. The Shrine, which is known to host some of the prestigious award shows in La La Land, has been opening its doors to some great live acts—and this tour was no exception.
Although, for this tour, the stage was in the parking lot but that didn't matter to this crowd. It felt like a Spring Version of Warped Tour with a killer lineup.
Ohio native's Beartooth kicked off the night really pumping up the crowd. The crowd definitely played a part to frontman, Caleb Shomo's every command—singing to every word. They began their set with "Aggressive" from their second album of the same name, followed by "Body Bag" and "Sick of Me." Beartooth began as a side project from members of Attack Attack! and City Lights just five years ago but they carried themselves like headlining veterans. Even with their seven song set-list, the band managed to set the tone for an incredible night of hardcore fun.
Underoath followed Beartooth. The band had just gotten back together a couple of years prior from a hiatus and from members working on other projects. Lead vocalist, Spencer Chamberlain fronted Sleepwave, Aaron Gillespie was busy with The Almost until 2015 and as a touring drummer for Paramore. The Rebirth Reunion Tour didn't make it through Los Angeles last year so fans were patiently waiting for the post-hardcore legends to take the stage. When Chamberlain asked the crowd if they could play an old song, the crowds' roar grew to an ultimately furor when the first note to "It's Dangerous Business Walking Out Your Front Door" played. The song comes from Underoath's most commercially successful album, They're Only Chasing Safely. As their set went on, fans got to see what makes this band so special. They played what fans were not expected to hear but were very excited to hear "Illuminator" and "Breathing in a New Mentality" from Disambiguation and Lost in the Sound of Separation respectively.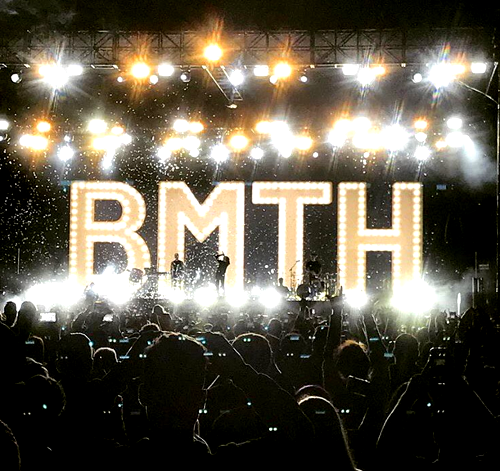 Beartooth and Underoath were only the beginning—and after two great sets, it was Bring Me The Horizon's turn to play. There has been a lot of talk about how the band got a bit soft with the release of That's The Spirit. Sure, lead vocalist, Oliver Sykes signature growl was absent unlike his work on Count Your Blessings and Suicide Season but That's The Spirit was on top of the best Metal and Hard Rock albums of 2015 and it simply is the best of their five-album career. Still, whatever feelings might ponder about BMTH, they're one of the best hardcore acts to watch live.
Sure, the lights, the cool graphics and stage set-up have a lot to do with how extraordinary BMTH is but we have to give it also to the killer set list that includes their best hits. Beginning with the cheery "Happy Song" the drumbeat that kicks into gear with drummer Matt Nicholls behind the set and the unexpected streamers and confetti takes the crowd to a new level of excitement. Followed by "Go to Hell, For Heavens Sake" and "The House of Wolves" from Sempitermal, the crowd was really pumped and sang loudly and proudly to every word. BMTH has experimented with some EDM elements and such was transcended with "Doomed" and "Can You Feel My Heart." Those songs showcased the heaviness the crowd wanted to hear while conducting a wall of death. Also, the adrenaline between the band and the crowd really made their set incredible as they sang to every word.
BMTH ended their set with the very emotional yet heavy "Drown." As confetti fell to the asphalt floors, these Brits proved to have delivered an amazing set, leaving the crowd wanting more.
For additional tours for these bands visit:
Beartoothband.com
Underoath777.com
Bmthofficial.com