by John Kindred
– Publisher —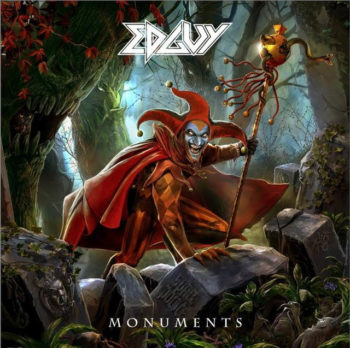 In celebration of Edguy's 25th anniversary, the group is preparing to take to the stage this fall for its 'Best of Tour,' performing the group's greatest hits live. Preceding this outing will be the release of Monuments, Edguy's greatest hits album that contains 22 songs from the group's career, as well as five new songs, including the previously unreleased "Reborn in the Waste."
Original member vocalist Tobias Sammet, alongside guitarists Dirk Sauer and Jens Ludwig, as well as Edguy's rhythm section of more than 20 years, bassist Tobias Exxel and drummer Felix Bohnke bring its brand of Metal to the eyes and ears of the fans. This double CD/DVD package contains the complete filmed concert from the group's 2004 'Hellfire Club' tour and all the band's promo videos.
Another limited version package of the CD/DVD contains a 160-page coffee table book, which though words and pictures, documents the history of Edguy and includes unpublished photos.
Edguy, named after their physics teacher's nickname, was formed in 1992, the then 14-year old, Tobias Sammet, Jens Ludwig, Dirk Sauer and drummer Dominik Storch went on to record and self-release debut album 'Savage Poetry' in 1995. The group's efforts eventually led to signing with AFM Records and releasing Kingdom of Madness in 1997. Staying with AFM Records produced six albums: Kingdom of Madness 1997; Vain Glory Opera 1998; Theater of Salvation 1999; The Savage Poetry 2000; Mandrake 2001; and Hellfire Club 2004.
Moving on to Nuclear Blast Records, Edguy continued to churn out records, releasing another four albums: Rocket Ride 2006; Tinnitus Sanctus 2008; Age of the Joker 2011; and 2014's Space Police: Defender.
With more than two and half hours of music, Monuments will not disappoint. Edguy culls the best from each its albums and packs them all into this concise retrospective, which is enhanced by the concert film and promo videos. Monuments is a sure-fire win-win for fans. As another bonus, you get five new songs and amazing artwork, to boot.
Genre: Power Metal, Heavy Metal, Hard Rock, Progressive Metal
Line up:
Tobias Sammet – Vocals
Jens Ludwig – Guitar
Dirk Sauer – Guitar
Tobias Exxel – Bass
Felix Bohnke – Drums
Track list:
CD 1:
1. Ravenblack 5:08
2. Wrestle The Devil 4:00
3. Open Sesame 5:00
4. Landmarks 4:34
5. The Mountaineer 3:57
6. 929 3:47
7. Defenders Of The Crown 5:42
8. Save Me 3:46
9. The Piper Never Dies 10:09
10. Lavatory Love Machine 4:23
11. King Of Fools 4:20
12. Superheroes 3:19
13. Love Tyger 4:27
14. Ministry Of Saints 5:03
15. Tears Of A Mandrake 7:14
CD 2:
16. Mysteria 5:46
17. Vain Glory Opera 6:09
18. Rock Of Cashel 6:18
19. Judas At The Opera
20. Holy Water 4:13
21. Spooks In The Attic 4:03
22. Babylon 6:13
23. The Eternal Wayfarer 8:49
24. Out Of Control 5:05
25. Land Of The Miracle 6:33
26. Key To My Fate 4:33
27. Space Police 6:03
28. Reborn In The Waste 4:19
Live DVD
1. Mysteria
2. Under the Moon
3. Navigator
4. Wake Up the King
5. Land of the Miracle
6. Lavatory Love Machine
7. Vain Glory Opera
8. Fallen Angels
9. The Piper Never Dies
10. Babylon
11. King of Fools
12. Chalice of Agony (Avantasia cover feat. André Matos)
13. Tears of the Mandrake
14. Out of Control
Video clips
1. Love Tyger
2. Robin Hood
3. Two Out of Seven
4. Ministry of Saints
5. Superheroes
6. Lavatory Love Machine
7. King of Fools
8. All the Clowns
Label: Nuclear Blast Records
EDGUY online:
www.edguy.net
www.facebook.com/edguy
www.nuclearblast.de/edguy