Iced Earth | Incorruptible
by Brenda McTaggart
– Columnist —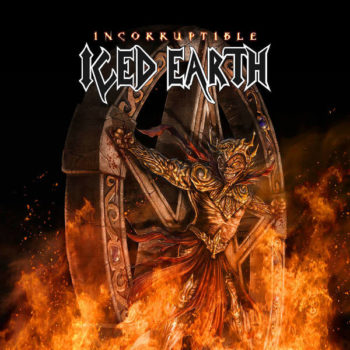 Guitarist and songwriter Jon Schaffer admirably had the drive of a man on a mission on this new album. Have any doubts? The evidence has never been more abundantly clear than on Incorruptible – the 12th full length and mighty offering from Florida's feisty Power Metal band – Iced Earth. Not a conceptual album this time; like 2001's Horror Show, but was created from personal inspiration, and thus is a series of 10 stories of epic proportions with Jon remaining the chief lyricist once again.
The strength of the 10 tracks are indeed 'Incorruptible' just like the band itself that has seen 5 lead singers, ill-health, and line-up changes – the latest addition being lead guitarist Jake Dreyer from Progressive Metal band Witherfall who brings youth and energy to the whole out-put. Schaffer also proceeded with the build of a new studio to call home, that took place while powering his undeniable energy into creating and producing an album of mouth-watering quality; is this a testament to his talent? Yes. This band is tight, so tight in fact that there is no room left for any of the above obstacles to get in the way of Schaffer's stubbornness to stand-fast and continue to create and develop his dreams, and why not with an unbeatable team at his side. Schaffer explained this strength and unity of oneness to Metal Wani when talking about the song 'Brothers' as being primarily about the relationship and the bond that he has developed over the past 6 years with vocalist Stu Block. This, by the way, is one of those tunes that leaves a good feeling in the pit of your stomach and has a much slower and yet classic Iced Earth delivery; and an intense harmonized solo that will infuse a desire for more than one listen.
The opening track – Viking inspired – 'Great Heathen Army' confirms this point, with a muscular rhythm section that creates a glorious bombardment of teeth gritting, stomach grabbing riffs, that truly rattles one's spine. This is an album that you will want to play more than once, and this power house continues for the whole of the record. There is no let-up. Whilst it could be argued that some of the tracks aren't as strong as on previous albums – namely The Dark Saga from 1996 – or Something Wicked This Way Comes from 1998 – and that the band has been struggling to get back to full strength since it's little lapse; to say this is not a great Iced Earth record would just be wrong. It stands tall with its chin firmly and defiantly in the air and is still a great offering of Power Metal in 2017 from a band that has been playing for over 26 years. Come on folks, credit where credit is due and quit the knit picking.
Stand-out tracks like the pirate themed 'Black Flag', that gallops along in typical Ice Earth thoroughbred style is a solid and entertaining tune, along with the released singles – the 'Seven Headed Whore' (based on the Whore of Babylon) that drives aggressively full steam ahead with crunchy guitar work and delectable riffs, and 'Raven Wing' to which has to be said, that of all the tunes on this album, this is the song that you might find stuck in your head, and will be humming it, a lot. Here also lays the consistency that a fan is always guaranteed on an Iced Earth album – Jon Schaffer's flair for the dramatics and storytelling. The stories continue with the Battle of Fredderickson from the American Civil War which is told on 'Clear The Way (Dec. 13th. 1862)'. 'Ghost Dance (Awaken The Ancestors)' which has a beat that may be akin to a well-known Disturbed song (so what?), is a galloping instrumental with haunting Native American vocalizations that will cause goose-bumps – brilliant tune.
Schaffer's invincible squad of dedicated and deadly Power Metal-Monsters consisting of drummer Brent Smedley, vocalist Stu Block, bassist Luke Appleton, and new guitarist Jake Dreyer have stuck a very metal middle finger up to the nay-sayers with a grin of camaraderie. Stu belted out some damn awesome vocals on this record while Luke and Brent brought the rhythm section in fine style and thunderous glory from beginning to end.
This is an enjoyable album. Incorruptible is a well written, thought-provoking record with strong palatable production and is in no way a disappointment to anyone. The guys have obviously taken on board every success from previous albums and used the recipe that works best.
Band:
Jon Schaffer (g)
Stu Block (v)
Luke Appleton (b)
Brent Smedley (d)
Jake Dreyer (g)
Track Listing:
01. "Great Heathen Army"
02. "Black Flag"
03. "Raven Wing"
04. "The Veil"
05. "Seven Headed Whore"
06. "The Relic (Part 1)"
07. "Ghost Dance (Awaken The Ancestors)"
08. "Brothers"
09. "Defiance"
10. "Clear The Way (December 13th, 1862)"
Label: Century Media
Web: http://www.icedearth.com/
Hardrock Haven rating:
(7.5 / 10)