by Anabel DFlux
– Sr. Photojournalist —
Hardrock Haven's Anabel DFlux had the pleasure of catching up with long-time friend Alex Crescioni of DIM7 about his upcoming EP BATS, which is is an acronym for the four songs on the EP. (B)ORN – (A)DORNED – (T)ORN – (S)CORNED. The two had a wonderful chat on the changes that DIM7 has undergone, Alex's writing and conceptual processes of BATS, the new music video, future plans, and his additional passion Stygian Sound.
Anabel: Hey Alex! How are you?
Alex Crescioni: Greetings Anabel! I'm quite well, thanks.
Anabel: Before we jump into the questions about the album, I just have to get this question off of my chest. What prompted the decision to change the band's name from Diminished 7 to DIM7?
Alex Crescioni: It's more of an abbreviation. In music theory, adding "dim7" after a chord on a chart means to take that A chord, and play it as an A diminished 7 or "Adim7" It can also be written as "A o7" I like the way DIM7 sounds better than Diminished 7, also visually it is easier to recognize. Since the sound and image of the band has changed so drastically, I figured it would be a good time to make the change. I had been pondering the switch for a while.
Anabel: Now, tell me about your upcoming release BATS! It's wonderful to see your music flourishing again after a bit of a break. What is the concept of the album?
Alex Crescioni: Thank you for that! The title "BATS" is an acronym for the four songs on the EP. (B)ORN – (A)DORNED – (T)ORN – (S)CORNED. The EP played start to finish, describes a paralleled journey I traveled with others close to me during a very specific and dark time in my life. The lyrics expose the deepest and most shameful parts of one's self, that some share during their time of need and utmost vulnerability. It was my way of coping with the mortification and humiliation from others very close to me witnessing my rock bottom.
Anabel: What was the writing and recording process like?
Alex Crescioni: The writing process took place over 2 years while I was playing live and recording/producing other bands/clients. The recording was done at my studio Stygian Sound with Jorden Mitev on drums, and myself on guitars, bass, and vocals.
Anabel: What inspires you currently?
Alex Crescioni: Right now I'm on an extreme kick of Astrophysics. This has already found its way into the next EP!
Anabel: Do you have a favorite song off of the new record?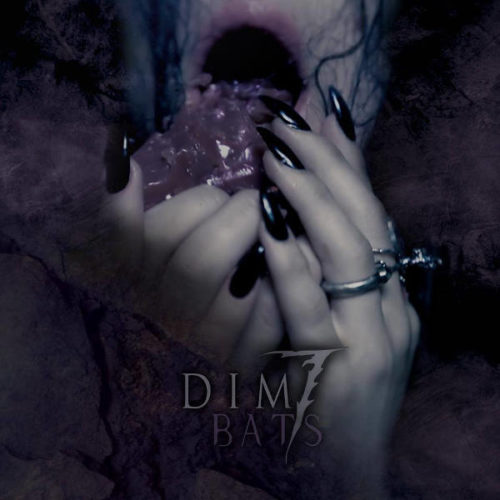 Alex Crescioni: As of now, I would have to say track 3 "TORN (X-SCISSIONS)" is my favorite.
Anabel: Who did the album artwork?
Alex Crescioni: The album artwork is a still of Krystine Jett taken from the video for the first track "BORN(INTO FILTH)" I did some light Photoshop manipulation.
Anabel: Tell me about the music video "BORN (INTO FILTH)"! Who was involved in the production? How was the video conceptualized?
Alex Crescioni: For this video, I wanted to push the boundaries and really make it as deranged as possible. Matt Zane directed it and helped me push the boundaries even further. We had a few friends come in for the shoot and let them get as insane as they wanted. I decided to be masked, as this song, as well as all the songs on the EP, are about exposing your demons. I felt I needed to cover my face and portray the fiend I felt I was during the dark times.
Anabel: Any more music video plans in the works?
Alex Crescioni: We have been planning another video for a song off the next EP, which has already been written!
Anabel: Can you tell me about you as a producer and Stygian Sound? What is your favorite part of the job? Any cool clients to share with us?
Alex Crescioni: I absolutely love what I do. I'm very grateful to be working with some great artists. Each year gets better and better. There have definitely been extreme ups and downs, but that comes with the career. My favorite part of the job is seeing the clients happy with their final product! I also love working with different mastering engineers and hearing their feedback on my mixes. Mike Wells has been my new go-to guy. I plan on working on many records with him in the future. Dopesick just released an EP I had the pleasure of mixing/mastering a couple tracks on, via EMP Label Group. Society 1 put out their latest record with DSN Music, which I produced/mixed. Also, Fracture will be releasing their new full-length album in August, which I also produced/mixed, with Mike Wells handling the mastering!
Anabel: I hear Stygian Sound also operates as a photo studio for musicians?
Alex Crescioni: Yes! I've been delighted to have some amazing models, artists, and bands come in to shoot their promo pics! Thanks to you! I do my very best to create an appropriate vibe at the studio so people feel at home. The decor is definitely catered to dark hearted. We just had Michelle Star come in recently to shoot Jyrki 69 of The 69 Eyes and Nita Strauss of Alice Cooper! I'm very grateful.
Anabel: What's next for you? What's next for DIM7?
Alex Crescioni: I will be continuing my journey through the terrain of audio engineering, music producing, and mixing! I can't see myself doing anything else. As for DIM7, the plan is to continue writing and putting out music, as per usual! Hopefully, more music videos, shows, and touring will be on the horizon!
Anabel: Any last words for your fans before we conclude this interview?
Alex Crescioni: Things change, people change, times change. Yes, the music is very different now. As am I. As are you. Embrace change, it is the only constant. Thank you to everyone who has continued to invest interest in the music! I really appreciate it.
DIM7 ☥ BORN (INTO FILTH) ☥ OFFICIAL VIDEO:
Connect with DIM7 and Alex Crescioni HERE:
http://www.dim7official.com/
https://www.facebook.com/dim7official/
https://www.instagram.com/dim7official/
https://twitter.com/dim7official
https://www.alexcrescioni.com/